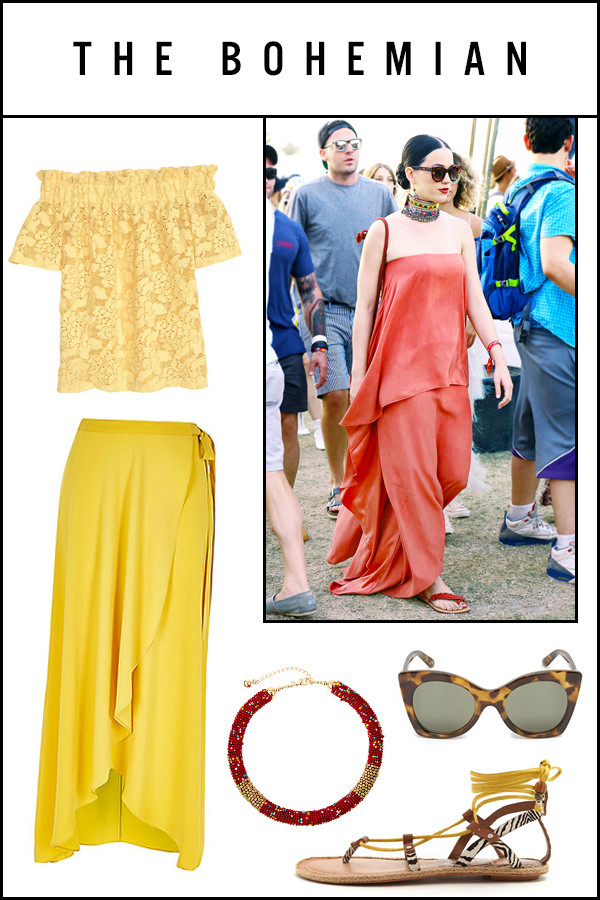 Sharpshooter Images / Splash
A crochet top and denim cut-offs does not a festival outfit make.
Your style requires something a little more thoughtful, a little more customized to your personality. If you're in search of an ensemble that really sings, look no further than the following celeb inspiration.
If you're headed to Coachella, for instance, take a page out of Katy Perry's boho-chic book and opt for a monochrome look in a bold color. It's a statement-making upgrade from the typical white lace dress of festivals' past. Plus, a flowy silhouette will ensure maximum comfort while you channel your carefree ways. Just keep the bottom hem at midi length for easy frolicking.
Lace Off-the-shoulder Top, $49.99; River Island Yellow Wrap Front Maxi Skirt, $60; Fragments Multicolored Seed Bead Choker Necklace, Red, $49; Dolce Vita Karma Sandals, $80; Le Specs Savanna Sunglasses, $59