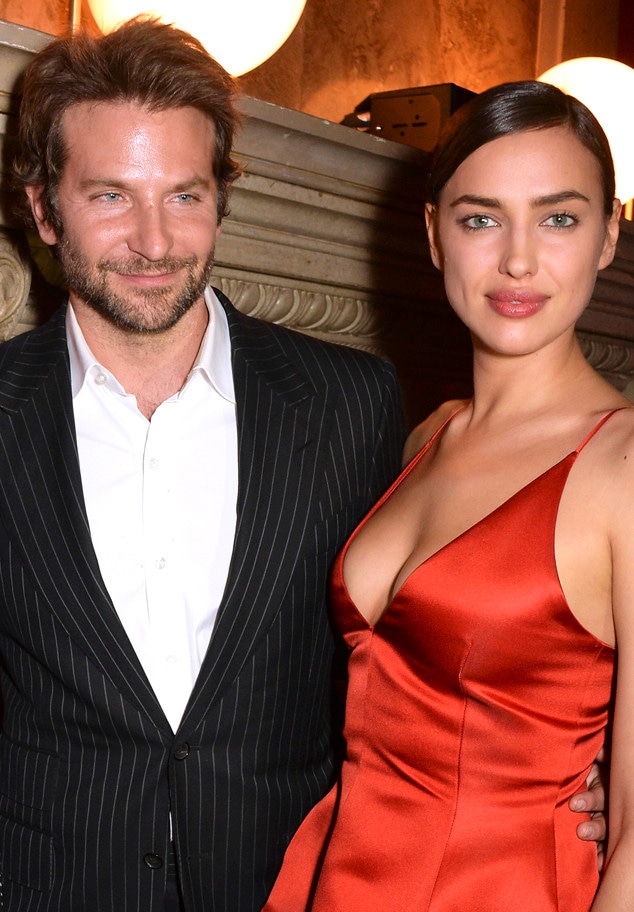 David M. Benett/Dave Benett/Getty Images For L'Oreal
Irina Shayk and Bradley Cooper have been dating for just about a year now, and yet the supermodel has never posted a photo of her man on social media...until now!
Yup, the gorgeous 30-year-old made things officially official (because we all know it ain't official until it hits social media) on Friday when she took to Instagram to share a super seductive photo while cuddling up to a shirtless Cooper in a pool.
Though both of their heads are cut off, a source confirms to E! News, "That is Bradley in Irina's Insta photo. They are both on vacation and will be back in New York next week.  They are relaxing and having a great time in the sun."
Considering the couple have already made their red carpet debut together—looking extra hot at the L'Oreal Red Obsession Party in Paris last month—it only makes sense they'd take the next step and make things official on social media, too.
Other than making waves by posting her first photo with her man, Shayk is also dropping jaws (and likely getting a lot of double-taps) as she shows off ample cleavage in a plunging, lace-up swimsuit.
Meanwhile, the couple was first linked together in April 2015 when they were spotted attending Broadway's Finding Neverland, just a short while after Shayk split from soccer stud Cristiano Ronaldo after five years and Cooper broke up with longtime girlfriend Suki Waterhouse.
After that, the PDA was non-stop. From making out on the island of Capri to kissing in the streets of New York to continuously being photographed walking hand-in-hand after late night dinners and city outings, they've truly become one of Hollywood's hottest couples.
Despite the rumors earlier this year that they split, an insider told us, "They are still very much together," adding, "Irina gets along great with Bradley's mother. They are extremely close and hang out even when Bradley is not around. They have a vacation coming up as well."
Looks like they've finally taken that trip and are definitely enjoying themselves!