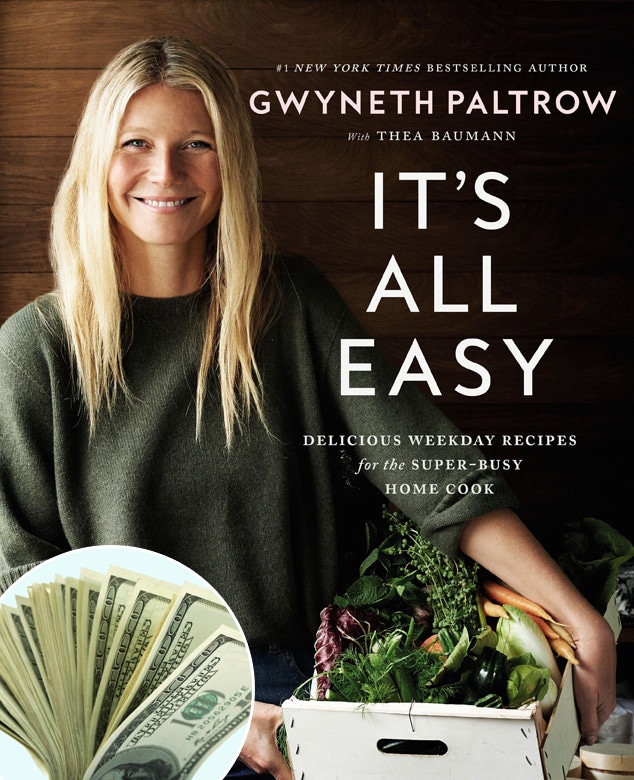 Grand Central Life & Style; iStockphoto
Much has been written about the cost of living like Gwyneth Paltrow. The information is endless, really.
She wears a $168 "beauty balm." She gives herself $50 "vagina steams." She buys her friends $244 toothpaste squeezers. She does not drink a $200 smoothie.
But never before has such an encyclopedic vault of Paltrow's daily routines been available to her adoring public for their pricing pleasure. We are, of course, talking about her new cookbook It's All Easy, out today. The premise of this tome—nêe, bible—is a collection of GP's favorite recipes when she's feeling "easy" or "casual." Not in the mood to whip up some ghee for your all-natural spelt risotto? Try the mason jar noodle salad instead!
This cookbook also provides the opportunity to peek into the minutiae of the actress' daily life. What kind of nut milks does GP buy? What kind of newfangled asian grocery do we have to find to cook these things? These are, after all, easier recipes, which makes the weekly cost of said meals even more fascinating. In the name of getting to the bottom of all things Paltrow, we've picked out a weekly It's All Easy diet and calculated the costs for the entire thing. First, the eatin', made from randomly-chosen meals in the book:
Sunday
Breakfast: Acai Bowl
Lunch: Bibimbap Salad
Dinner: Cauliflower Mac & Cheese
Monday
Breakfast: Crepes
Lunch: Thai Curry Noodle Pot
Dinner: Chicken Enchiladas
Tuesday
Breakfast: Chocolate Cinnamon Overnight Oats
Lunch: Bacon Avocado Toast
Dinner: Kimchi "Fried Rice"
Wednesday
Breakfast: Fried Egg Sandwich
Lunch: Black Bean Soup
Dinner: Rapini Pasta with Garlic 
Thursday
Breakfast: Migas
Lunch: Grilled Cheese & Easy Tomato Soup
Dinner: Turkey Meat Loaf
Friday
Breakfast: Ginger Chia Pudding
Lunch: Congee
Dinner: Chicken Piccata
Saturday
Breakfast: Pitaya Bowl
Lunch: Black Bean Taquitos
Dinner: Salmon Skewers
And now for the numbers. Spoiler alert: It's actually not that expensive to eat like Gwyneth Paltrow. Those of us who are still in It's All Good-induced sticker shock will be very pleasantly surprised by these numbers. But before we give it all away let's offer a bit of fine print:
For calculating, we used the every-reliable Amazon to price out these ingredients, in order to account for the fact that grocery stores charge massively different prices in different cities. We also assumed a bit of a baseline as far as a stocked kitchen—if a recipe called for, say, flour or eggs or milk, we didn't tally those prices. Because if you're attempting to cook a Gwyneth Paltrow recipe without a bag of flour in your house, well, you have bigger (organic) fish to fry. Conversely, we assumed that for products like safflower oil (what is that, even?), you'd have to buy a whole bottle to make your migas—and we added it up as such.
If you eat the above menu for seven days and nothing else, it will cost you just over $470. That's an average of $67 per day and $22 per meal. To the Gwyneth layperson it may seem a high grocery bill, but let's all remember that if you want to have a beauty routine like the actress you'll have to spend four figures—so a few hundred bucks is much more manageable. And it's not like a foodie would whip up a meal with an off-brand ingredient.
While we're breathing a bit easier at the thought of getting our GP on, there are a few dishes we should call out for their, er, accessibility or lack thereof. The acai bowl, for example, calls for items like coconut oil, coconut flakes, rice milk, goji berries and something called a Medjool date. It's not exactly a run-of-the-mill situation. On the flip side, go for Paltrow's avocado toast or the chicken piccata to keep things wallet-friendly.
And if even the simplest meal here turns you off to the idea of cooking, then that probably means you'll be trying out the vagina steam to get a slice of the Gwyneth Good Life.