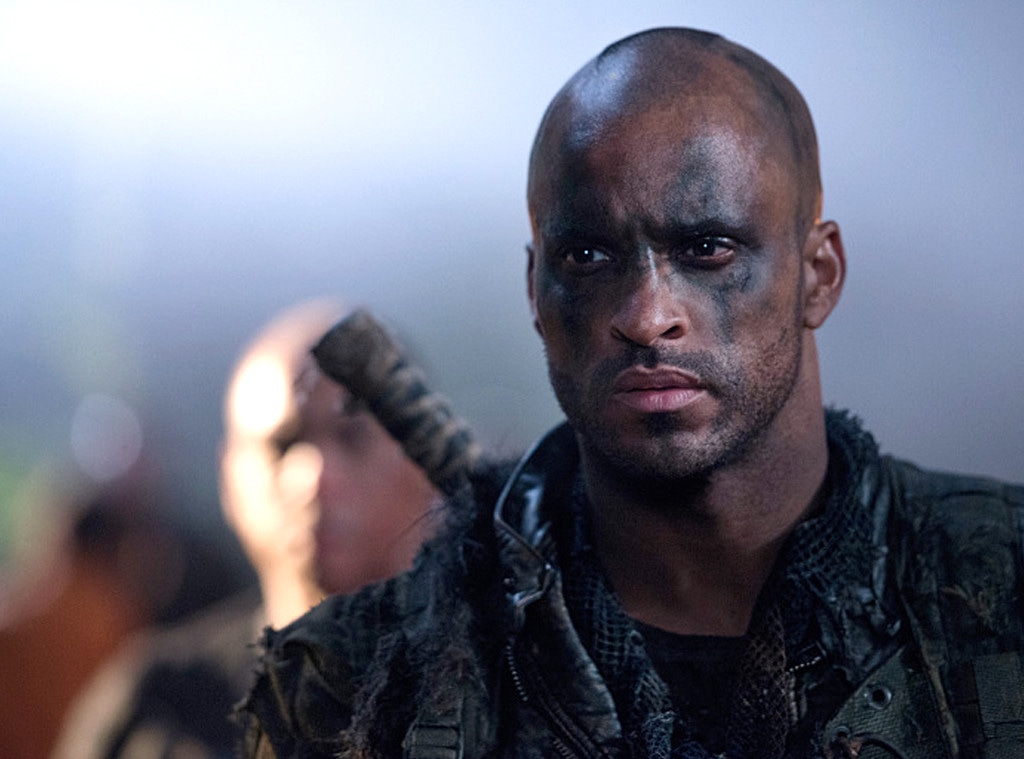 Diyah Pera/The CW
Lincoln is not going down without a fight. (Warning, massive The 100 spoilers ahead!)
Nearly a week after the character was executed on The 100, Ricky Whittle is speaking out about how he believes his exit (and one other recent exit) was handled on the CW series. 
Whittle was interviewed on Afterbuzz TV about both The 100 and his upcoming starring role on the Starz series, American Gods, did not have kind things to say about his time on the show, or about executive producer Jason Rothenberg. The full interview (below) is over an hour long, but his comments on The 100 begin at about 15 minutes in. 
"Controversial, so here we go," he began, after the host asked when he found out Lincoln was dying. "Lincoln wasn't supposed to die this season. He had a whole storyline that was cut, that was just nonexistent. It was my choice to go." 
"I've seen a lot of stuff in the press saying oh, they're really daring, they're willing to kill off any character, well this was my choice." 
Whittle goes on to explain that while he absolutely loves The 100 and the cast and crew, he made the decision to leave the show due to how he felt he and his character were being treated. 
"This is going to be the most controversial thing I will say is that basically, Jason Rothenberg abused his position to make my job untenable," Whittle explains. "What he did was disgusting and he should be ashamed. He was professionally bullying me, cutting out all the storyline that I was supposed to be doing, cutting lines, trying to make my character and myself as insignificant as possible to the point where it was starting to get me down. Every time a script would come through, I would see literally nothing for Lincoln."
Whittle says he approached the producers who were on set in Vancouver if they knew what was going on, but they just told him to talk to Rothenberg. 
"I tried to leave in season two as well, but Warner Brothers and CW wouldn't allow it, and I just want to say thank you to Peter Roth and Mark Pedowitz at CW and WB who have shown me nothing but support and love throughout the whole three years. They were incredible, and they wanted to keep me, and they actually made me feel wanted, which was great." 
The CW and Warner Brothers allowed him to audition for American Gods, and while Whittle didn't want to leave the network, the cast, and the character, he says he felt that his career was being stalled and Rothenberg was "belittling myself and my character, and jeopardizing the show."
"He made me walk away from something I really loved. I love the show, I love Lincoln, I love that cast and crew. He forced me to make that choice to walk away, and I'm proud I did it. I stood up and said enough's enough. My personal well being is more important than this."  
Whittle was given the choice to leave now or leave at the end of the season, and he asked to finish off the year and go in the season finale.
"I'm not sure if it was confirmed, but it kind of seemed settled that Lincoln was going to go at the end of the season, and then a script came out, and an amendment came out when they escaped the Ark, and Lincoln went with them, and then an amendment came out where he went back and was executed. Even that storyline, he was executed for no reason. It was very weak." 
Ricky also criticized the way Lexa's death was handled just two episodes before. 
"Lexa, she should have gone in battle, or some sort of heroic, fantastic way," he says. "She's too cool of a character to be caught by a stray bullet. And then Lincoln, it was just really weak. It's sabotaging the story." 
There was, however, some good that has come out of Lexa's death in the weeks that have passed, thanks to the fans and their fundraising efforts for The Trevor Project, which provides support and works to prevent suicide in the LGBT community. 
"I don't agree with the way things were handled, but it has raised incredible awareness to a very important cause. The Trevor Project is massive and it's huge, and congrats to our incredible fandom."
Whittle also wanted to make it clear that he has nothing against the show itself. 
"I don't want a witch hunt, and my strong message is blood must not have blood, none of this eye for an eye business. I don't stand for anyone bullying bullies. So it's not about that. All this craziness all over social media, people bullying other people, ships hating other ships, let's promote the show," he explains. "My big message is keep watching this show. Keep watching The 100. It's an incredible show, that's my family." 
"I want people to know that no one should ever suffer in silence. Bullies thrive on silence. You should always feel like you have someone to talk to. If you're feeling down, if you're feeling depressed, if you're feeling upset, you should always find someone to talk to." 
After the headline-making interview, Rothenberg released a statement: "Ricky Whittle is a talented actor; I appreciate his work on The 100 and wish him all the best moving forward on American Gods." 
The 100 airs Thursdays at 9 p.m. on the CW.