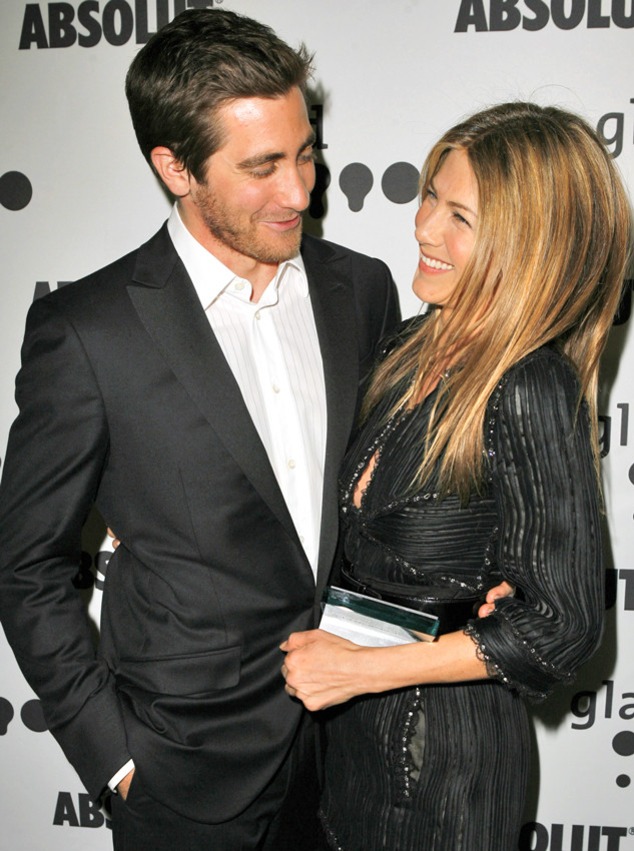 Jeff Vespa/WireImage
Hey, Justin Theroux, it's a good thing we like you so much, because otherwise we'd be shipping a what-could-have-been romance between Jennifer Aniston and Jake Gyllenhaal so hard right now.
It turns out that Jake had a major crush on his former co-star, and it wasn't just for superficial reasons, either. In an interview with People's Jess Cagle, the 35-year-old actor seemed almost a little flustered when talking about working with Jen on 2002's The Good Girl.
"She's a rough one, you know, not likable. So hard to compliment," he joked. "I will say, I had a crush on her for years. And working with her was not easy...I was–um, yeah. That's all I'm going to say. It was lovely. It wasn't hard, that's what I would say."
Ready for the cute part? When asked whether his Jen crush was the result of growing up watching a certain sitcom, Jake replied, "Not so much Friends, but like kind of just her personality from afar and movies that she was in—some of Friends, but [I'm] not like a huge Friends fan, yeah but just like who she is."
Don't let the "not like a huge Friends fan" comment throw you off—Jake had a crush on Jen for "just like who she is" as a person. Of course, that's why we all love her, too, but it's pretty endearing to hear Jake say it.
Head to People for the full interview, and make sure to catch Jake in Demolition which hits theaters Friday.
Watch:
Will Jake Gyllenhaal Ever Do a Full-on Musical?