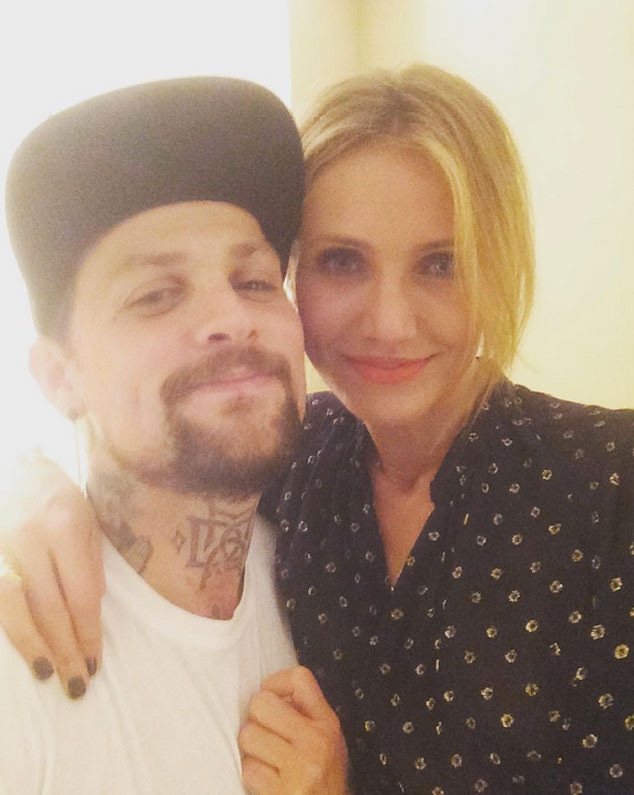 Instagram
After a whirlwind courtship and wedding, Cameron Diaz and Benji Madden are giving fans a little insight into how their relationship-turned-marriage all went down.
Diaz appeared on Andy Cohen's Radio Andy and recalled how she and "Benj" came to be. "It was one of those things where everyone tells you, 'You just know when you know,'" she explained. "I was like, 'What does that mean? Oh, I get it. You just know when you know.' Like you're my husband."
Although she knew Benji's sister-in-law, Nicole Richie, and his brother, Joel Madden, for a couple of years, Cameron and Benji didn't really cross paths. "The first thing I said when I first met my [would be] husband was, 'He's hot,'" she confessed. "How come I didn't know this before? We had never been in the same circle."
The couple didn't formally meet until she hosted a dinner party at her house with Nicole and Joel. The Good Charlotte member asked Cameron if he could invite his brother Benji over. "Then I saw him again," she continued. "Wait a second, still hot!" 
The two hit it off and began dating, and the rest is history! Now that she and Benji are official, Cameron doesn't think about anyone else in her past. "You know, nothing matters now that I have my husband. Like, I don't even remember any of that. All of that is like, that's the thing, that's how I know he's my husband...No one compares. Everything else just like washes and slips away," she explained. "You realize like, 'Oh this is like the real thing is. This is what real love is. This is what real commitment and devotion is. This is the person you build your life with.'"
She added, "We got married in our living room in front of our friends. Had a little party in our backyard on the tennis court and yeah. Otherwise it would have been something else."
The two have kept their relationship very private, save for a few social media posts expressing their love for each other on special occasions. Since tying the knot Benji also had his wife's name tattooed on his chest, permanently declaring his love for her. He and the Sex Tape actress said "I do" on Jan. 5, 2015, in an intimate ceremony at her Beverly Hills home after less than a year of dating and an even shorter engagement. E! News heard 100 people attended the last-minute event, where Richie and Drew Barrymore served as bridesmaids. While the ceremony took place inside the house, friends and family partied outside in a massive reception tent when all was said and done.