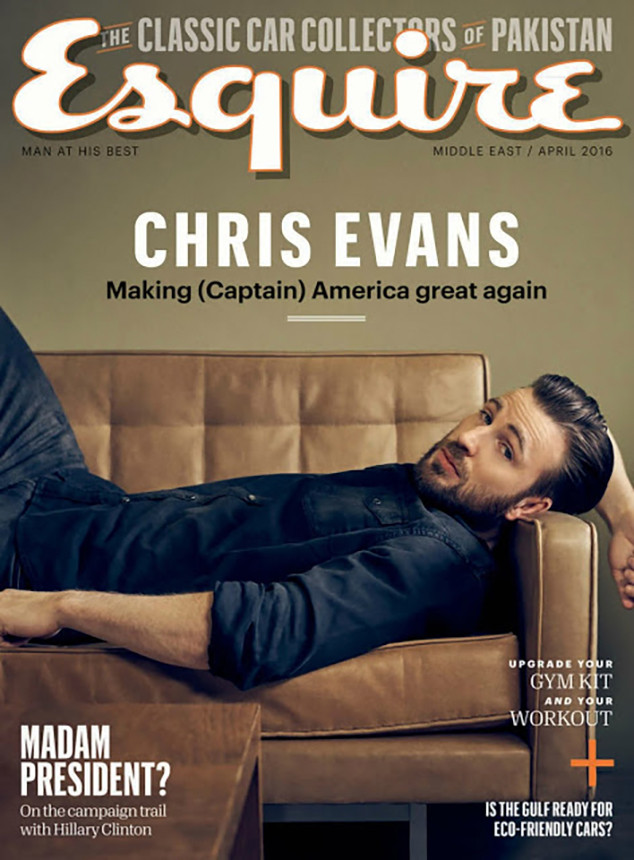 Kurt Iswarienko/Esquire Middle East
Can Chris Evans count on your vote?
In Esquire Middle East's April issue, the Captain America: Civil War star reveals he's toyed with the idea of one day running for office. It shouldn't come as too much of a surprise, given that his uncle, Mike Capuano, currently serves as the U.S. representative for Massachusetts' 7th congressional district. Asked about his own political ambitions, the Boston-area native says, "I would never say never. I've always thought it would be nice one day to think about some sort of political pursuit. I'm so proud of my uncle and of anyone who dedicates themselves to helping the progression of society in exacting change for the betterment of mankind. Ultimately, there's very few things that I consider to be noble and challenging. I know that Washington is a tough place. I have my opinions and maybe later on in life I might try and actually get up on a soap box."
Before he heads to Washington though, Evans wants to delve deeper into directing. He starred opposite Alice Eve in his directorial debut, 2015's Before We Go. "I'd wanted to direct for a long time. It's just hard to find someone who's willing to let you direct. I have no training. I've never been to any sort of school, so it's a gamble," he says. "It was a situation where we found a script that felt manageable. This was a simple story; it's two people. It just felt very contained and, not to sound awful, but I aimed a little low, just because I wanted to get my feet wet. I think there's no shame in that. I didn't want to bite off more than I could chew the first time out."