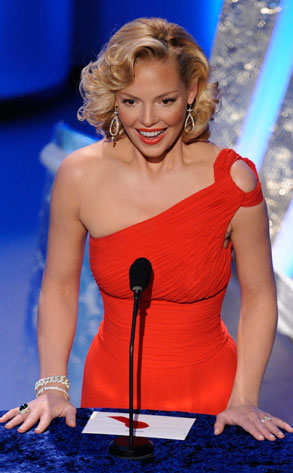 ©AP Photo/Mark J. Terrill
Jon Stewart rocked the monologue, George Clooney has an "intimate" problem and Katherine Heigl wants us to know she's no easy reader.
Best Monologue: Jon Stewart got the night rolling with a terrific monologue that touched on the writers' strike, self-congratulation and, of course, politics. Our favorite line? His taking a moment to mention the nomination of Norbit: "Too often the Academy ignores movies that are not good."
Best Keeper of Things in Perspective: Katherine Heigl let the assembled billion people know she was incredibly nervous reading a prepared list of nominees...right before the awesome Amy Adams came out and sang the tongue-twisting "Happy Working Song" all by herself with no dancers or nothing.
Most Freudian: Did you notice that George Clooney stumbled over the word intimate during his intro of the 80 Years of Oscars montagasm?
Most Trying Too Hard: Perhaps stung by the fact that only one actor of color was nominated this year, the awards tried to prove its street cred by slipping in some shots of Isaac Hayes performing "The Theme from Shaft."

Best Response: The French dude who won the Best Makeup Oscar basically just said "Thank you." But it's the way he said it.
—Filed by Erik Pedersen