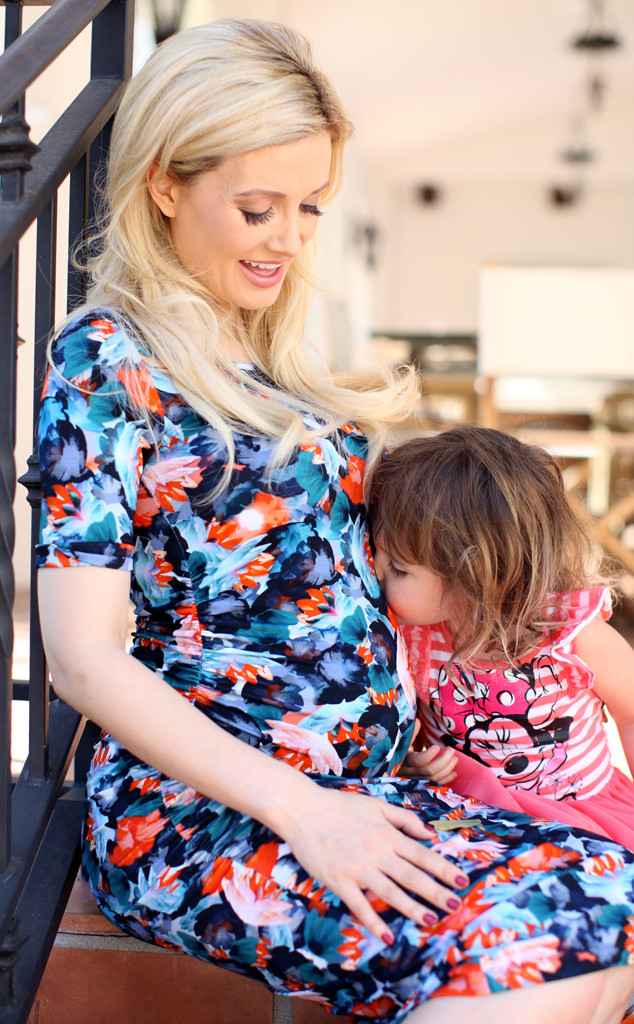 MOVI Inc.- Photos taken with parental consent
Please welcome E! News' newest celebrity blogger, Holly Madison!
The former star of E!'s Girls Next Door and Holly's World is expecting her second child with husband Pasquale Rotella. Their daughter, Rainbow Aurora Rotella, was born in March 2013. Follow her journey by reading her first entry and second entry.

_________________________
We all know the "Body After Baby" phenomenon. Even if you have never seriously considered having a child. Even if you are a man. You have no doubt seen countless magazine covers or blog posts on how such-and-such celebrity looks SO amazing just a few weeks after giving birth. Sure, everyone wants to be healthy. Women have always been interested in getting back in shape after having a child. But when did this become a race against the clock? When did it become expected that everyone needs to be a bangin' MILF with ripped abs a month after popping out a baby?
When I had my first baby, I was so ready to snap back into shape. I ate healthier than I ever had in my life while I was pregnant. I worked out regularly. I got complements like crazy—everyone told me they couldn't even tell I was pregnant from the back and that except for my belly, it looked like I hadn't gained a pound. So I felt ready! I was determined to lose the weight fast. I even bought a gorgeous black, boned waist trainer, ready to start the compression process right away. I remember taking a seat in my closet and unlacing my waist cincher, ready to put it on and feel like I had an hourglass for the first time in months. But it wouldn't fit around my waist. I kept loosening the laces more and more, trying to get the garment to fit. Imagine my surprise when I couldn't even get the cincher around my belly—completely unlaced!
When I came home from the hospital, my stomach hadn't deflated the way I thought it would. Sure, I knew I would have weight to lose, but I didn't think I would still look like I had a baby in there! The truth is, for most people, you go into the hospital looking 9 to 10 months pregnant, and walk out looking approximately six months pregnant. The uterus doesn't snap back overnight. You don't lose all the extra fluid you retained during pregnancy during birth. And it takes a minute for your organs to find their way back to where they used to be. Rarely, a woman can have that deflated look after giving birth, but I find that people who do are usually the rare unicorns who, for whatever reason, didn't have much of a bump to begin with. Everyone is built differently and carries in a different way.