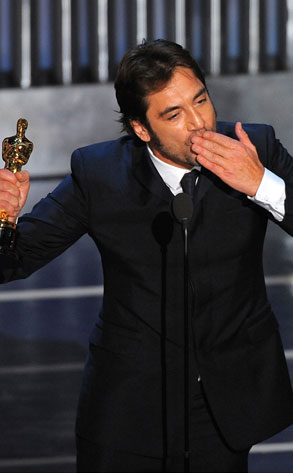 ©Michael Caulfield/WireImage.com
Javier Bardem speaks sweetly (we think) to his mom, Tilda Swinton gets saucy (we imagine) and Harrison Ford responds (we're moderately certain) with interest.
He Is a Killer! Though he played a ruthlessly coiffed murderer in No Country for Old Men, Javier Bardem slayed the audience with a charming acceptance speech that was sweet, funny and largely in Spanish for the benefit of his sweet mother. Dreamy!
Lost in Translation: First Bardem speechifies in Spanish, then the Short Film winner announces he is a bad student and speaks to us in French...Which is funny, because we were bad students and can only speak English.
Indiana Jonesing for Blanchett? Calista Flockhart seemed to have something to say about the divine Cate Blanchett—probably totally sweet, we're sure—but her date, Harrison Ford, was so entranced he didn't even notice. Or, you know, maybe he just couldn't hear her.
Most in Need of an R Rating: Tilda Swinton managed to squeeze in the words buttocks, nipples and rubber Batsuit into her speech, but we're going to leave the actual context to your imagination.
—Filed by Erik Pedersen