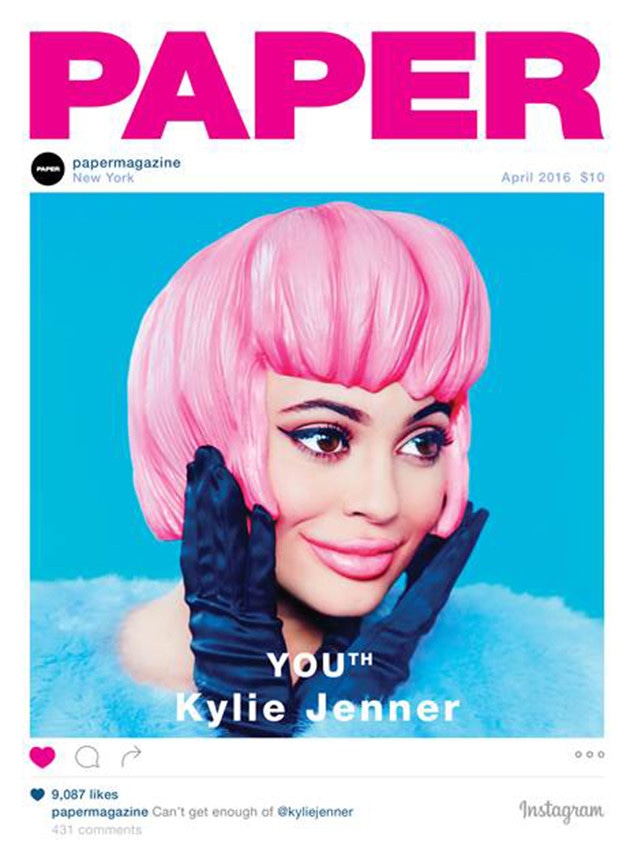 Erik Madigan Heck / PAPER Magazine
Kylie Jenner is looking a little doll-like these days...
The 18-year-old turned plastic for the April cover of Paper magazine's "YOUth issue," which the publication says highlights "the art, music, fashion and entertainment leaders of today."
Kylie dons a pink wig with her mouth photo shopped to look like that of a doll. She grabs her cheeks with a pair of satin, black gloves as she poses in a blue, furry coat. The cover was created to appear as an Instagram picture and is totally fitting for the superstar of social media.
From showing off her bare booty in Interview magazine to donning just a pair of white booty shorts for Wonderland magazine, she's no beginner when it comes to getting people talking about her photo shoots.
In fact, last month she shot down rumors of a nose and boob job while talking with Wonderland.
"People think that I've had everything done," she explained. "I thought it was going to chill down when I said: 'OK, I admit it, I got my lips done, I never lied, I just wasn't telling the whole truth.'"
However, she added, "And then people took that and were like, 'Oh well, if she got her lips done she probably got everything done'. People don't realize I just turned 18, so there's no way my mom [Kris Jenner] would ever let me undergo a nose job or a boob job."
You can check out Kylie's Paper magazine issue, on stands April 12.
Tune into the season premiere of Keeping Up With the Kardashians on May 1 at 9 p.m.