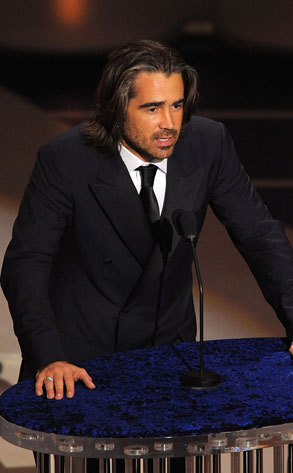 ©Michael Caulfield/WireImage.com
Colin Farrell's footloose, Marion Cotillard cuts loose and Jack Nicholson is, you know, on the loose. You've been warned.

Worst Safety Hazard: Colin Farrell hit a slick spot on the stage that actually caused him to slide right up to the podium. The Academy might want to consider hiring those guys who wipe down the floor at NBA games before they get some A-list workers' comp claim on their hands.
Most in Need of a Translator: Farrell mentioned he was "chuffed" about the film Once, and we were pretty sure that meant a fight was about to break out. Apparently, though, it's a good thing.
Least in Need of a Translator: Best Actress winner Marion Cotillard proved she speaks better English than we do when she ended her speech with the sweet tribute to the "angels" of Los Angeles. Who knew she was a baseball fan?
Hottest 80-Year-Old: Jack Nicholson introduced a montage of Best Picture winners, proving that every once in a while he'll hang out with age-appropriate company.
Most Moving: The tribute to 98-year-old Robert Boyle was lovely, as were his comments about the value of the arts. As the audience stood to honor the man and his seven-decade-long career, he quipped, "That's the good part of getting old. I don't recommend the other."
—Filed by Erik Pedersen