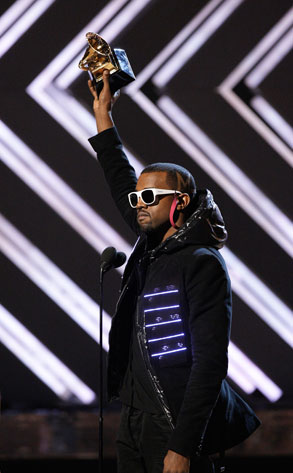 AP Photo/Kevork Djansezian
Least Expected Comment from a Man Wearing a Reflective Jacket, White Sunglasses and Totally Messed-Up Haircut: As the speech-shortening police tried to play him off before he could mention his late mother (after some boasting, too), Kanye West said testily: "It would be in good taste to stop the music then."
Scariest Moment: Watching a nervous-looking Feist quietly sing alone with a guitar seemed like a recipe for some kind of horrible mishap. But instead, she just sounded like a real person singing a song. Who knew you could do that on the Grammys?
Craziest Performances: For pure weirdness' sake, nobody can beat the oddball archival performances by Cab Calloway and Louis Prima, but Kid Rock singing with Prima's partner, Keely Smith—and Kid seeming less sharp than this elder stateslady—was a close second.