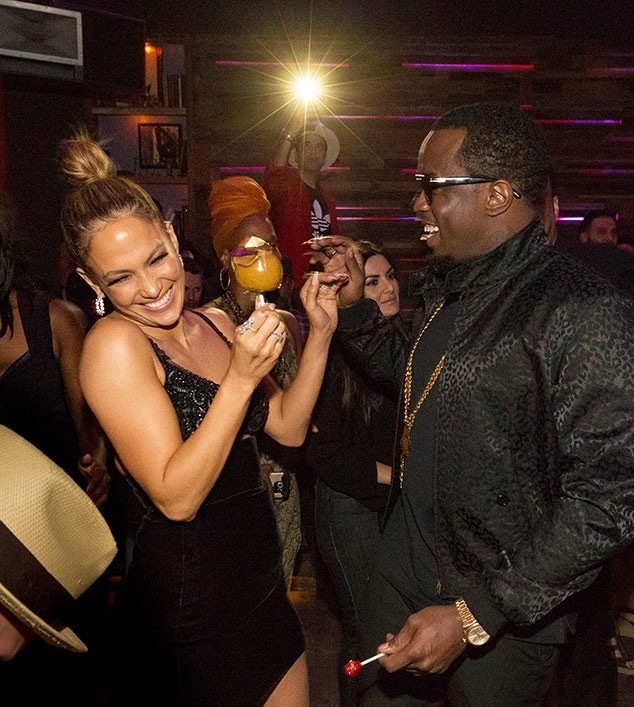 Christopher Polk/Getty Images for ABA
Sean "Diddy" Combs joked girlfriend Cassie had "some questions" after seeing a photo of him reuniting with his ex Jennifer Lopez after the 2015 American Music Awards this past November.
The rapper and actress-singer, both 46, were photographed chatting and smiling at her Lopez's private after party at a club, which she attended with her beau Casper Smart, 28. In an interview with the Power 105.1 FM radio show The Breakfast Club, posted on YouTube Friday, Diddy talked about his reunion with Lopez.
"My woman, at the end of the day, you know, she ain't have a problem with it," Diddy about Cassie, 29, then paused for a couple of seconds.
"She had some questions," he said, bursting out laughing. "She had some questions but not, not...you know, Casper was there, you know what I'm saying. Me and Jennifer, we gotta, people gonna be friends, man, people gonna grow, and, you know, any of my exes, they smile and they're happy to see me, you know what I'm saying, and that's all that was about. And, you know, I answered the question and we kept it moving."
Diddy and J.Lo have occasionally spent time together over the years, including with Smart.
Diddy and Cassie, a singer, model and actress, are believed to have begun dating at least five years ago. They have kept their relationship private, although they have occasionally attended celebrity events together.
Diddy and Lopez dated between 1999, the year she released her debut album On the 6, and 2001. They were one of the most famous celebrity and music couples at the time and often turned heads when they walked the red carpet together, notably at the 2000 Grammy Awards, where J.Lo wore a plunging, green, patterned, semi-sheer Versace dress that was deemed controversial at the time.
Lopez went on to date former back-up dancer Cris Judd, 46, who she married. They divorced after less than a year.
"I was in this relationship with Puff where I was totally crying, crazy and going nuts, and it really took my life in a whole tailspin," Lopez told Vibe in 2013, referring to Diddy's other nickname, Puff Daddy. "Here comes Cris, and he's like an angel. So my friends are like 'Yes!' Maybe it's a little fast but they were thrilled to see me smiling."
Lopez later dated Ben Affleck, 43, and the two became engaged in 2002. They split in early 2004, after which she began seeing singer Marc Anthony, 47. The two wed in that June. The couple, parents to 8-year-old twins Max and Emme, split in 2012 and divorced in 2014. Lopez and Smart have dated on and off since she and Anthony called it quits.
Watch:
Diddy Can't Get Enough of J.Lo's "Booty"