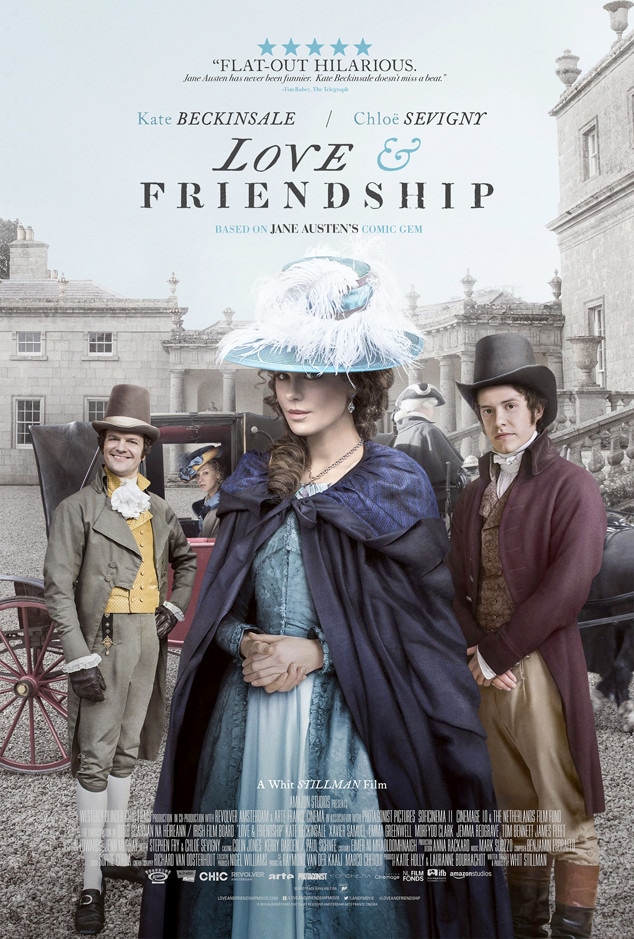 Ross McDonnell, Courtesy of Amazon Studios and Roadside Attractions
Kate Beckinsale may look gorgeous in the new poster for her upcoming film Love & Friendship, but the corsets for the period piece proved to be quite, well, constraining.
Depending on the time of day, that is.
"Putting [the corset] on in the morning is okay," Beckinsale told me earlier this year at the movie's Sundance Film Festival premiere. "It's putting it back on after lunch that's the unpleasant one. That's the one where you're like, 'I wish I didn't eat that.'"
The Whit Stillman-directed movie is an adaptation of Jane Austen's comic novella Lady Susan. Beckinsale stars as Lady Susan Vernon Martin, a young widow in 1790s determined to land a new husband for herself and one for her daughter.
Rounding out the movie's stellar cast are Chloë Sevigny, Australian hottie Xavier Samuels and Stephen Fry. Love & Friendship also marks a reunion for Beckinsale and Sevigny, who co-starred in Stillman's 1998 indie hit The Last Days of Disco.
Ross McDonnell, Courtesy of Amazon Studios and Roadside Attractions
Stillman actually wrote the screenplay adaptation with Beckinsale in mind to play Lady Susan. "She's the most wonderful, incredibly charming, totally entitled, intelligent, promiscuous, witty woman," Beckinsale said. "She's the best character I've read in years."
She also described the conniving Lady Susan as "a real monster."
Sounds like bloody good fun (and an early awards season contender) to us.
Love & Friendship is in theaters on May 13.
Watch:
Kate Beckinsale Dishes on "Love & Friendship" at Sundance