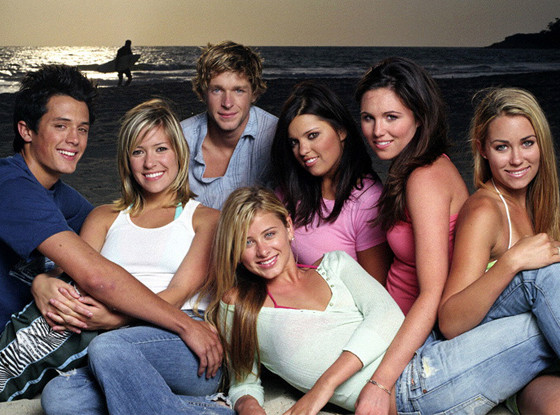 MTV
The Hills finale aired in 2010, but we're still finding out new details on what went really went down on The Hills and Laguna Beach.
Kristin Cavallari hasn't been shy in saying a lot of what we saw was fake, and in a new interview with Buzzfeed, she's shedding even more light on the reality of her feud with Lauren Conrad.
"I think because of the show [Laguna Beach], the rivalry between Lauren and I sort of escalated," says the 29-year-old Balancing in Heels author. "We were never friends. We just weren't. I didn't hate her before MTV came and the way it sort of turned into. And that's because I felt like she was trying to steal my boyfriend [Stephen Colletti]."
That said, Kristin insists her love triangle with Lauren and Stephen "was a real thing," telling Buzzfeed that the teenage tension "was real before MTV came."
"I think they sort of kept it going by having my boyfriend at the time going and hanging out with Lauren, which was hard!" adds Kristin. "I was 17 and that was hard for me."
The Laguna Beach days had their difficulties, yes, but as Kristin tells Buzzfeed, that show "was definitely not as manufactured as The Hills was for me."
"Laguna Beach was more putting us in situations where we normally wouldn't be in or hanging out with people we wouldn't necessarily hang out with," she explains. "In The Hills, I knew sort of this character that they wanted me to play. When I decided to come on board, I made a decision and I was like, "OK, this is my job and I'm going to separate my Hills life from my real life."
Even so, even Kristin isn't a fan of herself on Laguna Beach. When Buzzfeed asks if there's a specific moment from the show that makes her cringe the most, she answers, "The entire thing! I was so obnoxious! I don't wanna watch it."
We're guessing she doesn't want to revisit her drama with Lauren, either, but that doesn't mean they wouldn't act friendly if they crossed paths IRL. "If I saw Lauren today we would go up to one another, we would hug, we would ask how each other is doing," says Kristin. "It's been a while, but the last few times I've seen her we've given each other hugs and it's been great."