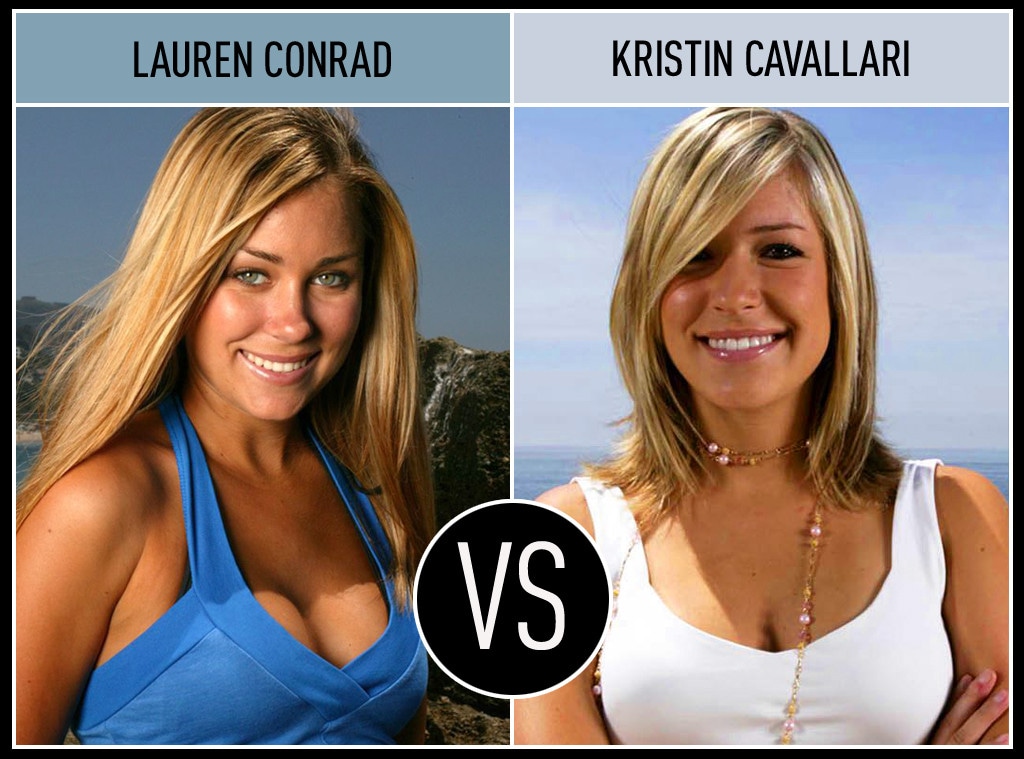 MTV
Welcome to Pop Culture Debates, our new monthly series that pits E! editor against E! editor in a bid to solve society's greatest arguments. Is One Direction better without Zayn? Should Carrie have ended up with Big? Were they really on a break? We'll get to the bottom of all this and more. 
This month, we're taking on the ultimate reality show rumble: The battle of the Laguna Beach blondes. Both Lauren Conrad and Kristin Cavallari have published new books recently, so what better time than ever to dig up a decades-old debate? On Team LC we have Jenna Mullins, and in Kristin's corner we have Seija Rankin. May the best woman win. 
Style: Lauren may have epitomized early 2000s dressing, but just look at this photo of Kristin! Her look wasn't just trendy; it was timeless. So timeless, in fact, that A-listers today, in 2016, are going to great lengths to replicate her look. For every high school girl who wanted to be promiscous, but not too promiscious; edgy, but not too edgy; and surfer but not too surfer, Kristin was there with her chokers and mildly see-through spaghetti straps. Her hair defied the good girl trope of LC and her beach waves, what with its chunky almost-bangs and did-I-shower-today mystery. Sure, her penchant for tanning doesn't quite hold up in today's culture of knowing about skin cancer, but that can easily be replicated with a good spray-bronze. Plus, her white spring break bikini has inspired thousands, if not millions, of Cabo-goers in recent history and that's enough of a legacy for anybody.
Love Life:
We said it here first: Kristin Cavallari on Laguna Beach was the original feminist. No, this isn't in reference to the way she interacts with her fellow women, but rather the way in which she so beautifully and shamelessly collected hot, single men. She was the ultimate player, antiquated gender norms be damned. Lauren was a one-man-woman and while that was respectable (if not a little snoozy for a reality show), it wasn't exactly breaking boundaries. Kristin proved that women could have their cake (Stephen) and eat it too (Sam, Talan, etc.). We like to think of her as Laguna's answer to Kaitlyn the Bachelorette. 
Social Life:
There is no question here. As a reality show viewer, what would you rather watch: Lauren agonizing over what color streamers to use at the hotel party, or Kristin grinding on top of a bar in all her booty shorts glory? Exactly. Kristin indulged the wild child (or secret wild child) in all of us, whether she was the center of the drama, drama, drama or not. LC may have had the big flashy house with the cliffside hot tub, but Kristin had a posse of party girls and a total willingness to break into her dad's liquor cabinet and take the night by storm. Raise your red Solo cups to the one true master.
Style:
A statue of Lauren Conrad circa Laguna Beach belongs in the American Icon Museum* in the "Ultimate California Girl" exhibit.  Laid-back wardrobe. Blonde locks that perfectly flutter through the ocean breeze. A bikini-ready body. A sparkling smile underneath eyes the color of the sea at sunset. C'MON. She could rock her denim three different ways and slay it each time: skirt, capris and flare. She could probably even bring back halter tops and chunky blonde streaks. She could do whatever she wanted because she's Lauren "Ultimate California girl" Conrad.
*not a real museum
Love Life:
LC was beautiful, smart, grounded and cared very much about Stephen. So the fact he always ran back to Kristin is mind-boggling to us. That's crazy talk. What's that saying about marrying your best friend? Not that we're saying LC should have ended up married to Stephen, but our point is that being in love with your best friend is one of the best things that can happen to you in life. That, and meeting Beyoncé. Kristin played games with Stephen's head, whined and complained all the damn time and also, she said his name like this: "Ste-PHEN." The sound of her voice saying that damn name still haunts our nightmares.
Social Life:
We all know Lo was one of the best sidekicks in Laguna Beach—nay, reality TV history. So if LC and Lo were throwing a bash or an O.C. viewing party, you'd want to be there.  Who did Kristin have? Jessica, who whined almost as much as Kristin did? No contest there.
But really, the nail in the coffin of this debate is Lauren's sick beach house. Hello, have you seen that backyard?! If someone in our high school had that house with that hot tub, we'd never leave. We'd live in that hot tub. It'd be weird, but we'd make it work. Lauren's parties were always better, even when there was a dress code.