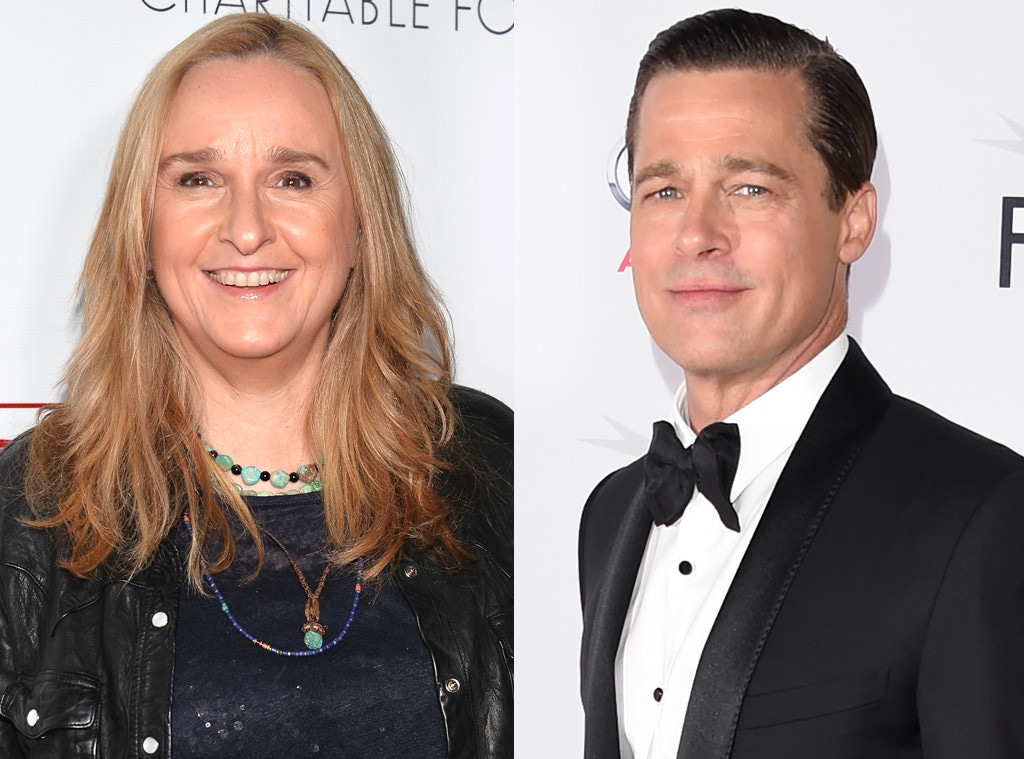 Alberto E. Rodriguez; Jason Merritt/Getty Images
As it turns out, Brad Pitt came close to becoming a father long before starting a family with Angelina Jolie.
In a new interview with Australia's Studio 10 talk show, Melissa Etheridge is opening up about her family with then-partner Julie Cypher.
While fans know that the couple welcomed two children with the help of Crosby, Stills & Nash member David Crosby, there was another famous figure who may have been considered for the special role.
"Well actually, because [Brad Pitt] was such a good friend of mine and we did consider it and yet, I looked and I saw how badly we wanted children and I thought, 'I don't want to share this with someone who really, badly wants children because my children don't need another parent—they have two," she shared. "Of course now my teenagers are like, 'I could have had Brad Pitt as my dad!' My son said, 'I could've been amazingly handsome!'"
In a world exclusive, Melissa Etheridge opened up to Angela Bishop about Brad Pitt almost being the father to her children.

Posted by Studio 10 on Thursday, March 24, 2016
To be clear, Melissa is more than happy with the way things turned out. After all, David is a pretty great guy as well.
 "It's one of the reasons why David Crosby and his wife are so perfect—because they already had children," Melissa explained. "They were looking to do this as a gift. And my children are lovely and gorgeous anyway."
As the "Come To My Window" singer prepares to hit the road this summer for a tour with Pat Benatar and Neil Giraldo, the Grammy winner is also looking back on her recent battle with breast cancer.
Back in 2004, Melissa was diagnosed with the disease but chose to perform at the Grammys while undergoing radiation. It's a decision she has zero regrets about especially since it raised awareness about the importance of early detection.
"It was a very personal choice for me, because I know at the time—this was before pink ribbons and stuff—you didn't say breast cancer," she explained. "You didn't say cancer. I remember when I was diagnosed, my management people were like 'I don't know if we should tell people.'"
She added, "My saying is speak true and I'm not going to tell people I have cancer? So it was very important for me to be truthful. I decided to step up and I just didn't want people to make fun of me."