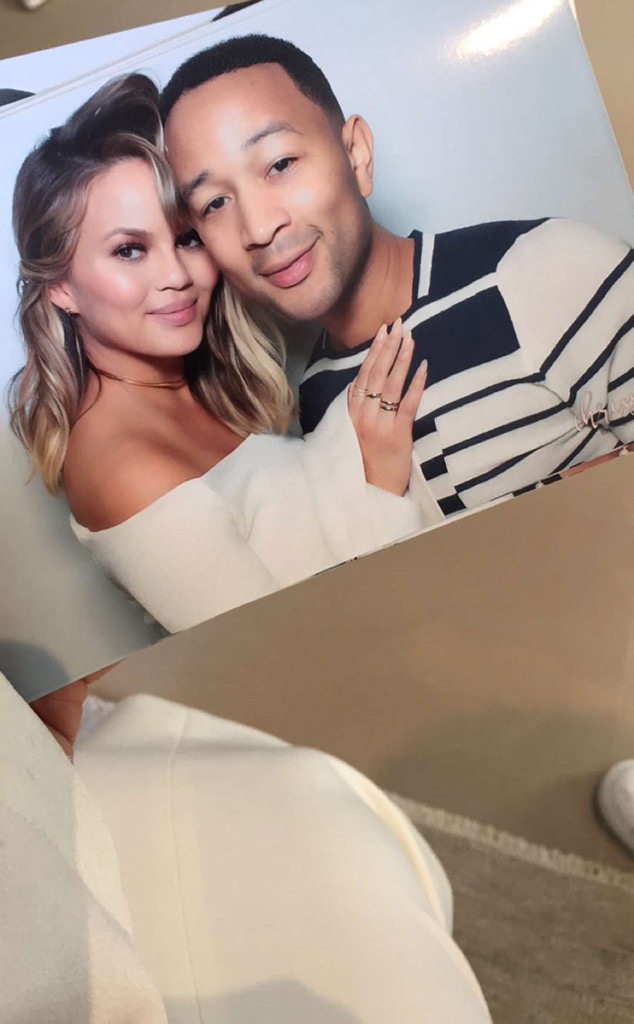 John Legend / Snapchat
What's better than having a baby shower? Having two baby showers!
Chrissy Teigen, 30, who is pregnant with her and John Legend's first child, celebrated at her second shower Saturday in Los Angeles with her hubby and friends, more than two weeks after they had their first in New York. The two are set to welcome their baby, a girl, next month.
The party featured a pink and white theme and part of it was held outdoors by a pool. Attendees included Kim Kardashian, 35, Khloe Kardashian, 31, Kourtney Kardashian, 36, actress Jenna Dewan-Tatum, 35, their mom Kris Jenner, 60, Malika Haqq, 33, a Dash Dolls star and one of Khloe's BFFs, and Chrissy, Khloe and Jenna's hairstylist, Jen Atkin.
Teigen and several of her guests posted photos and videos from Saturday's event on Instagram and Snapchat.
Guests sat at a long table adorned with a white tablecloth and a row of pink and white flowers.
Jenna Dewan-Tatum / Snapchat
 The party featured McDonalds delicacies such as Sausage McMuffins and hash browns, as well as chicken and waffle muffins and containers of cinnamon rolls, as seen in Atkin's photos and a video Kim posted.
Jeffrey Nimer of Haute Chefs Los Angeles catered the event. In addition to Chrissy's fast-food favorites, guests enjoyed an omelet station, yogurt parfaits in glass jars with berries and mint, banana and pecan stuffed French toast and kale salads, a source told E! News.
Guests also sipped on rosé and mimosas.
Khloe Kardashian / Snapchat
 The party also featured a game in which people had to make up their own lullaby.
Kim Kardashian / Snapchat
Teigen joked that Kim appeared to need to "phone a friend" for help.
Chrissy Teigen / Snapchat
But what really took the cake...was the cake, which featured a photo of Legend as a baby, with a pink bow.
Jenna Dewan-Tatum / Snapchat
Guests later danced inside and the guests of honor were seen sharing a sweet kiss.
Keeping Up With the Kardashians returns for a new season on May 1 at 9 p.m. on E!