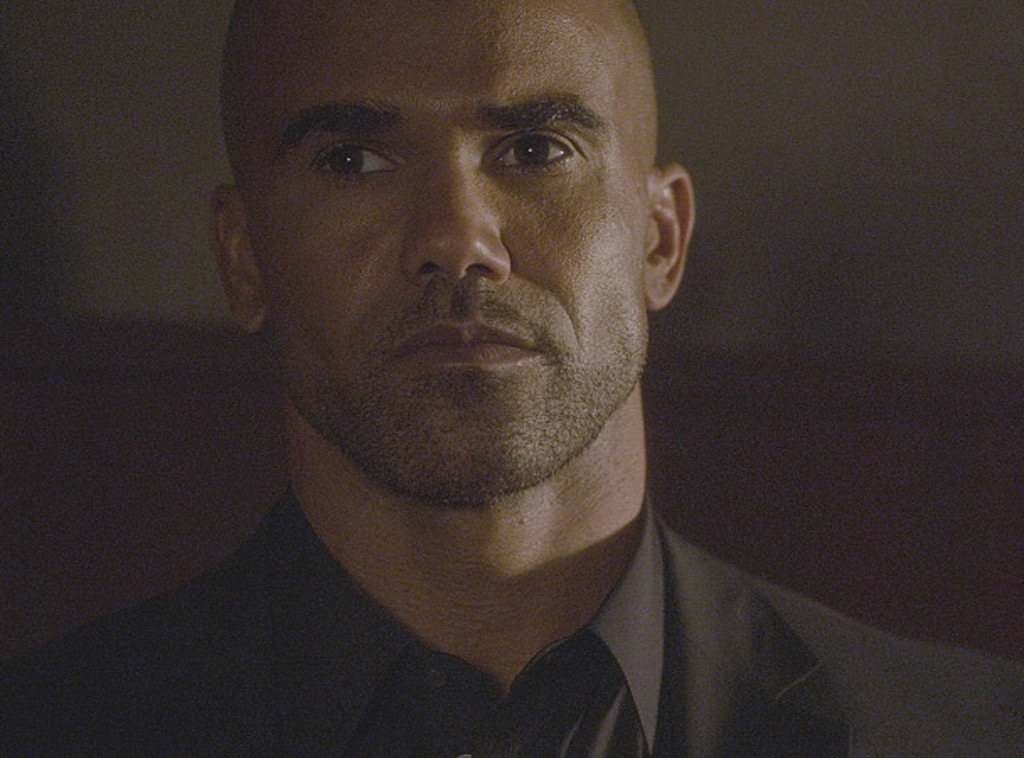 CBS
Still not recovered from the bomb Criminal Minds dropped on Wednesday that, after 11 seasons, Shemar Moore had said his last "baby girl" as Derek Morgan and was walking away? Don't worry, you're not alone.
While we shudder to think about a Shemar-free season of the long-running CBS procedural (those abs!), we can at least rest easy with his assurance from part one of our Q&A yesterday that the door hasn't shut behind Derek Morgan for good and he's more than open to a visit down the road. (What? You didn't read part one of our Q&A with Shemar yesterday? Remedy that now.)
In the second half of our chat with the actor, he opened up about what his final day on set was like, what memories he'll cherish most, and what the road ahead looks like. What follows is our unedited conversation.
When they call a series wrap on Shemar Moore, what's that like? What's your final day like?
My final day was brutal. I mean, it was beautiful, but—again, I love that the episode's called "A Beautiful Disaster." My final day was hard because it wasn't just Derek Morgan walking off into the sunset. It was me, Shemar, who hates goodbyes. There's, you know 360-some odd people that it takes to make that machine work and 11 years, it's really like a family. We spend more time together than we see our own families, and I don't have children, I don't have a wife yet, but many, many of them do and they have to sacrifice and juggle to make that work to spend that much time together. But that final day, the way the ordered the scenes, I had to shoot all my goodbye scenes on that day. It started out with me and A.J. [Cook] and then it went to me and Matthew [Gray Gubler,] then we went to lunch. We're fighting tears, I'm running in place, doing push-ups, going outside. I had Kleenex hidden behind one of the props. A.J.'s trying not to cry. I'm like, "A.J., if you break, I'm going to break." It just kind of all hit us. It was really hard for me.
I'm very excited about the future, I'm very nervous. It's scary, but I have a lot of confidence in myself. I believe in what I'm capable of, and I'm continuing to grow, continuing to learn. You just walk into that fire. I'm excited about that, but to be there on that final day, you do go, "What have I done? Am I really doing this?" A lot of talking to myself like, "Yep, don't second guess yourself. Go." But I wanted to right by Derek in the performances that day and I wanted to do right by my cast mates. You get to work at 8:00 in the morning, and you're fighting tears by 8:30 and it goes all the way until 10:00 p.m. at night. It goes me and A.J., me and Matthew. Then at lunch, all 360 people came down and presented me with a cake and speeches. My mother was there. So, I've got to fight through that, and then I've got to get up and give a speech. I'm choked up and trying not to be a big old wimp and say thank you and be sincere. Then, I got to go away and run to the make-up trailer and try to de-puff my eyes and fix up my face so I can go cry some more with Kirsten [Vangsness] and do my scene with her. And then finally get on the elevator. It was a tough, tough, tough, tough day, but it was beautiful.
When you look back on these 11 years, what are you going to miss the most?
I'm going to miss the free food: Steak and shrimp and potatoes and macaroni and cheese. Man. [Laughs] Because I'm not the best cook in the world, so now I'm walking my dogs a lot and I've got to go grocery shopping. I might take a cooking class. [Laughs] I'm going to miss the camaraderie that we earned and that we built. A lot of shows have stars that's like that main guy or lady, whoever—Joe Mantegna is a star, Mandy Patinkin is a star, but it took all of us. There are no big egos. I mean, sure, we all have egos. You have to have egos to be in this business, but our egos weren't against each other. We all knew everybody was necessary. We needed each other. We all knew how to play our position. From action to cut, it's a very serious show and we had to do our job and we had to curl our eyebrows and go chase unsubs, but in between scenes, in between shooting, we had so much fun. We were goofy. We played jokes on each other. It was a family. There were highs and lows, good days and bad days, but we all had each other's backs. I'll remember the episodes that I did, I'll remember the goofy things. I'll remember that I'm the big dummy, the sucker of the group that got punked by everything. They scared me with a grizzly bear, they scared me with a Sasquatch. One of the crew members put on a bear outfit and, in the middle of a profile, we're heading down the hill behind me. I turn around, freak out. They scared me with bats and rats and Rottweilers. They put green cake on my face because I thought my goatee was too small. They told me they had to green screen my goatee until they couldn't take it anymore and laughed at me. It's just 11 years, you know?
Is there a particular storyline or something that the show was able to shine a light on that you are most proud of?
My proudest episodes are "Profile a Profiler," season two, "Restoration," which revisited the molestation in season eight. Another show called "25 to Life," where I got to really be in the forefront as the leader of the team. So, the molestation story just because it's such a sensitive topic and I feel so good that I've been told that I gave people a voice, a sense of peace, a sense of freedom and courage to move forward with their lives. And it also gave Morgan, the alpha male, some layers to him and some vulnerabilities that made him more human. But having Danny Glover play my father, and to be able to say goodbye the way I did, is probably my proudest moment.
Looking ahead to the future, what's your plan? Do you have a plan?
Right now, I'm going to do as many interviews as I've got to do through the week to celebrate this transition. I'm going to walk my dogs. I'm going to sleep. My birthday's next month, so there's a lot of places that I'd like to travel. I traveled a lot when I was young, but for the last 22 years, I've been rigorously pursuing this career—which I love and will continue to do and I hope there's 22 more years. I've got a movie coming out in the coming months that, like I said, I produced and co-starred in, so I'm very proud of that. I think the baby girls are going to love it. At least, I hope they do. I'll say it to you this way: Denzel Washington leaving St. Elsewhere, George Clooney leaving ER. Without them taking that leap, we wouldn't know them the way we know them today. So, I do have ideas of the type of movies I'd like to do. I do have ideas of cable television that I might like to try. I might even consider theater, things like that. I'd like to fall in love and get married and have children in the next couple of years. Travel. Just kind of do me, so that when I do jump back into the game, all that excitement and love for it will be as full-tilt.
Criminal Minds airs Wednesdays at 9 p.m. on CBS.