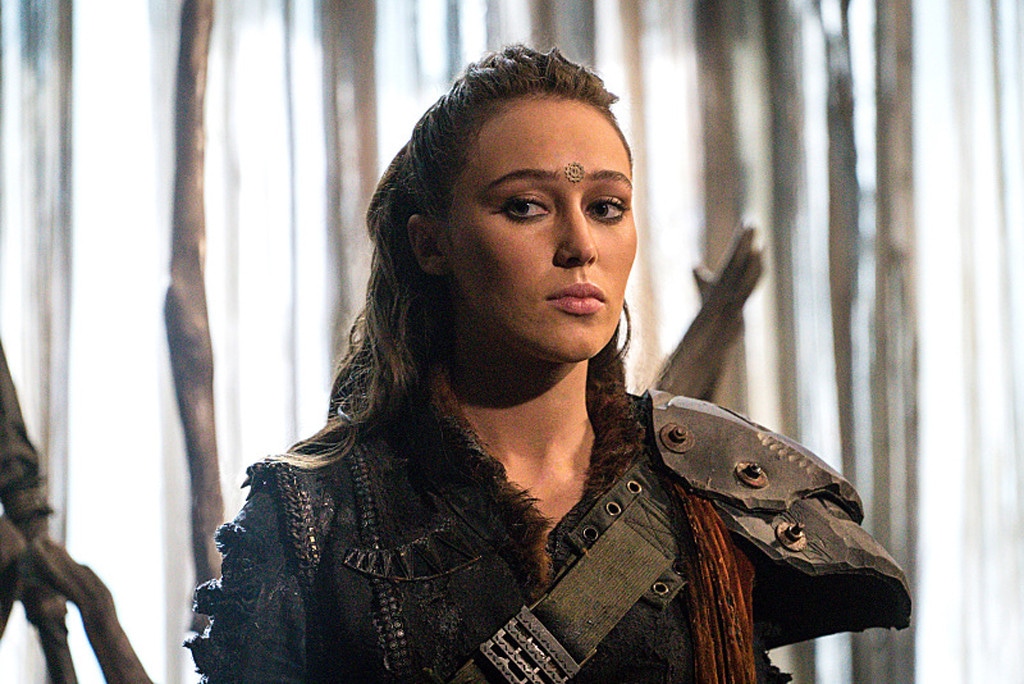 Liane Hentscher/The CW
It's been an emotional few weeks for fans of the The 100. 
In the March 3 episode of the CW's dystopic drama, titled "Thirteen," Clarke (Eliza Taylor) and Lexa (Alycia Debnam-Carey) finally consummated their slow-burn relationship. However, their bliss was shortlived, as just a couple of minutes later (in screen time), Lexa was killed by a stray bullet from the gun of her right hand, Titus, as he tried to kill Clarke. 
It was a sad death in and of itself, but it also unfortunately fell into a trope that lesbian TV characters have been dealing with for decades in which they're unceremoniously killed, usually right after having sex. Many beloved shows, from Buffy the Vampire Slayer to this week's episode of The Walking Dead have fallen victim to this unfortunate trend.  
The 100's creator and executive producer, Jason Rothenberg, has felt the outrage and disappointment from fans, and has posted an open letter to apologize to everyone who was hurt by Lexa's demise. 
"For many fans of The 100, the relationship between Clarke and Lexa was a positive step of inclusion," Rothenberg writes. "I take enormous pride in that, as I do in the fact that our show is heading into its 4th season with a bisexual lead and a very diverse cast. The honesty, integrity and vulnerability Eliza Taylor and Alycia Debnam-Carey brought to their characters served as an inspiration for many of our fans. Their relationship held greater importance than even I realized. And that very important representation was taken away by one stray bullet." 
"The thinking behind having the ultimate tragedy follow the ultimate joy was to heighten the drama and underscore the universal fragility of life. But the end result became something else entirely — the perpetuation of the disturbing "Bury Your Gays" trope. Our aggressive promotion of the episode, and of this relationship, only fueled a feeling of betrayal." 
"While I now understand why this criticism came our way, it leaves me heartbroken. I promise you burying, baiting or hurting anyone was never our intention. It's not who I am." 
Rothenberg explains, as he has before, that on The 100, "no on is safe, and anyone, even a beloved character, can die at any time." 
In this particular case, the death was not just a case of killing off a beloved character for the thrilling drama of it all, since Debnam-Carey is a series regular on AMC's Fear the Walking Dead, and would not be available to The 100 for very much longer. 
"There are several reasons why this particular episode played out the way it did: practical (an actress was leaving the show), creative (it's a story about reincarnation) and thematic (it's a show about survival). Despite my reasons, I still write and produce television for the real world where negative and hurtful tropes exist. And I am very sorry for not recognizing this as fully as I should have. Knowing everything I know now, Lexa's death would have played out differently."
Rothenberg goes on to explain that while science fiction provides an opportunity to take a "helluva ride" in a world with different problems from our own, he has "been powerfully reminded that the audience takes that ride in the real world — where LGBTQ teens face repeated discrimination, often suffer from depression and commit suicide at a rate far higher than their straight peers. Where people still face discrimination because of the color of their skin. Where, in too many places, women are not given the same opportunities as men, especially LGBTQ women who face even tougher odds. And where television characters are still not fully representative of the diverse lives of our audience. Not even close." 
As for the future of The 100 and its characters, Rothenberg promises Lexa's death will not be taken lightly. 
"Clarke is experiencing the profound loss of someone she loved, and she'll carry that loss with her forever. My sincerest hope is that any of our fans who saw a part of themselves in the relationship between Clarke and Lexa can take some small comfort in knowing that their love was beautiful and real." 
You can read Rothenberg's entire letter on his blog. 
The 100 returns next Thursday, March 31 at 9 p.m. on the CW.