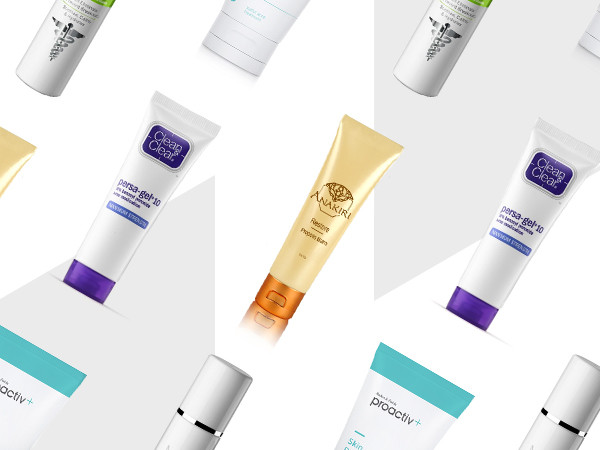 It happens at the most opportune moments. You're going on a first date or you have a big presentation the next day…and bam!
A brand-new pimple rears its ugly black head.
While most of us can't afford at-home visits from the dermatologist (like the celebs), we can turn to non-prescription acne treatments. With aisles full of the stuff, which products will alleviate redness, kill bacteria and won't over-dry the skin? Look for formulas with salicylic acid or benzoyl peroxide, but keep in mind higher concentrations (6-10 percent) can irritate the skin.
Still confused? We polled celeb derms, skin experts and our own staffers for the best picks.
"If I needed a quick fix that would do the trick, [I'd use] Cetaphil cleanser, Evian Mist to hydrate and then I would lightly add on a tea tree and or lavender essential oil to calm the affected area." –Dr. Glenn Vallecillos, DMH AESTHETICS
"I've tried a lot of spot treatments, but I always come back to this drugstore brand. I just apply a little to the blemish at night and the next morning, I can see a result. If you already have a dry complexion, though, this may not be for you." –Diana Nguyen, editor
Clean & Clear Persa-Gel, 10 Maximum Strength Acne Treatments, $9.19
"My favorite is the La Roche Posay Effaclar acne kit because it's an easy-to-use kit that has everything in one place. Several good anti-acne ingredients are combined with soothing ingredients to help reduce acne without over drying." –Dr. Elizabeth Tanzi, Capital Laser & Skin Care
"I like to use the mask to spot-treat angry blemishes overnight. In the morning, the spot is diminished, less red and smaller in size." –Kailey Harless, social media editor
"I love the Anakiri Restore Healing Balm for acne treatment. It's completely organic, and the combination of the tea tree and propolis helps to heal breakouts fast." –Joanna Vargas, celebrity facialist
Anakiri Restore Propolis Balm, $19.50
"Terminator 10 comes in a shiny orange package and has a very industrial-strength feel to it. I use it every night as a spot treatment—it works wonders to dry out even the biggest, nastiest of pimples." –Taylor Stephan, writer
AcneFree Terminator 10, $5.99
Related:
How Celebs Cure Hangovers With IV Infusion Facials