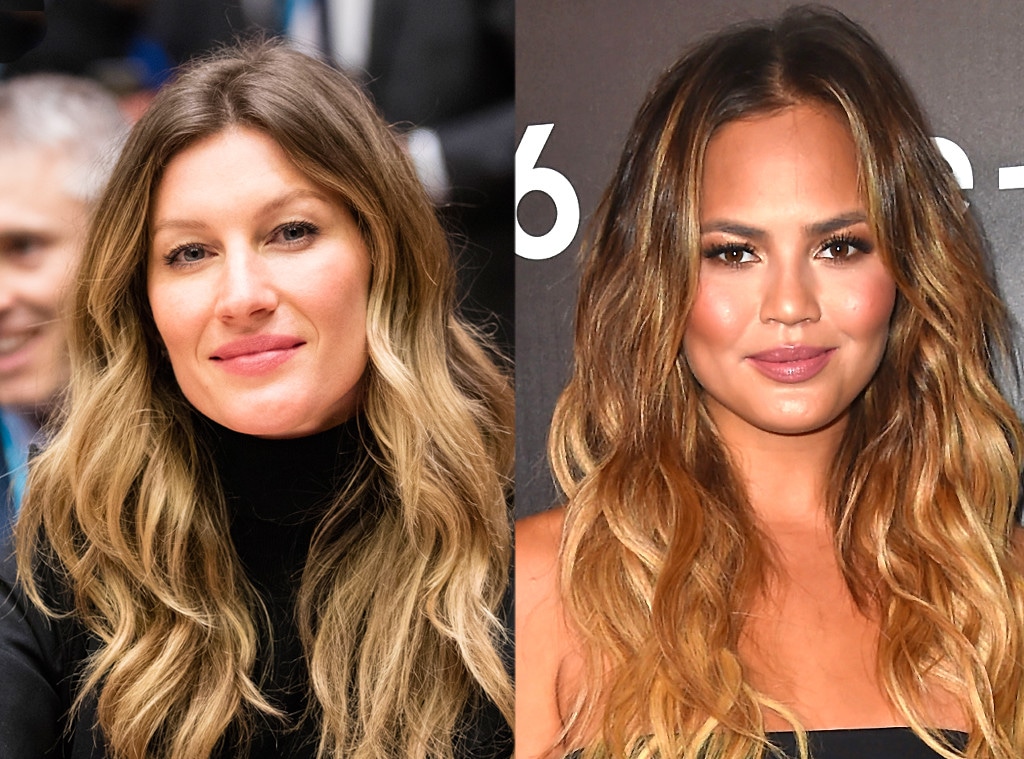 Luiz Rampelotto/EuropaNewswire, Alberto E. Rodriguez/Getty Images
Green smoothies. Swiss Chard. Raw ingredients.
Jack in the Box. Broccoli Cheddar Soup. Croissants. 
What do those two different menu lineups have in common? Absolutely nothing, except for the fact that they are both consumed by supermodels. Two very different supermodels we might add. 
First up is, not surprisingly, Gisele Bünchen. The model is famous for her military-grade strict diet, and earlier this week her personal chef, Joanne Gerrard Young, spoke to Well + Good to give the insider scoop on what the star eats on vacation and also to make the rest of us feel very, very bad about ourselves. The menu, which Young whips up for Bündchen and guests at her Costa Rica home, leaves approximately everything to be desired. It consists of an 80/20 raw-food-to-cooked-food breakdown and also helps to remind Gisele of "our connection to our beautiful planet." Great.
And then there's Chrissy. Dear, sweet Chrissy. She doesn't have a vacation home in Costa Rica or a personal chef specializing in raw, plant-based diets to cook for her, but she did take to Twitter yesterday to share some of her favorite indulgences, which include decidedly un-Gisele-like delicacies such as 100 layer lasagna, a BLT, and the Ranch Doritos Locos taco from Taco Bell. In total, the list was a pregnancy-fueled stoner rant of more than 30 different dishes that added up to over 21,000 calories. 
Get it, girl.
And now here comes the real fun: We're going to have a little foodie face-off between these two beauties, calorie counts included. May the most delicious menu win. 
Gisele's Favorite "Treats"
Superfood Green Smoothie: 72 calories
Swiss Chard Summer Rolls: 66 calories
Pineapple Cucumber Gazpacho: 105 calories
Creamy Coconut Noodles: 600 calories
Coconut Mango Cream "Pie"*: 17 calories
Total: 860 calories
*Ed note: We are still waiting on independent verification that this is in fact pie.
Chrissy's Favorite Treats (No quotes needed)
Pioneer' Woman's Cinnamon Rolls: 319 calories
Cucumber Pork Soup: 121 calories
Sweet Corn Ravioli at Giorgio Baldi: 238 calories
Lasagna Verde a Frtank's: 364 calories
Squid Ink Spaghetti at Babbo: 953 calories
100 Layer Lasagna at Del Posto: 1,690 calories
Duck Croque Madame: 403 calories
Kale Salad at Il Buco: 213 calories
Lettuce Wrap Burge at Lure Fishbar: 772 calories
Pho at Pho Grande: 116 calories
Banzai Bowl at Wahoo's Fish Tacos: 851 calories
2 Tacos at Jack in the Box: 386 calories
Chicken Soft Taco at Del Taco: 210 calories
Ranch Doritos Loco at Taco Bell: 160 calories
Fish Taco at Wahoo's Fish Tacos: 160 calories
Smoothie from Beaming: 35 calories
Vegan Crab Cakes at Gracias Madre: 271 calories
BLT at Joan's on Third: 462 calories
Tuna Melt at Basix: 670 calories
Baked Crab Handroll: 195 calories
Thai Boat Noodles: 74 calories
Fried Rice with Ramen: 529 calories
Hot Chicken at Hattie B's Hot Chicken: 770 calories
Waffle Fries at Carl's Jr.: 450 calories
Broccoli Cheddar Soup Bread Bowl at Panera Bread: 890 calories
Steak Fries at Red Robin: 371 calories
Hidden Valley Ranch Buttermilk Ranch Seasoning Packets: 110 calories
Crack Pie at Momofuku Milk Bar: 455 calories
Corn Cookies at Momofuku Milk Bar: 320 calories
Cereal Milk at Momofuku Milk Bar: 200 calories
Croissant with Raspberry Jam: 340 calories
Donuts: 260 calories
Ice Cream Sandwich at Cool Haus: 260 calories
Orange Cream Milkshake at Mel's Drive-In: 300 calories
Cheesesteak at Tony Luke's: 590 calories
Sour Cream Blueberry Pie at Marie Callender's: 360 calories
Cherry Pie at Sweet Lady Jane: 390 calories
Frrrozen Hot Chocolate at Serendipity: 425 calories
Macarons at Laduree: 100 calories
Chocolate Motherload Cake at Claim Jumper: 2,768 calories
Ramen at Ippudo: 880 calories
Steak Burritos: 435 calories
Hash Browns at IHOP: 280 calories
Tacone Potato Chips: 160 calories
Patty Melt: 434 calories
Pizza: 285 calories
Total: 21,075 calories
And now for a little post-calorie count quiz. 
Did that list of Gisele and Chrissy's favorite foods make you:
A) Feel better about your own diet
B) Feel very ill will towards Gisele and her damn plants
C) Get very, very hungry
D) Want the last 20 minutes of your life back because let's face it, we're all losers here
The answer is, of course, D. No matter how much we compare the lifestyles of these two supermodels, we'll still be the people sitting in front of our computers with our hands halfway down a bag of Cheez-Its.