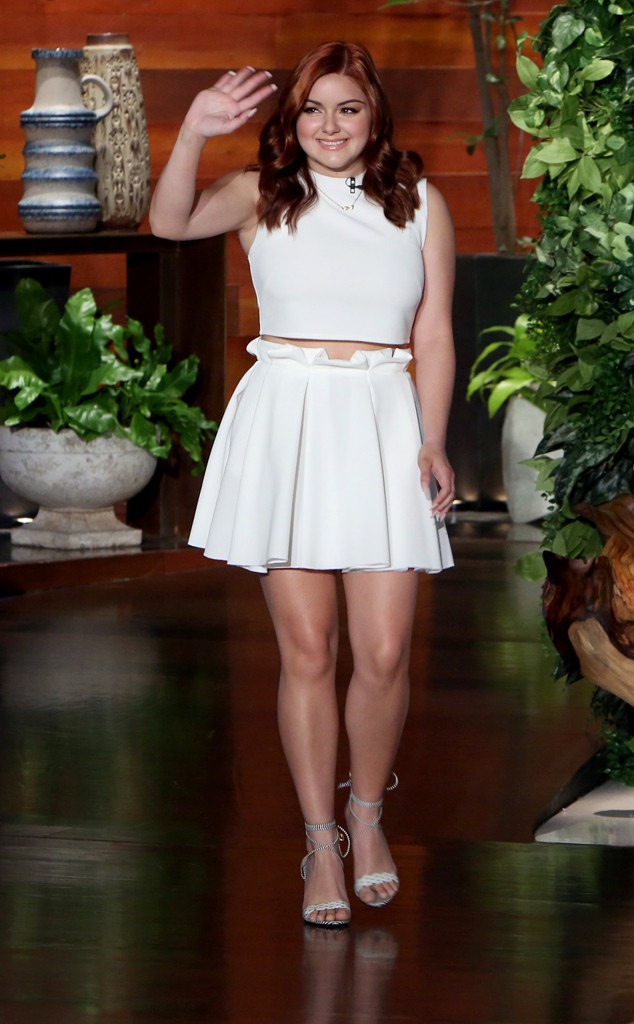 Michael Rozman/Warner Bros.
For Ariel Winter, it's not all fun and games on The Ellen DeGeneres Show. The actress took a seat on the comedian's couch Monday to elaborate on a years-long personal battle. 
The 18-year-old Modern Family star may play the teenage daughter of a nuclear family on the popular FOX show, but behind the scenes, she has been embroiled in a legal battle with her own mother for years. In May 2015, the actress declared she had officially become emancipated. 
"Emancipation is basically you become your own entity," she told the daytime talk show host. "Nobody controls you anymore. You handle your own business affairs, your own living arrangements; your own money. Everything is sort of in your own hands."
Winter's battle for freedom stemmed from alleged emotional and physical abuse from her mother, Chrisoula Workman, whom she hasn't spoken to in three years. Before Winter could be fully emancipated, she became the responsibility of her older sister and fellow actress, Shanelle Workman, as a young teen. 
"From 14-17 [years old] it was a legal custody battle. My sister was granted temporary custody first and then when I was 17 in the beginning of the year she was granted permanent custody," she explained during the interview. "To kind of just move forward with the process and end it all together, we got me emancipated and I could just handle my own affairs."
Daniel Knighton/Getty Images
All these years later, Winter's relationship with her sister trumps all. 
"She's been the best part of my life. She really is my best friend. She is the most important thing to me," she expressed. "She's been there for me through absolutely everything and I just love her so much. I count on her more than anything."
She has less warm remarks for her estranged mother, who appeared on Dr. Phil in 2013 to publicly refute her daughter's claims. 
"I don't really talk about the reason that I don't speak to my mother. It's kind of been publicized, but the reason I don't really share that is because I want to give her the same respect that she didn't give to me publicly," she said of her mother's past public remarks. "It just really didn't try to fix anything with me. It just tried to make herself look better and I'm not interested in that. People can make their own judgments. I did what I had to do for myself."
Having began as an actress in the industry from just 4 years old, Winter's personal turmoil was a painful public process. 
"It's most definitely hard to grow up in the industry, but just grow up in any instance without a mother from a very young age," she described. "It has been very sad for me, but at the same time, it's been much better for me emotionally and physically to be on my own and have a better, safer household and support system."