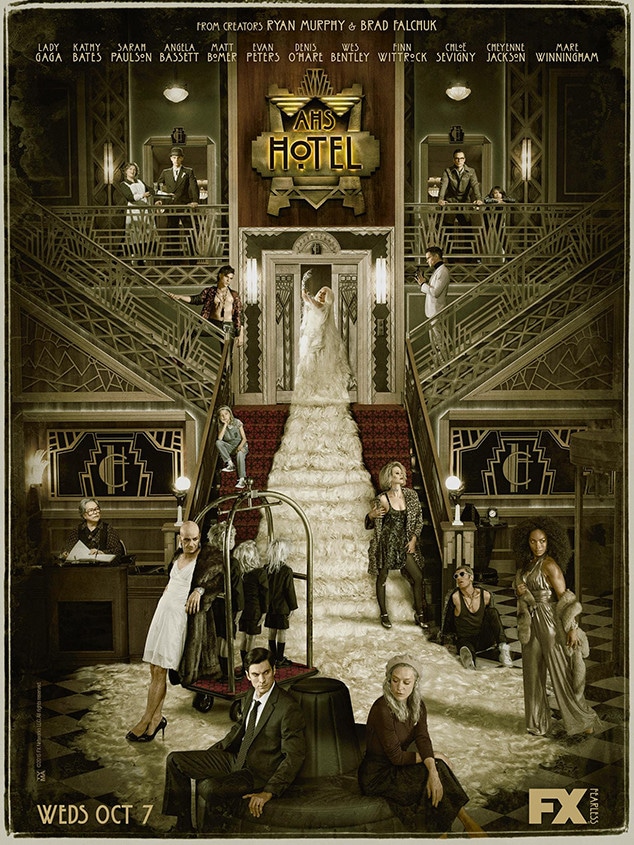 FX
Work on American Horror Story season six is underway and you better get ready for some creepy children. Details are being kept under wraps, but series co-creator Ryan Murphy revealed to audiences at the PaleyFest event for American Horror Story: Hotel, the show's fifth installment, that "elements of children" will somehow be involved in the sixth season.
Gulp.
"If you look at horror tropes, the innocence of children, that sort of wide-eyed entryway into some world is always very dramatic and satisfying," Murphy told the crowd.
So far just Lady Gaga and Angela Bassett are officially confirmed to return for another go. Murphy told E! News he spilled the beans to Bassett at the Golden Globes after Gaga took home a trophy and she was surprised at what's to come. Gaga meanwhile confirmed her involvement during an interview with Z100's Elvis Duran.
"I can't promise you how or when, or anything like that." Gaga said. At the Paley event, Murphy extended the invite to everybody on the panel to return, should they want to.
"We've been working on two ideas at once, but I will tell you that every darling person up here that wants to come back can come back," Murphy said.
The panel included Sarah Paulson (can you imagine AHS without her?), Denis O'Hare, Kathy Bates, Matt Bomer, Finn Wittrock, Cheyenne Jackson, Wes Bentley and Bassett.
Rumors swirled AHS would be taking on Slender Man, the Internet meme about a supernatural character said to stalk and abduct children, but E! News has confirmed that's not happening.
You can also expect some more season crossovers. On Hotel, Paulson played her season one character Billie Jean Howard and Gabourey Sidibe showed up as her American Horror Story: Coven character Queenie. Gaga's character also visited the Murder House for an abortion and Christine Estabrook appeared as her first season character as well. Season four, American Horror Story: Freak Show, featured Lily Rabe playing Sister Mary Eunice, her American Horror Story: Asylum character and Naomi Grossman as Pepper, her Asylum character.
Watch:
"American Horror Story: Hotel" Stars Expose Biggest Fears