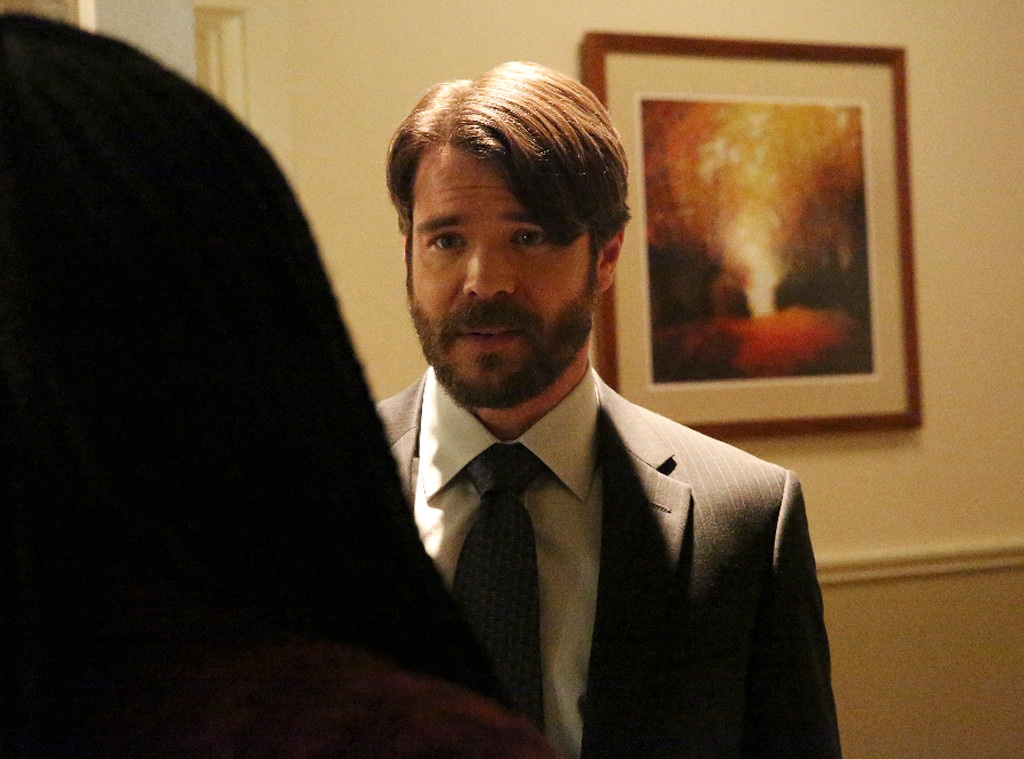 ABC
Warning: The following contains spoilers from tonight's season finale of How to Get Away With Murder. Proceed with caution.
Oh, young Frank. What did you do?
Scratch that. We know what young Frank did. But why, young Frank? Why did you do what you did?
In tonight's season finale of How to Get Away With Murder, we learned that Frank (Charlie Weber) was the one responsible—at least partially—for that nasty car accident that robbed Annalise (Viola Davis) of her child after he took up one of Wallace Mahoney's (Adam Arkin) associates on an offer of a whole lot of money in exchange for planting a listening device in his boss' hotel room. In turn, we also now know why he was indebted to Sam (Tom Verica) when the latter wanted Lila dead. 
With Frank—and the cash from Mahoney he's been sitting on all these years—in the wind at the episodes end, and a bullet in Mahoney's head just as his bastard son Wes (Alfred Enoch) found him, we had plenty of questions for Weber about what we'd just seen and his future on the show. Luckily, he took our call.
Why, oh why, would Frank plant the bug in Annalise's room?
Well, beforehand, he didn't know Annalise that well. He felt like this wasn't going to work out because of how she treated him. He was a naïve kid, he didn't have money, and it was a new thing. He was very apprehensive about it, even then, and had no idea what was going to happen. As you see in the scene with Sam, he had no idea what was going to happen. I think he would've reconsidered that, but unfortunately that bed is made. But I think it was just a young, stupid guy who made a bad decision.
Do you think there was a chance that, if Annalise had spoken to Frank differently that day, he might have just walked out with the device still in the palm of his hand?
Absolutely. That was the tipping point, and that's when he made that choice. And he still almost didn't do it, even after that. He just thought this was a done thing, she was going to fire him, he wouldn't have a job, he wouldn't have money. Even then, he still didn't want to do it. But he made a poor choice.
Watching that finale scene where Laurel (Karla Souza) was searching for Frank in his apartment was excruciating, waiting to see if he was going to go out the way revealed murderer Caleb (Kendrick Sampson) had just a few scenes earlier. When you were reading the script, was there a feeling of, "Oh, s--t, what's going to happen to me?"
I feel Pete would've given me a little more of a head's up, but for all I knew, she was going to go in the bedroom and Frank would just be hanging there by a rope. I think he would take his life if Annalise asked him that, but I don't think he'd do it on his own. It was really very suspenseful and I was absolutely mortified reading the ending, but it's a great reveal. The funny thing about our show is something will happen that makes you think a character has to go, but instead it opens a million more doors and we can do whatever we want—and that's sort of the beauty of it.
So, is season three going to be all about the hunt for Frank?
I have no idea. Pete lets these things simmer during his break, and then he'll just dive right in with a million ideas and, to his credit, we have an open dialogue about my character that I love and I've never experienced before. We'll sit down and he'll have a ton of ideas and he'll let me put my two cents in, I suppose, but we'll see. I have no idea what season three is going to hold, but I'm really excited about the possibilities.
I wanted to ask you about that scene Frank shares with Bonnie where he tells her he knows Annalise doesn't want her dead because he's the one she'd ask.
I love that scene.
Bonnie and Frank seems to have developed this twisted brother-sister relationship. What's it been like developing that over these past two seasons?
It's been amazing, and completely surprising. You know, Liza's a very, very good friend of mine, so it's been nice to develop that on screen with Frank and Bonnie. There was a scene a couple episodes ago where she and I are in a bar, it's a very simple little scene and something very special happened in that moment and I think it sort of changed the perception of their relationship. And people did see how close and understood it was. Just this understanding of another human being. And then that led into the scene that we're talking about now, which, hopefully we'll be able to continue down that road.
Why does Frank go on the run rather than stay and appeal to Annalise? Was there any other realistic option for him?
Not now. He needs to step back and figure this out. He needs to let the dust settle and he needs to think about what he's going to do, and what he's going to have to do, to get back into the good grace of Annalise. Which is anything.
We've got to talk about that final shot, literally. Who do you think pulled the trigger on Wallace? Who's your best bet?
I mean, we don't know. I have my theory. I have my thing that I've put in Pete's head, but he'll do what he thinks is right and best and makes sense for the story. We're going to have to find out. It's a very intriguing situation.
How to Get Away With Murder returns for season three this fall on ABC.