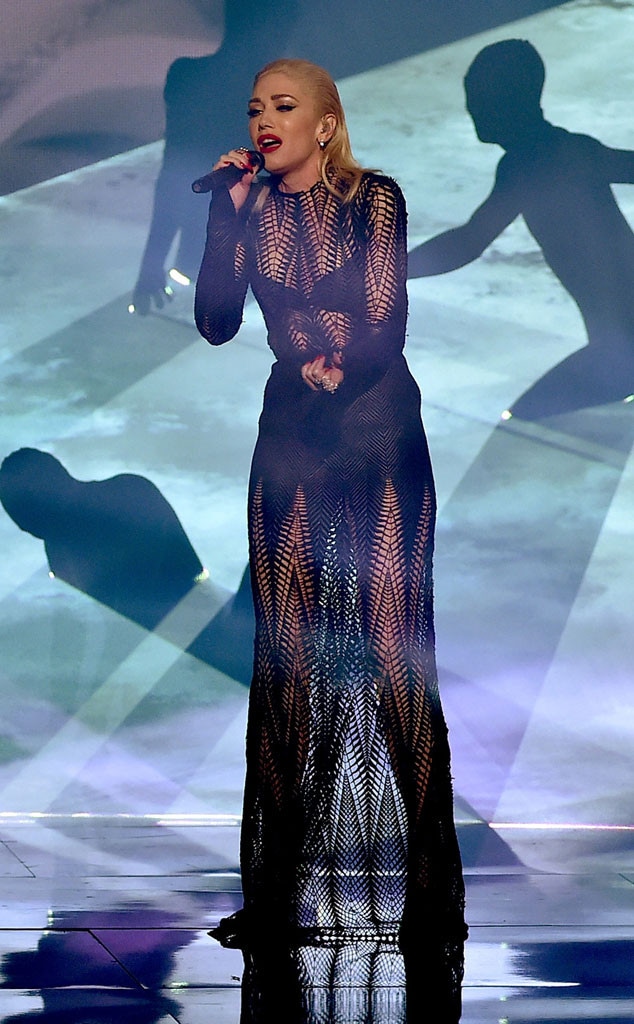 Kevin Winter/Getty Images
By now everybody knows that Gwen Stefani's new album is a heavy-hitter full of major zingers. This Is What the Truth Feels Like, out tomorrow, is exactly how it sounds: An emotional roller coaster full of truth bombs about her recent marital breakup.
For ex Gavin Rossdale it's surely a bitter pill to swallow, and for Blake Shelton the album probably feels like listening to lyrical rainbows and lollipops. For the rest of us, it's an acceptable way to gawk at their love triangle. 
But while songs like "Used to Love You" may seem shocking to those of us who have been keeping tabs on the relationship drama, tomorrow's album isn't the first time that Stefani has used the art of song to air her many, many feelings. In fact, she's been writing heavily emotional lyrics since the days of Tragic Kingdom. Thanks to the lyrical specialists over at Genius, we're getting the chance to walk down the memory lane of Gwen Stefani's discography, stopping at every gut-wrenching song line along the way. Let's review the most shocking.
"All I know is/ You've got to give me everything/ Nothing less because/ You know I give you all of me/ I give you everything that I am" — "4 in the Morning"
This song, off of Stefani's solo album The Sweet Escape, was written while the singer was pregnant with oldest song Kingston. It ponders whether her partner (cough...Gavin...cough) has what it takes to stick through their relationship. She also throws out a few demands throughout the song like "Give me everything you have." Okay then.
"It's almost as if I'm tied to the tracks/ And I'm waiting for him to rescue me/ The funny thing is/ He's not going to come" — "Excuse Me Mr."
Gwen Stefani and No Doubt bandmate Tony Kanal broke up in 1994, and this track, from Tragic Kingdom, came out on the first day of 1995. You do the math.
"I always thought I'd be a mom/ Sometimes I wish for a mistake/ The longer that I wait/ The more selfish that I get/ You seem like you'd be a good dad" — "Simple Kind of Life"
Well, it's a good thing that Gwen has those three beautiful kiddos to keep her company now.
"I kinda always knew I'd end up your ex-girlfriend/ I hope I hold a special place with the rest of them/ And you know it makes me sick to be on that list/ But I should have thought of that before we kissed" — "Ex Girlfriend"
Phew! These words were quite the zingers for Return of Saturn. We're not going to speculate who they were about, but we do know that this is putting Gwen right up there with Taylor Swift in the breakup lyrics hall of fame.
"So I pacify problems/ With kisses and cuddles/ Diligently doubtful/ Through all kinds of trouble/ Then I find myself choking/ On all my contradictions" — "Bathwater"
In this song Gwen is all of us—in other words, she goes for the bad guy and it doesn't work out so well. A bit of foreshadowing, perhaps?
In short, our girl Gwen has been through a lot. So we know we're not the only ones who feel relieved to hear her singing about happier times on This Is What the Truth Feels Like. After having skewered her past breakups, hearing her sing a line like "I tried a lot of things, but you're my favorite" is a breath of fresh air. To Gwen and Blake!