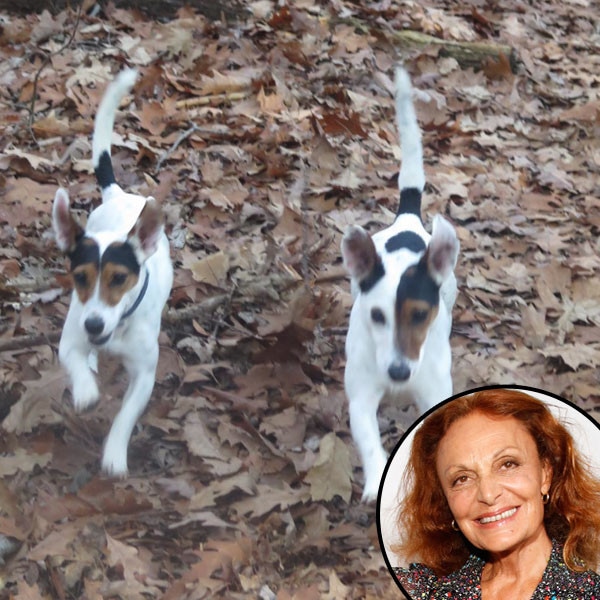 Instagram, Heidi Gutman/E! Entertainment
Now that's puppy love.
Diane von Furstenberg and her husband, Barry Diller, love their beloved Jack Russell terrier, Shannon, so much that they had her cloned. Yes, cloned. The couple paid a Korean cloning firm $100,000 to duplicate their pooch's DNA, and in return received a pair of Jack Russell terriers that are almost exact replicas.
A rep for Diller confirmed the news to the New York Post.
The two new puppies are named Deena and Evita. Shannon already has a DVF dress named after her, and Deena recently received a style named after her. Sadly, Evita has yet to score a look named in her honor, but hopefully in time she'll get one. If these two dogs are pampered as much as Shannon, they'll be living quite the charmed life.
Shannon reportedly lived in a custom-made, neoclassical doghouse. Even though she had high-quality quarters, Shannon became famous for her rousing antics. One year she allegedly disturbed DVF and Dillard's pre-Oscars picnic by getting onto the couple's Spanish-tiled roof. Dillard had to climb up and lure his beloved pup down.
In early December the fashion mogul posted a snap of the two puppies running outside to her Instagram page. "Sisters on a Saturday in the country!," she wrote, signing it: "Love Diane."
She later shared a pic of one of her puppies lounging by the fireplace. "Winter evening!" she captioned the seasonal pic.
Deena and Evita have settled in quite nicely.
Watch:
Diane von Furstenberg Makes Alli Cry on "House of DVF" Finale!