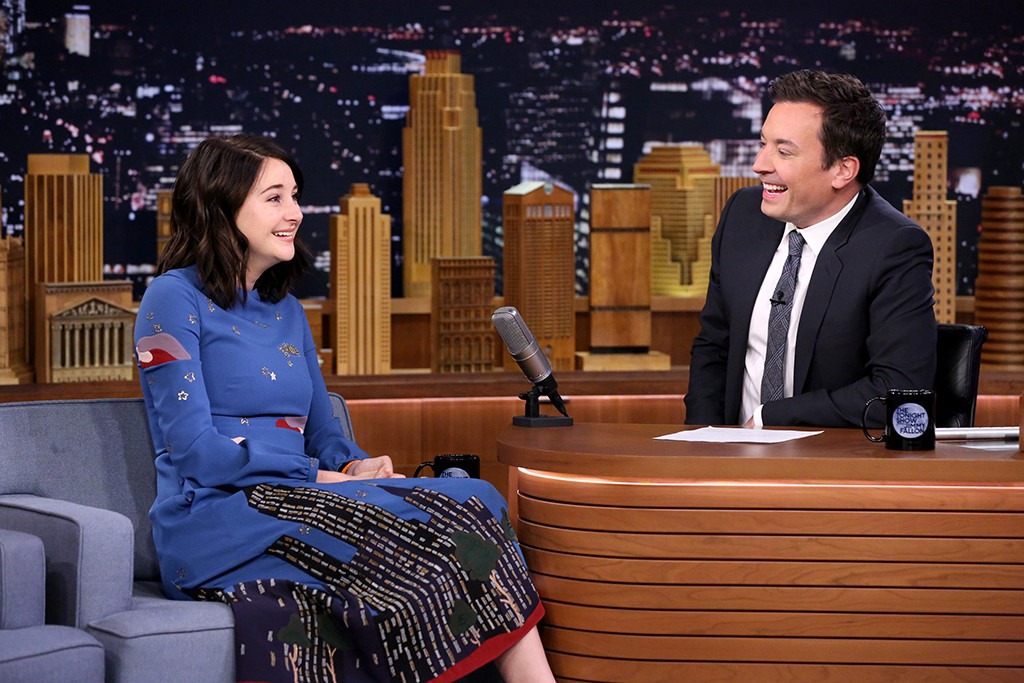 Andrew Lipovsky/NBC
It's no wonder why casting agents fell in love with a young Shailene Woodley.
The 24-year-old star of The Divergent Series: Allegiant stopped by NBC's The Tonight Show Monday, where host Jimmy Fallon unearthed one of the former child star's headshots. "Get ready for cuteness overload," he warned the audience, who oohed and aahed. "Look at this person! Oh, my gosh! That is so cute! Look at that hair! Come on! You could get away with anything. That's the cutest face I've ever seen." Woodley laughed at her former self, joking, "Look at that hair! What was my mom thinking? She spent two hours blow-drying that hair."
Woodley was 5 or 6 years old when the photo was taken. "I was super into Princess Leia. I was so angry. My hair was so short I couldn't do the Leia buns, really. We committed. We tried. You gotta always try," she said of trying to emulate her favorite Star Wars character. "You gotta fake it 'til you make it, ya know? My neighbor next door, she was three years older than me, and she usually got what she wanted. But when it came to Princess Leia, I put my foot down and said, 'No, I want to be Leia.' So, we agreed to be Leia and Leia, and every day after school we would play Leia and Leia. I don't remember really what we would do—I think we would, like, spy on our parents and take little kid notes and stuff—but we were always Leia and Leia."
Because of her deep-rooted love for Princess Leia, it's easy to see which Woodley would be drawn to a similarly strong character like Tris Prior. She reprises the role in The Divergent Series: Allegiant, in theaters Friday. "It's the first time that our crew of antagonists leave Chicago, which is where the first two films take place, and they enter this new world called The Bureau. They're basically exposed to this new culture, and they have to decide whether they're going to follow the government's regime, or they're going to create their own regime, or they're going to go back to Chicago," Woodley explained. "So, they find themselves in more chaos even though they've left their own community's chaos." The film is "a lot bigger" visually, the actress added. "There are a lot more special effects and a lot of CGI, which was totally foreign and actually a very new, interesting experience to be able to act with that much green screen."
(E! and NBC are both members of the NBCUniversal family.)