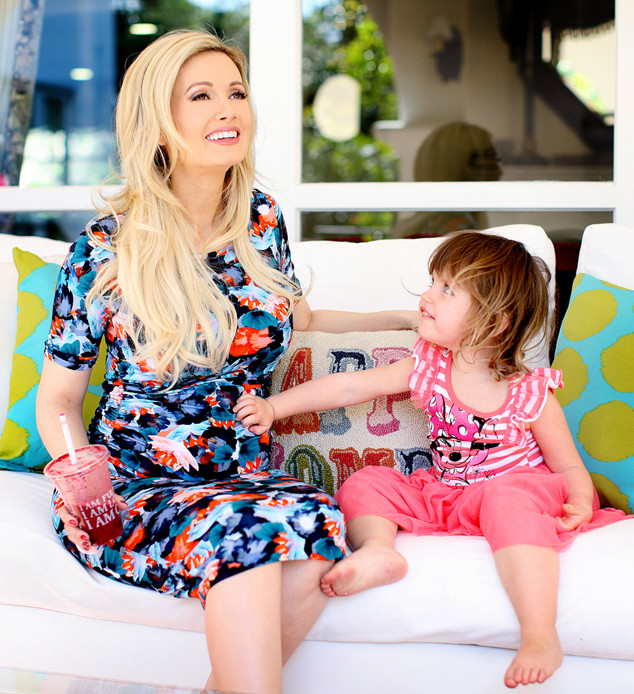 MOVI Inc.- Photos taken with parental consent
Please welcome E! News' newest celebrity blogger, Holly Madison!
The former star of E!'s Girls Next Door and Holly's World is expecting her second child with husband Pasquale Rotella. Their daughter, Rainbow Aurora Rotella, was born in March 2013.
_________________________________
After I had my first baby, there were all kinds of new adjustments to take on.
First and foremost, there is the care and feeding of the new little person in your life. Next, you have to adjust your household to the new addition as quickly as possible. Items shift making way for the baby's new things and pets become second class citizens. If you have a spouse or partner, that relationship can end up on the back-burner. Then there is getting back to work. The average woman returns to work a short six weeks after giving birth, so getting your routine in order quickly and effectively is a priority.

If that's not enough there's that other obsession that we are reminded of anytime we stand in line at the check-out counter, as brightly colored racks of magazines stare back at us. "Get Your Body Back!", "Body After Baby!", "Lose the Baby Weight!" It's as if we are in a race. I have a whole set of thoughts on that issue alone, but I will save that for another time. There were so many things to think about postpartum and yet...my brain wasn't up to the task.

After giving birth and (kind of) getting the hang of feeding and nurturing my child, I started to notice how troubling forgetful I had become. I would leave the house and forget two out of the five things I needed to bring with me. My husband would ask me for an important favor and I would completely space on it. I would forget about obligations, things that had been on my calendar for months. It wasn't something that happened just a few times, it happened regularly and it was embarrassing. Sometimes I would want to cry because I would feel so stupid or because I had let someone down with my forgetfulness.