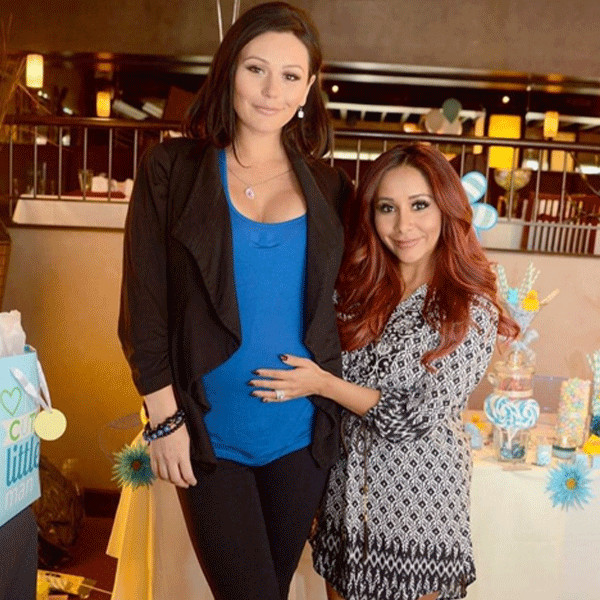 Instagram
The countdown to baby No. 2 is so on!
As Jenni "JWoww" Farley prepares to expand her family with a newborn, the reality star had the opportunity to celebrate with a "baby sprinkle" along the Jersey Shore.
E! News can confirm close to 60 guests including JWoww's family and BFF Nicole "Snooki" Polizzi traveled to the Savor Lounge in New Jersey Sunday afternoon for a party sponsored by Bloom + Kind Co.
"The afternoon was so much fun," a source told E! News. "Jenni was really surprised. Nicole did a candy display and centerpieces for all the tables."
Throughout the day, guests were able to enjoy a custom-made cake by Confections of a Rock$tar Bakery themed after Beauty and a Beast while playing the game "What's in Your Bag." As an added bonus, those who scored an invite walked away with presents from Bloom Baby, 125 Collection Candles and Teddy Canz custom teddy bears.
In behind-the-scenes videos posted on Snooki's Snapchat, JWoww was visibly touched by the love in the room and even got emotional while holding her daughter Meilani during the baby sprinkle.
And for those wondering what exactly a "baby sprinkle" means, we've learned that after some moms gets pregnant again, their shower is much smaller and can be referred to as a "sprinkle." The more you know, right?
It's hard to believe that it's already been close to five months since JWoww married her husband Roger Mathews. After exchanging vows in front of their closest friends, the couple dropped a major surprise: They were expecting another child.
"This was one of the hardest secrets to keep but it was one of the most memorable parts of our wedding!" the bride told E! News exclusively. "The reaction from everyone was priceless. Roger and I only told our publicist and our nanny that we were expecting, so to watch everyone's face when Roger announced it was priceless."
So when can we expect this happy baby to arrive? Marks your calendars because Meilani is going to be a big sister really soon.
"May 2016, a mini Roger is coming! Get ready, world!" she wrote on her website after announcing she was expecting a boy. "Thank you everyone for all your kind words and love for our growing family, we appreciate it so much!"
Us Weekly was first to report the baby "sprinkle."