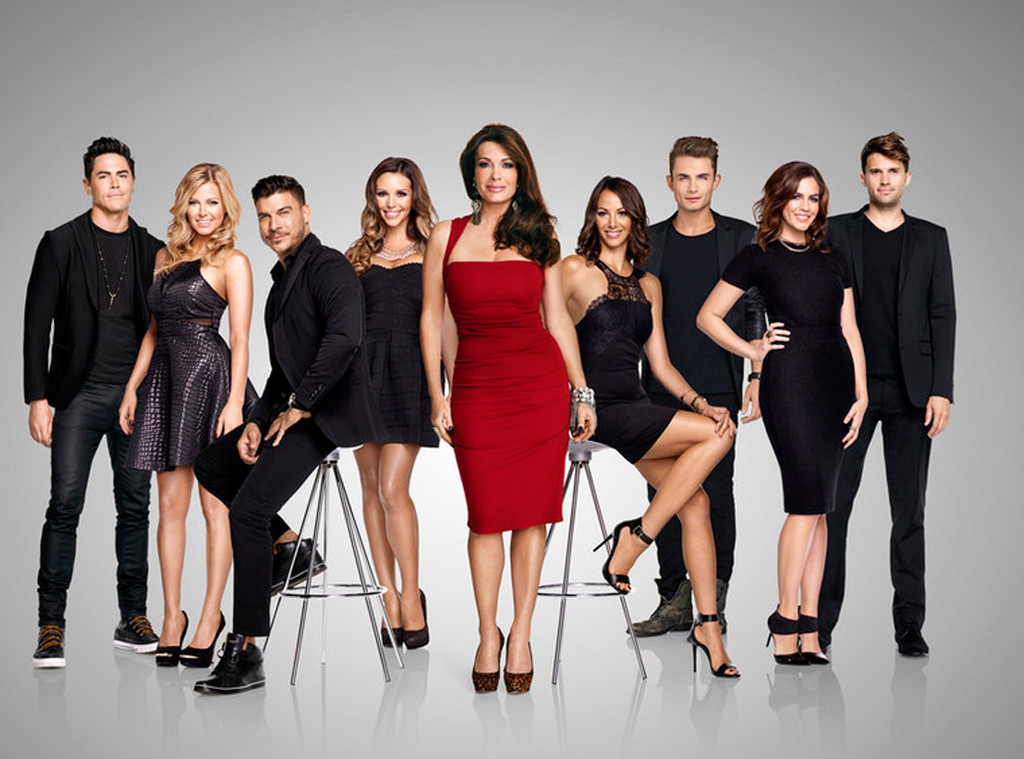 Bravo
Season four of Vanderpump Rules has come to a close, and they all lived happily ever after...
Haha, just kidding. This is Vanderpump Rules, we're talking about, people. If you thought tonight's episode of the Bravo hit would end with everyone singing "Kumbaya," you clearly haven't been paying very close attention. No, true to form, the loons that Lisa Vanderpump employs to sling cocktails at SUR wrapped up another season with fists swinging and insults flying. And we wouldn't have wanted it any other way.
Of course, now that season four is behind us, it's vitally important that we break down who walks away season MVP and who took a big swing and a miss every time at bat. Behold, the Vanderpump Rules season four power ranking.
11. Jax Taylor
Did anyone whiff it harder than Jax this season? No, they did not. It truly was a minefield of misery watching this guy this season. He promised he wouldn't jump into relationships quickly and then what does he do? Moves Brittany into his studio apartment from out of state after knowing her for about a minute. He promised he wouldn't screw up anymore and what does he do? Ruin a trip to Hawaii for everyone by stealing sunglasses and racking up a felony arrest. He dropped a deuce with the bathroom door open on camera, he drunkenly ranted about being the No. 1 guy in the group, he pretended he never aggressively pursued Lala even though he did on camera, he demanded Brittany get a boob job to his specifications  and he actually said this tonight: "I'm not the type of guy who sits around and has a verbal debate. I settle things using my fists. And it's definitely not a good thing for a guy on probation." It's not a good thing for anyone, Jax. And this season was not a good look.
10. James Kennedy
If there was anyone who gave Jax a run for his money on the race to the bottom, it was James. Whether he was declaring himself the "white Kanye West," pitting Kristen and Lala against one another as if they were objects for him to possess rather than women with minds of their own, drinking himself into oblivion, disrespecting Lisa to her face, or spitting on Kristen's door, the kid proved this season that he has a lot of growing up to do. He only rates above Jax because, at 36, Jax should know better by now.
9. Lala Kent
Lala earned our sympathy much of the season for the slut-shaming she faced from many of the other girls—and how can you not feel sorry for someone as aggressively pursued by James as Lala—but she played into James' obsession with her one too many times, reveling in the his attention and how it upset Kristen. Plus, she put her hands on Kristen tonight. Not cute.
8. Scheana Shay
Has there ever been a season for Scheana that didn't seem to involve her constantly crying? This season, her marriage to Shay was already on the rocks, thanks to an apparent drinking problem that seemed to be blown out of proportion (for screen time?) and her relationship with BFF Ariana was threatened until it wasn't. When one little conversation in a season finale fixes everything, we've get suspicious.
7. Tom Sandoval
Sandoval got an ass tattoo, tried stand-up comedy, and made a music video this season. That's about it.
6. Ariana Madix
Ariana usually tells it like it is, and we used to like that. But now it just feels like she's rude and humorless, which is rich, considering how seriously she says she takes sketch comedy.
5. Kristen Doute
And the Most Improved Award goes to... Seriously, once Kristen broke free from James and got into therapy, it was like we were seeing a new woman. She was self-aware, she was funny, and she owned up to her mistakes as she made them. Season four Kristen is the best Kristen. Let's hope she sticks around.
4. Katie Maloney
Katie could be a little harsh on Lala at times this season—her informing Lala about her Pucker & Pout launch party just to tell her she's not invited felt especially rude—but she handled the resurgence of a certain someone on this list in a refreshingly realistic way. She didn't greet her with open arms, forgetting all the bad blood, but she maturely admitted to what she could and couldn't handle with Stassi in a way that felt true to their shared history.
3. Stassi Schroeder
Look, anyone who can scorch the earth like that only to come back, withstand the initial scorn, and win over almost everyone she'd originally hurt has a certain undeniable power. The show didn't feel complete during Stassi's absence. No one else was offering up blistering gems such as "The only thing that I have holding me back right now is that I have self-respect and dignity. Thank god for Kristen, who is unburdened by those anchors." Never leave us again, Stassi.
2. Tom Schwartz
Is there any cast member on Vanderpump Rules more likable than Schwartzy? Homeboy really stepped up to the plate this season, finally committing to Katie with a proposal that had us swooning—and don't forget about how he handled his first meeting with Stassi like a boss. Schwartzy FTW.
1. Lisa Vanderpump
Did you expect anyone else? No one knows how to put this motley crew in their place like LVP and her sharp tongue. Whether it was Stassi's groveling, James' ego, or Jax's everything, Lisa said to their faces exactly what we were thinking—and in a way that had us laughing out loud all season long. All hail, Queen Vanderpump.
Did we get it right? Who won the season for you? Sound off in the comments below.
The Vanderpump Rules reunion specials begin Tuesday, March 21 at 9 p.m on Bravo.
(E! and Bravo are both part of the NBCUniversal family.)
Related:
"Pump Rules" Stars Tom & Ariana Play "Most Likely To"