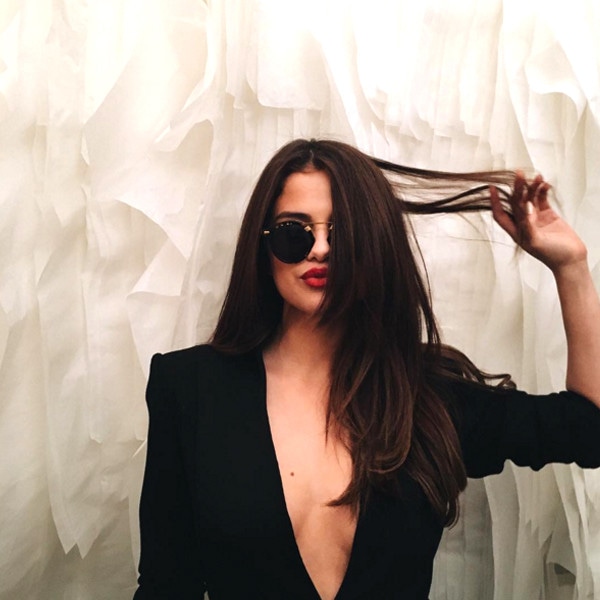 Instagram
Now this is cause for a selfie celebration!
Selena Gomez is now officially the most-followed person on Instagram, narrowly beating Taylor Swift for the prestigious title with 69.4 million followers (and counting!)
The "Can't Keep My Hands to Myself" singer also nabbed the title from Kim Kardashian (who has an impressive 63.7 followers), Beyoncé (whose Bey Hive is 63 million strong) and Justin Bieber (who trails in at 61.6 Beliebers).
And between her hilarious videos showing her snacking on McDonald's with her besties, glamor shots of her strolling the streets in couture in Paris, and throwbacks from her days with none other than Barney, it's no secret why SelGo's gained a massive following on the social media platform.
But if you haven't had a chance to take a thorough look through her snaps, let us recap some of her most memorable pics yet:
1. Casual Hangout: Oh, who's that? Brad Pitt chit-chatting with Ms. Gomez during a Golden Globes after party? No big deal...just another night in the 23-year-old's glamorous world.
2. Sexy Selena: Shortly before dropping her latest album, Revival, the singer posted this shot of her posing in her skivvies much to the delight of many a follower. 
3. Taylor Time: What's a girls' night in without T.Swift, Jaime King, Hailee Steinfeld and more? Well, for one, an event we wouldn't want to miss. Luckily, Gomez posts several shots from her star-studded hangouts to make us feel (sort of) included.
4. Hi, Haters: Who could forget when SelGo famously shut down those criticizing her figure when she posted the above photo and wrote, "I love being happy with me yall#theresmoretolove."
5. Selfies for Days: Everyone loves a good selfie, but there's one particular setting that Gomez just cannot get enough of—a car selfie. Case in point? See above.
6. Leggy Ladies: Who spent their New Year's Eve with Gigi Hadid on the beach in Dubai? And who posted a series of pics to prove it in the best way possible? Yep, you know the answer.
7. She Got It From Her Mama: Side-by-side shots proving that the apple didn't fall far from the tree are aplenty on the "What the Heart Wants" singer's page.