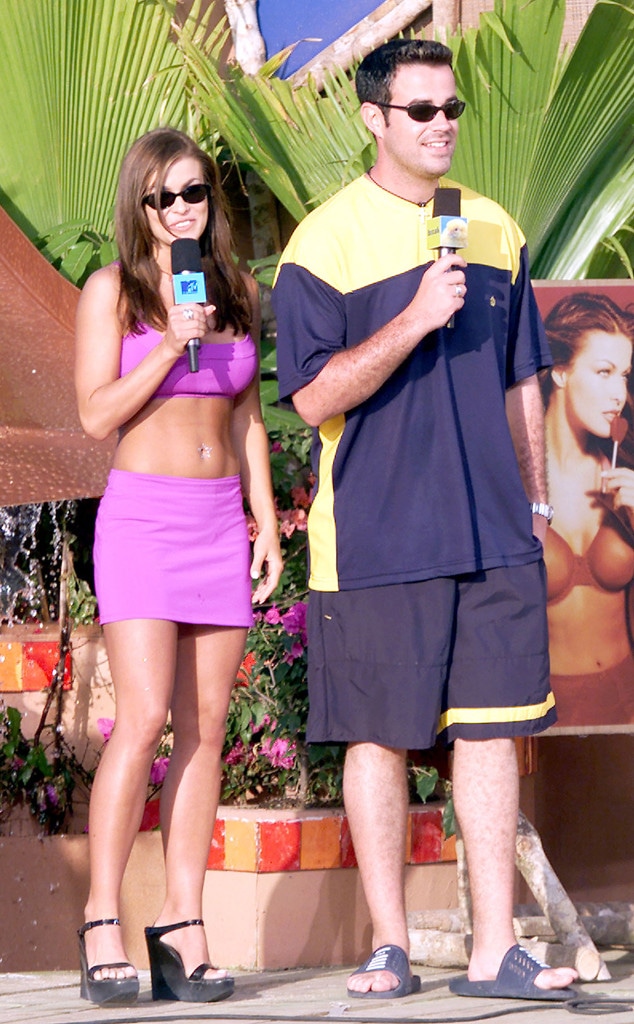 Frank Micelotta/Getty Images
Admit it. You would have given up your only pair of cargo shorts to be one of those babes or bros on MTV Spring Break back in the day. Even if you never made it to an actual event, you sure as hell stayed home and soaked it up on your parents TV. How well do you remember those magical moments, however? What about that year Jessica Simpson raged on stage in a pair of gaucho pants? It happened, and it was beautiful. In case time let any of these MTV moments slip from your memory, we're here to remind you of them. We ranked the seven wildest things ever to happen on MTV Spring Break because, well, nostalgia. Coming in at number seven? Carson Daly's array of bro-tastic beachwear above. Thankfully Carmen Electra, the kween of MTV Spring Break, stepped in and saved our eyes. Is that bejeweled belly button art? We hope so. 
Lawrence Lucier/FilmMagic
6. Vanessa Lachey slaying a terry onesie and Chanel necklace. Nothing embodies '00s MTV Spring Break more than this brave and aggressive look. 
5. Destiny's Child playing Fashionably Loud. Those Hawaiian-print tankinis from American Eagle coming down the runway are the only thing that could make this performance better than it already is. 
4. Fat Joe wearing a Fendi towel as a fashion statement. Sure he and Ashanti were iconic, but dancing in a designer bath accessory kind of stole the entire show in our opinion. 
3. "Springer Break." That ugly crying face you make when Jerry Springer ruins your vacation (and life) on national TV. 
2. Matthew Perry and Lindsay Lohan low-key hanging out. The award for most random celebrity party pals goes to these two. This pic should take care of both your '90s and '00s nostalgia cravings for the rest of the week. 
1. This footage of Dream, Molly Sims, Tyrese and Crazy Town. No other collection of beings could top this magnificent medley. This is number one on our list for obvious reasons. Nostalgia is coming out of your nose, and you love it.
What wild MTV Spring Break moments do you recall? Share your memories with us in the comments! 
Watch:
How to Find the Perfect Swimsuit for Spring Break
Find the perfect Spring Break swimsuit!