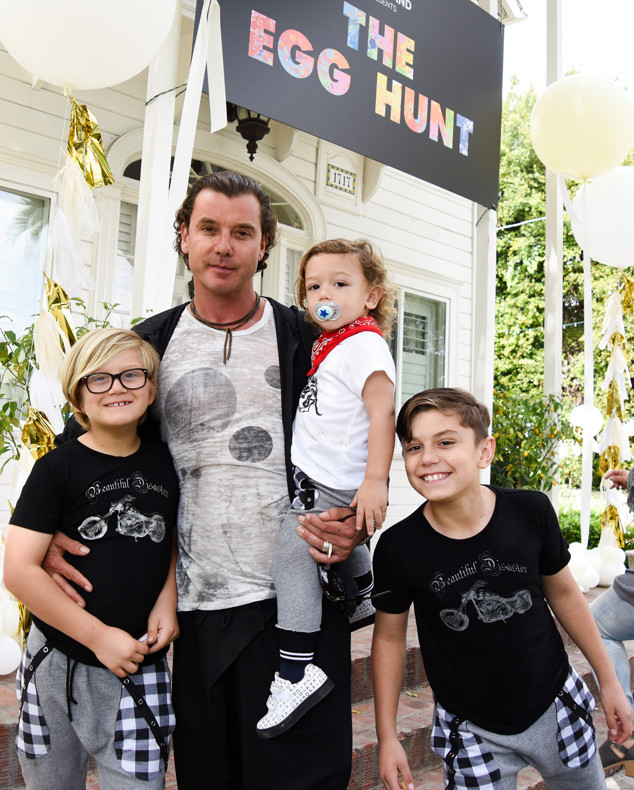 BFA/REX/Shutterstock
Gavin Rossdale spent some quality time with his and Gwen Stefani's three children over the weekend.
Rossdale and his sons—Kingston, 9, Zuma, 7, and Apollo, 2—kicked off some springtime celebrations at an AKID Brand egg hunt at the Lombardi House in Los Angeles on Sunday.
Kingston and Zuma donned fashionable matching Jagged Culture outfits, wearing black shirts with a motorcycle printed across as well as gray pants with blue and white gingham patching. Apollo, on the other hand, looked adorable in a different Jagged Culture ensemble, donning a white shirt with a red bandanna.
Owen Kolasinski/BFA/REX/Shutterstock
Rossdale opted for a black-on-black sweatsuit with a gray, patterned shirt. Also notable, he was still wearing his wedding ring, which he previously said "makes his kids feel good."
Not only did they boys enjoy hunting for eggs, but they also got some caricature art drawn of them. Apollo stayed with his dad throughout the day, while the two older sons ran around and enjoyed the activities.
Owen Kolasinski/BFA/REX/Shutterstock
Meanwhile, following his divorce from Stefani, Rossdale has made his children his focus.
A source previously told E! News, "All Gavin is concerned about right now is protecting his kids. He is a fantastic father and his kids have been going through a hard time."
Rossdale and Stefani filed for divorce in August after 13 years of marriage.
At the time, they released a joint statement about continuing to raise their children together: "While the two of us have come to the mutual decision that we will no longer be partners in marriage, we remain partners in parenthood and are committed to jointly raising our three sons in a happy and healthy environment. To that end, we respectfully request privacy from the media during this time."