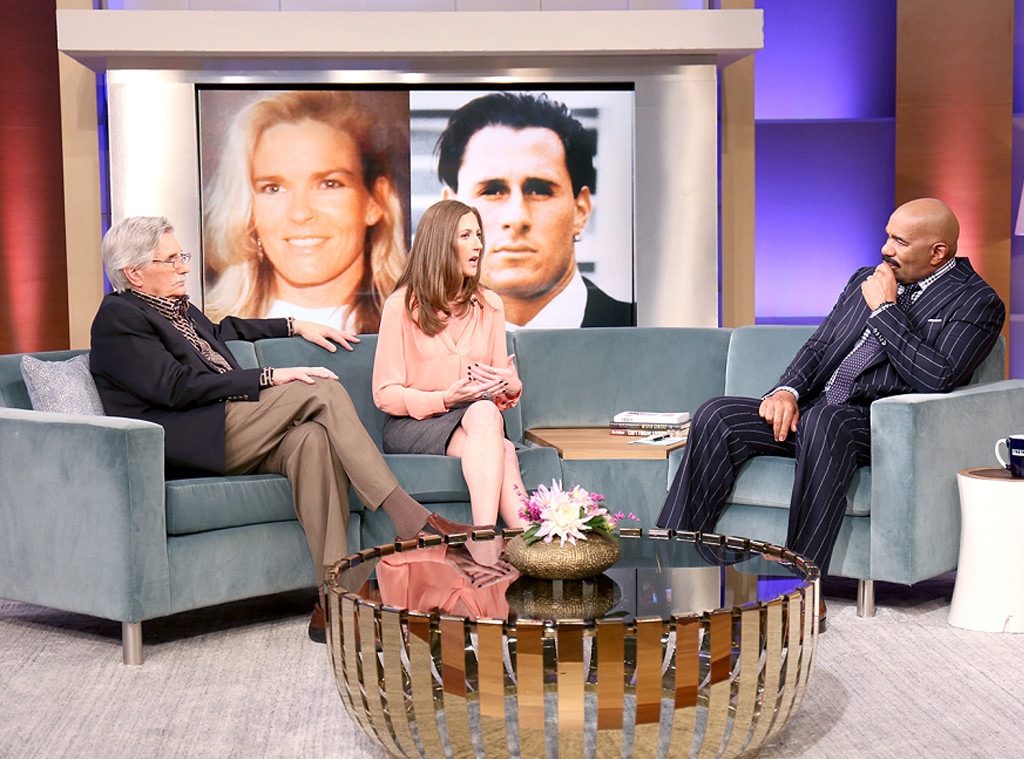 Tegan Kinane/NBC
The People v. O.J. Simpson: American Crime Story is still not sitting well with the family of Ron Goldman. Kim Goldman, Ron's sister, and Fred Goldman, Ron's father, appeared on The Steve Harvey Show and addressed the popular FX series. Fred said he was troubled by the series and its focus on the attorneys involved with the trial.
"Ron and Nicole appeared as dead bodies in the beginning and that's it. So far there's not been a mention of them again, and I suspect that's the way it'll continue. There's going to be a whole generation of people who never knew anything about this trial that will see this series and take it as gospel, when in fact it won't be and isn't," Fred told Steve Harvey.
However, there have been scenes. Actors portraying the Goldmans appeared in a scene with Sarah Paulson as Marcia Clark where they discuss Ron and Marcia's quest for justice. Jeffrey Toobin, the author behind The Run of His Life: The People v. O.J. Simpson in which the FX series is based on, told us he's in touch with the Goldmans. "There's a wonderful scene in episode three where the character Fred Goldman comes in and Marcia says I know how you feel. And he says, 'No you don't. You don't know how I feel.' No one can know their pain but they can respect their pain, and that's what we were trying to do here," Toobin told us ahead of the premiere.
"I don't know what the probative value is of the show—it's everywhere all over again and people are all, 'Oh, the acting is riveting and this is such a great plot line,' and I'm thinking these are murders. It's very confusing to us because this is not entertainment…This show just kind of ripped the Band-Aid right back off, poured gallons of salt in it," Kim said. "They're going to leave the Band-Aid off and leave us to be and I think it's really insensitive to not consider the families at all throughout this process."
Kim previously spoke out to Today and said she wanted people to remember her brother was a hero.
Kato Kaelin also appeared on The Steve Harvey Show and said he has issues with how Billy Magnussen decided to portray him and finds it "terrible" the families of Ron Goldman and Nicole Brown Simpson were not notified about the series.
"Speaking on my behalf, a lot of inaccuracies, because how can one man's [Toobin] book—it's his opinion—how can it be privy to all these private conversations that went on?" he told the host.
At the premiere, Cuba Gooding Jr., who plays O.J. Simpson on the FX series, had a message for the families of Ron and Nicole.
"I just hope that they find some peace because I can't imagine what they're going through," he told us. "You know, when I signed on to this project, it was because Ryan Murphy was doing it and I want to work with real filmmakers and that first and foremost was my reasoning for accepting this role. Prior to this offering, I had an offer to do a film based on O.J.'s innocence and I passed. So, here I am. So, I don't pretend to try to understand what any of this means to either the Goldmans or the Browns, but I'm an actor. I was asked to do a role. Hopefully I brought some truth to it and that will help in the process of understanding the circus that was this time in America."
The People v. O.J. Simpson airs Tuesdays, 10 p.m. on FX. The Goldmans and Kato Kaelin will be on The Steve Harvey Show on Tuesday, March 15. Check your local listings for time.