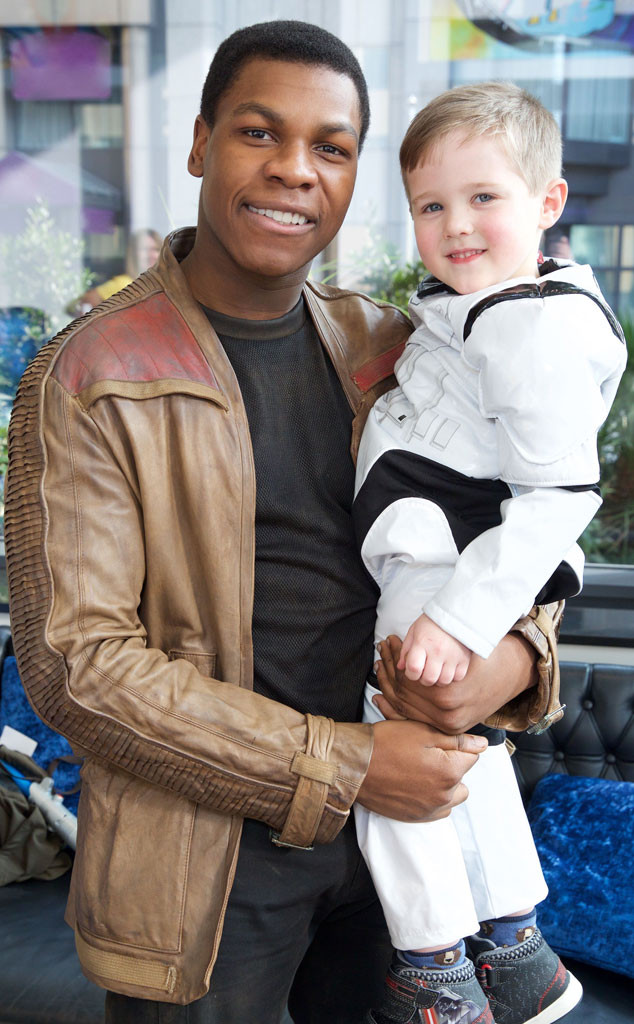 JABPromotions/REX/Shutterstock
The Force is strong in John Boyega.
The 23-year-old actor spent Friday delivering toys from Star Wars: The Force Awakens to sick children at The Royal Hospital in London. John came at the request of 5-year-old super-fan Daniel Bell, who has been diagnosed with a brain tumor; Daniel's dream was to meet John's character, Finn. "Rather than having Finn to himself he wanted Finn to meet the kids at the Royal London hospital and give them some toys. I stayed in character while I was with this brave boy asking him what a car was. He taught Finn about everything earth related!" John wrote in an Instagram caption Sunday. "Really thankful for the opportunity this child granted me and I'm just humbled! I hope I played a little part in making you smile young stormtrooper."
Daniel's mom, Rosalind Bell, thanked John and the Rays of Sunshine children's charity for organizing the visit. "It was just amazing. I have no words!" she wrote on Facebook Saturday. "Daniel is still totally overwhelmed. I have never seen him so happy." When another mother, Natalie Summers, said her daughter was one of the children who got to meet "Finn" that day, Rosalind replied, "Finn was just amazing, wasn't he? He's so kind to give his time to do that. I was really touched when Dan made his wish, and that Rays could make it happen for him. I hope that your daughter is doing OK; it's not easy for them going through so much so young."