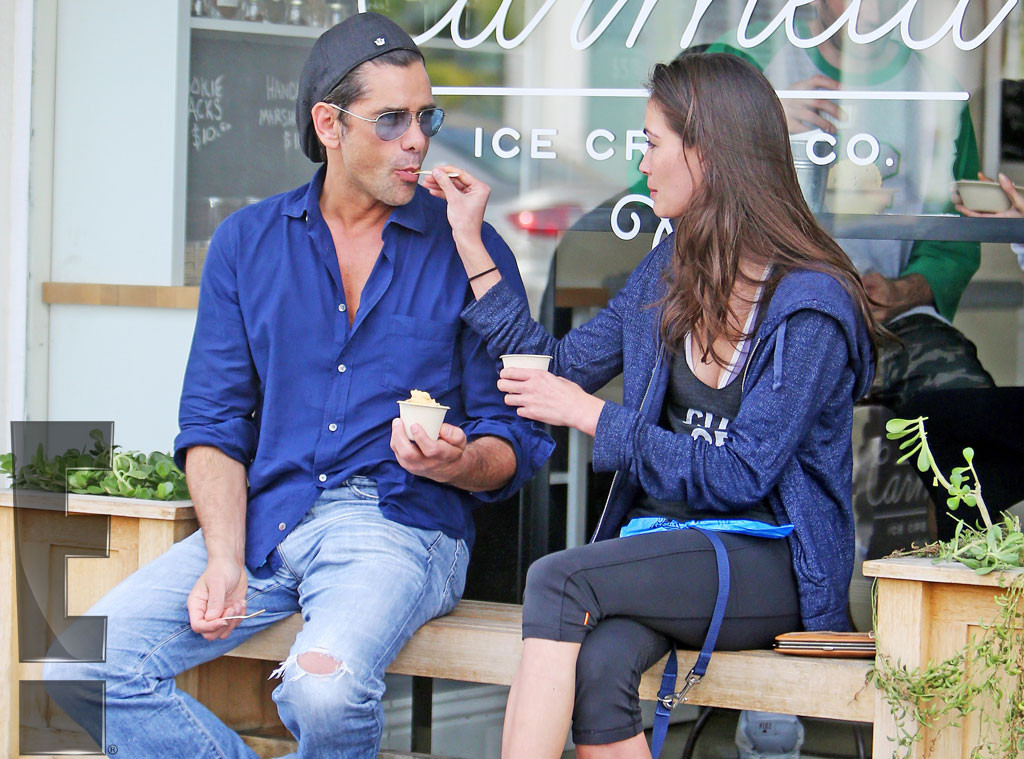 Splash News
How sweet!
Grandfathered star John Stamos took a break from his hectic acting schedule to squeeze in an ice cream date with a new mystery lady.
While the dark-haired beauty's identity remains to be discovered, she joined the 52-year-old Hollywood hunk for lunch at Toast followed by the cold dessert at Carmela's Ice Cream Shop in Calif on Wednesday. 
The pair cozied up on a bench in front of the eatery to enjoy their matching waffle cone cups of ice cream. The woman even hand-fed him a spoonful of her flavor while they casually sat in the sunshine. 
Could this be the new woman in Stamos' life? He subtly revealed he was dating someone just a week earlier when he appeared on The View as a guest. 
"The other night, I grabbed my phone because there's this girl I'm dating," he said while describing his ongoing tour with The Beach Boys. 
"She loves this song 'Disney Girls.' So I grabbed my phone and put it in front of [me] to shoot the whole thing. I thought I got away with it. And people were like, 'Who are you FaceTiming?'" 
In what appeared to be a typical date moment, the actor got a little messy with his treat, but not to fret—the dark-haired beauty was there to clean up his cheek as an adorable dog cozied up by their feet. 
It seems Stamos is not the neatest when it comes to his clothes, either. In close-up shots of the star's shirt, it seems he may have gotten a bit stained in the course of their outing. From the looks of her smile, it appears this woman liked the star just the way he was—spills and all. 
It looked like the actor wanted to do away with his blue button-down shirt altogether while letting it fly around in the wind half unbuttoned. Have mercy!
The mystery woman seemed to get a kick out of the look, stopping to play with his shirt as they walked the dog.  
Our one suggestion? Put down the phone, Stamos! The star spent a few moments taking a phone call on the bench next to the woman as she continued to eat her ice cream and tried to coax the dog up onto the bench. 
While their romantic link is still unconfirmed, it certainly seems like the proof is in the pudding—er—ice cream.