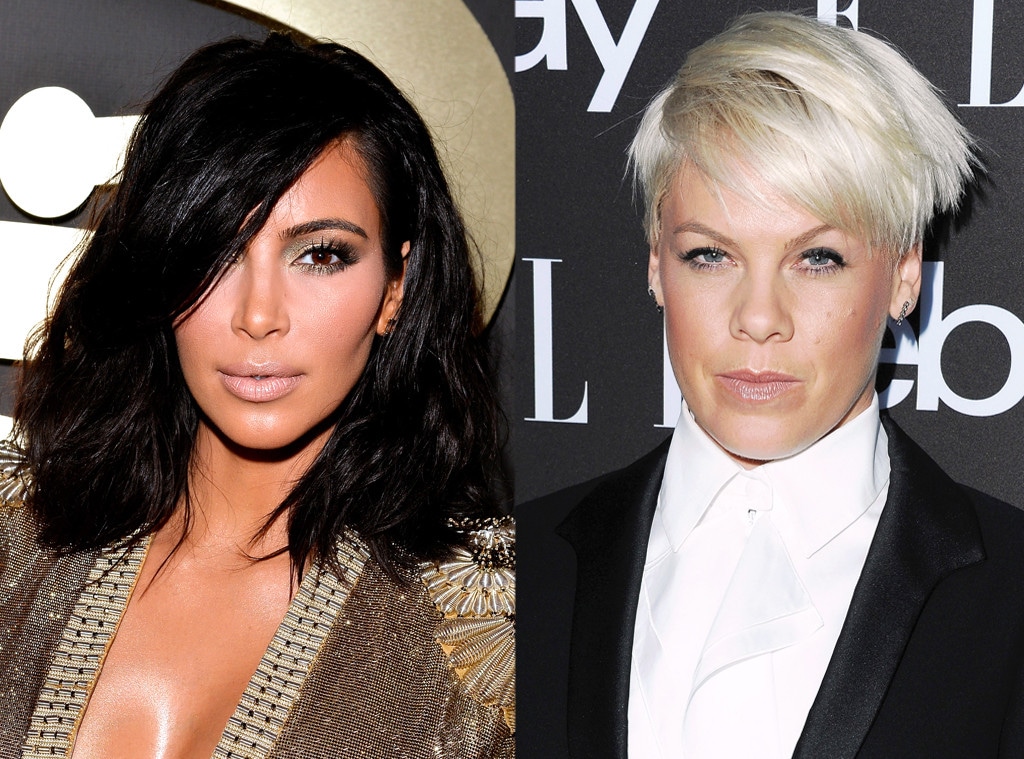 Jon Kopaloff/FilmMagic, Lester Cohen/WireImage
In an effort to inspire and shout-out women for International Women's Day, Pink posted a message on Twitter that also seemed to throw some subtle shade at Kim Kardashian for posting naked selfies last night, adding her to the growing list of celebs who've criticized the E! star for baring it all on social media.
Pink's message read: "Shout out to all of the women, across the world, using their brains, their strength, their work ethic, their talent, their 'magic' that they were born with, that only they possess. It may not ever bring you as much 'attention' or bank notes as using your body, your sex, your tits and asses, but women like you don't need that kind of 'attention.'
"In the quiet moments, you will feel something deeper than the fleeting excitement resulting from attention, you will feel something called pride and self respect. Keep on resisting the urge to cave. You'll never have to make silly excuses for yourself."
Is she clearly calling out Kim? No. Could be referencing the latest Twitter controversy concerning Kim? Definitely. And that caused some followers to fire back at the star, who responded in another tweet by saying, "Last one for the evening: you are all entitled to your opinions and feelings and I am open to hear all of it. But it won't change my mind."
The 35-year-old brunette beauty faced a lot of flack for her NSFW posts last night from a number of stars, including Chloe Grace Moretz and Bette Midler, and she decided to clap back with some sassy tweets after the fact. However, Kim also posted a blog on her app earlier today to address the topic head-on.
"In all seriousness, I never understand why people get so bothered by what other people choose to do with their lives. I don't do drugs, I hardly drink, I've never committed a crime—and yet I'm a bad role model for being proud of my body?" she wrote.
Kim continued by writing, "I am empowered by my body. I am empowered by my sexuality. I am empowered by feeling comfortable in my skin. I am empowered by showing the world my flaws and not being afraid of what anyone is going to say about me. And I hope that through this platform I have been given, I can encourage the same empowerment for girls and women all over the world," and concluded with the simple statement, "I am allowed to be sexy."