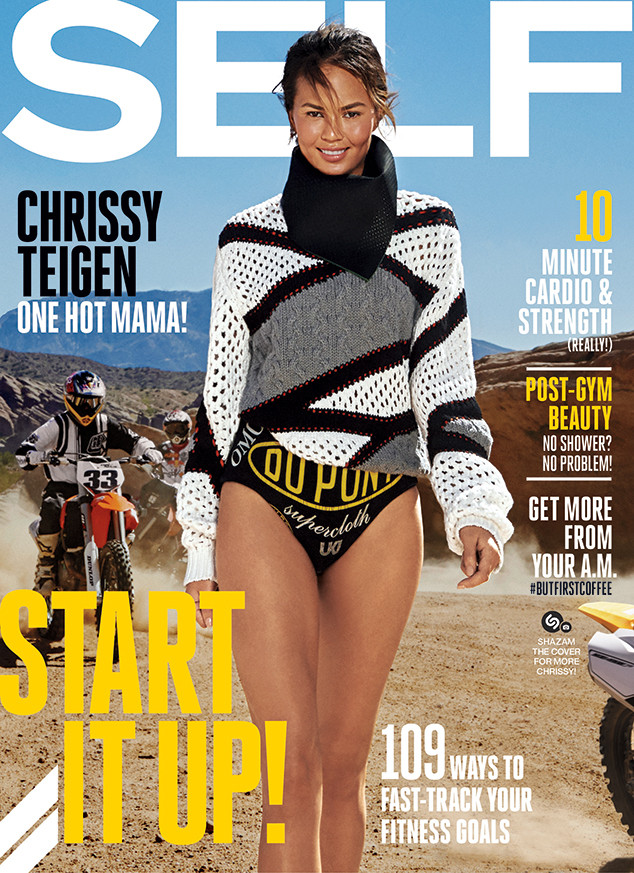 SELF Magazine
Chrissy Teigen is hoping to have a big, big family one day!
The 30-year-old model covers the April issue of SELF magazine, opening up about her pregnancy and, despite the challenges she and John Legend faced to get pregnant for the first time, her hopes for one day having a whole team of little ones.
"I think I'll probably be pregnant all through my 30s," she told the mag. "I've always pictured everyone around the table for the holidays and together once a week. It'll be heartbreaking if it doesn't end up happening, but hopefully it will. We've got some embryos on hold."
As for exactly how many kids she wants? "Four is good, I think. And then, maybe a dog after," she said. "I hope that when we do have those four kids, John and I can look at each other and know that it's us against them. We are going to love the s--t out of our kids, but we are going to team up and fight in pairs!"
We have no doubt that will be the case, considering Teigen says Legend is her "partner in crime" all the time, and together they make for the perfect parenting duo.
"I'm a worrier, and he's very laid-back," she explained. "I like to ask him little questions, like, 'What would you do if our kid is 16 or 17, and we're at dinner celebrating and having wine. Would you let her have some wine?' And he's like, 'Yeah.' And I'm like, 'I don't know if I would!' I am the crazier one in the relationship, and he's more relaxed, for sure."
She added, "He has a big family with nieces and nephews, and he actually knows more than I do about kids. It's going to be very sexy to see this new side of him."
Charley Gallay/ WireImage
In fact, Teigen can confidently say she couldn't have gotten through her pregnancy challenges without her man by her side.
"He completely understands everything; he's a sweet, sentimental, emotional guy," she revealed. "One of the things that saved us is that we never did that real fertility thing, where you're looking at the ovulation clock and saying, 'Honey, get home; we have to do it right now.'"
Rather, she explained, "John would say, 'Let's never be that couple that has to schedule sex, where we put it on the calendar and say, OK, this is our night.' So before we did IVF, even if we went a few days or a week, our feeling was, it's cool, who cares?"
Check out her entire SELF cover shoot and interview here.
Related:
Chrissy Teigen and John Legend Talk Baby Names