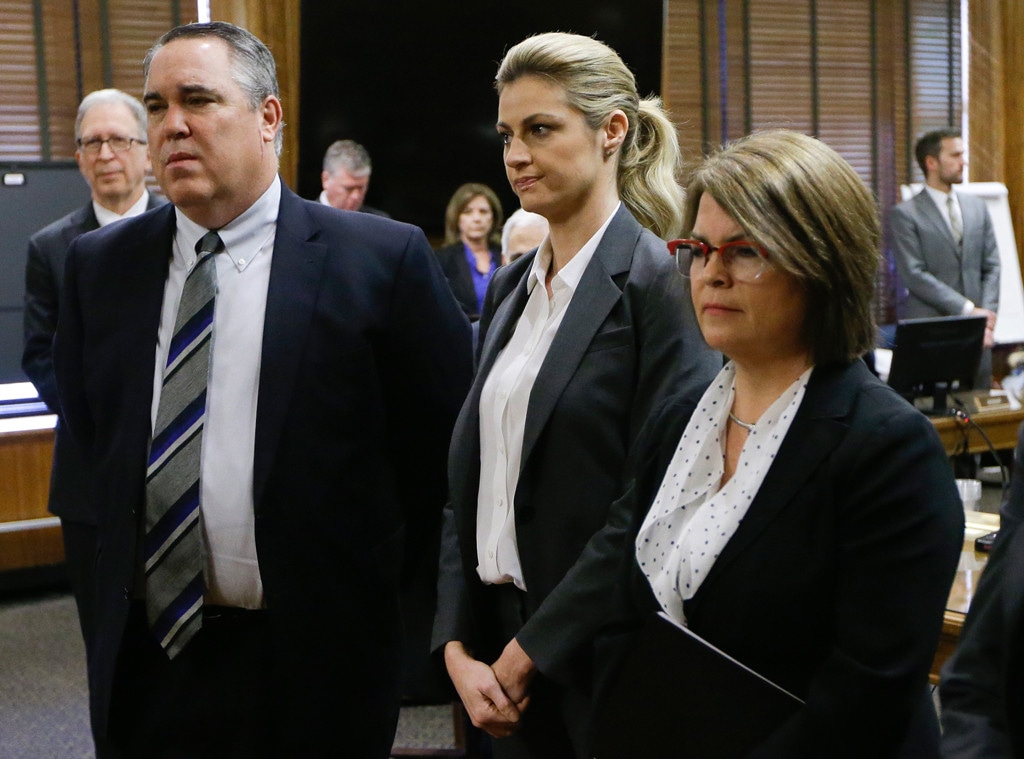 Mark Humphrey-Pool/Getty Images
Erin Andrews is further proof—it never pays to stay silent.
Even if the sportscaster and Dancing With the Stars co-host had not been awarded any damages in her lawsuit against the man convicted of stalking her and the owners of the hotel where she was surreptitiously videotaped while undressing in 2008, her willingness to speak out about the humiliation she suffered and the unfairness she encountered as the victim of a sex crime would have served as inspiration to countless others regardless.
But today Andrews did emerge victorious, a jury awarding her $55 million after finding Barrett to be approximately 51 percent at fault and Marriott owner West End Hotel Partners and former operator Windsor Capital Group 49 percent responsible for what happened to her. As it stands, Barrett is being ordered to pay Andrews $28 million and the companies are on the hook for more than $26 million.
That verdict will surely be appealed and the journey is far from over, but Andrews' case has served as a staggering reminder of just how long the road to vindication can be. And while it doesn't seem fair that a victim should feel the need to prove herself...
Let's retrace the long road Andrews has followed to get back to where she is today:
Mike Coppola/Getty Images for DirecTV
September 2008: Andrews is in Nashville to cover a college basketball game for ESPN, where she had worked primarily covering college sports since 2004, when Michael David Barrett shoots video of her undressing through the peephole of her door at the Nashville Marriott at Vanderbilt University. Barrett, an Illinois-based insurance exec, would later admit to renting hotel rooms purposely next to Andrews in three different cities, twice shooting video of her through the peephole—which he had tampered with—of the front door of her room.
July 2009: Andrews finds out that a video of her undressing exists online after receiving a concerned call from a friend insisting she see what's happening. She's, understandably, shocked and appalled. "I opened up the computer, could hear my heart pounding, saw it for two seconds and got hysterical," she would later tell Oprah Winfrey. Andrews also said, "I was told by law enforcement, 'You're just going to have to get used to the fact you'll probably never get it all off. It keeps popping up.'"
August 2009: Andrews breaks her public silence about the case on The Oprah Winfrey Show in the aforementioned interview. "It's been a nightmare," Erin says. "I'm ready to wake up." She also goes back to work this month.
October 2009: Barrett is ultimately caught by the FBI after he tries to sell his videos to TMZ—which, in turn, tipped off authorities.
Nov. 23, 2009: He pleads not guilty to interstate stalking and remains free after posting $100,000 bail.
Dec. 3, 2009: Search warrants are issued at the Northern California headquarters of Yahoo and Google to recover evidence connected with Andrews' case. The list of items sought after include a video of another woman supposedly also shot by Barrett and uploaded to a Flickr (owned by Yahoo) account.
Dec. 15, 2009: Barrett pleads guilty to interstate stalking. When his intent was announced a few days prior, his attorney issued this statement: "Mr. Barrett accepts full responsibility for his conduct. He apologizes to Ms. Andrews, and expresses his deep regret for his conduct that caused her so much pain. It is his sincere hope that these events can now become an opportunity to make positive changes in his life."
Feb. 10, 2010: Court documents included in Barrett's sentencing state that he ran background checks on 30 people, including other female sportscasters and TV personalities, and uploaded at least 16 videos of different women to an online account.
March 15, 2010: The judge agrees with the max recommendation and sentences Barrett to 27 months in prison, plus three years' supervised probation, $5,000 in fines and $7,366 in restitution, saying, "The victim, Andrews, will be suffering with this problem for the rest of her life. There is no life sentence that can be imposed upon him, except his own guilt."
"There are no words to tell Ms. Andrews how sorry I am for what I've done to her," Barrett tearfully apologizes in court. "I hope someday she can forgive me." Andrews replies, "You violated me and you violated all women. You are a sexual predator, a sexual deviant and they should lock you up." Per reports, her attorney said at the time that she would not file suit against Barrett.
March-May 2010: Andrews competes on the 10th season of Dancing With the Stars, partnering with Maks Chmerkovskiy and finishing third. DWTS had approached her before the stalking case, and she explained that she immediately took on the new, very public challenge so as to send the right message—that remaining shut off from the world (as she often felt like being) wouldn't ultimately help her or other victims. "I did nothing wrong. Just trying to live my life," she said. "I had to deal with a lot of people who said I deserved it, that I had played to a certain audience."
July 16, 2010: Andrews files a lawsuit against Barrett for intentional infliction of emotional distress and invasion of privacy and various hotel companies, including Marriott International, for negligence, negligent infliction of emotional distress and invasion of privacy. She fields backlash over the lawsuit, too, such as criticism that she's trying to cash in on what happened.
July 27, 2010: She visits Washington, D.C., to lobby for "Simplifying the Ambiguous Law, Keeping Everyone Reliably Safe" aka the STALKERS Act of 2010, which would strengthen anti-stalking laws. It doesn't pass Congress, but at least raises awareness.
July 2011: Andrews tells Marie Claire that she's still reminded of the video's existence all the time and she explains the motivation behind her insistence she try to get on with her life so quickly—even after she was publicly accused in 2009 of orchestrating the whole video leak herself as a publicity stunt.
"When someone embarrasses me publicly the way this guy did, I feel I have no choice but to fight back," she told the magazine. "And at the time everything happened, I got a ton of letters from women who were stalking victims. People had set up video cameras in their homes, whether it was a neighbor or a handyman. The videos were on the Internet, and the women couldn't get them down or get these guys arrested. They said, 'First, we want to welcome you to the sorority. But we also want to tell you to please fight this — you're our voice.' I had to."
December 2011: She refiles her lawsuit, noting that she's seeking at least $10 million in damages, to help ensure that the statute of limitations doesn't run out on her claim.
June 29, 2012: Andrews leaves ESPN after eight years for Fox Sports, where she hosts Fox College Football, is a contributor on Fox NFL Sunday and does field reporting at most major sporting events, including the last several World Series.
Spring 2013: Andrews starts dating NHL player Jarrett Stoll, who was with the L.A. Kings at the time.
Feb. 23, 2014: Andrews replaces Brooke Burke-Charvet as Tom Bergeron's co-host on Dancing With the Stars.
September 2014: She stuns on the cover of Health magazine and shares that she feels her "sexiest" at the end of a productive day. "I think maybe it's at the end of the night, after a football game or Dancing with the Stars, and I'm able to take everything off and just be in a sweatshirt and a pair of boy shorts. Because that's me: casual, wearing cotton."
September 2015: Asked what the biggest hurdle was that she'd overcome in her career, Andrews tells Redbook, "I'm not sure it will ever be entirely over for me, but it was my stalking incident. What made that experience even more horrible was that a lot of people just looked at it as a joke—like I pursued litigation to become famous. It's proved to me how strong I am. I couldn't pretend like it wasn't a big deal. It was."
Feb. 17, 2016: Marriott International is dismissed from the suit after a judge rules the corporation isn't responsible for how security is run at one location by a franchisee.
Feb. 23: The trial begins in Andrews' lawsuit. Over two days on the stand, she recalls how the incident coming to light in 2009 almost ruined her career and testifies that her boss at the time, ESPN, wanted her to speak out about what happened in an on-air interview before she returned to her usual duties covering games.
ESPN said in a statement: "Developments in the case have been interpreted by some to mean that ESPN was unsupportive of Erin in the aftermath of her ordeal. Nothing could be further from the truth. We have been and continue to be supportive of Erin."
AP Photo/Mark Humphrey, Pool
One of the hotel owner's main arguments is that the stalking incident didn't hurt Andrews at all, but in fact her career skyrocketed. Hence, they claimed, she didn't deserve punitive damages.
"You don't really realize how long four minutes is until it's your naked body, you getting dressed for a football game," Andrews testified. "I look at the Marriott as more damaging because it's 4.5 minutes of my personal private time, absolutely naked, that everybody sees." She may have gotten on with her work, but she also entered therapy to help process what happened and she remains understandably scarred by the ordeal.
"I felt like when I walked into a room...I felt like everybody was watching me like they'd seen the video," she said. Talking about her relationship with Stoll, she testified, "I feel sad because I think he would have loved the girl more who was there before this happened. And I feel guilty about that."
Moreover, she testified that she'll never truly get over the feeling of being violated as she was.
March 4: The case goes to the jury.
March 7: The jury of seven women and five men award Andrews $55 million in damages, agreeing that she suffered great harm due to the actions of Barrett and, in a different sort of way, the companies that run the Nashville Marriott.
Another day, another month, another year past what happened, and here's hoping Andrews is yet another step closer to finding peace.
She should at least be content in knowing she's done everything that she was capable of to help fellow victims get to the place where they feel they have nothing to be ashamed of—least of which being that they're trying their best to pick up the pieces. Whether or not she collects any actual money in the end, she gets all the credit in the world for speaking out and not giving up.