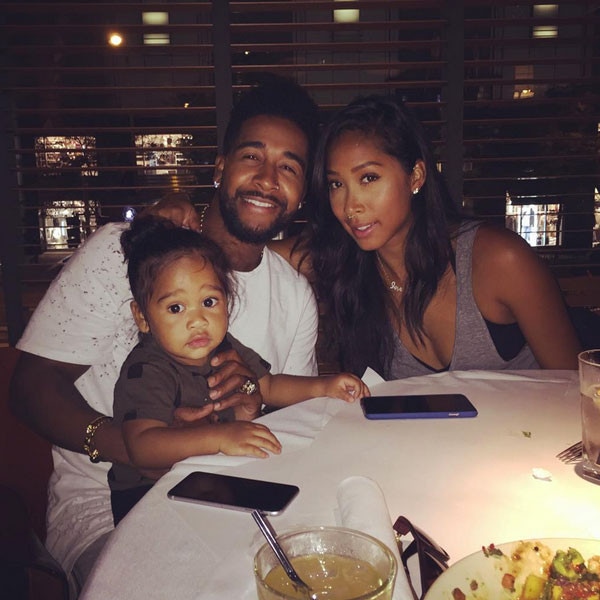 Instagram
Congratulations to Omarion and Apryl Jones!
The longtime couple welcomed their second child, a daughter, together early Monday morning. The R&B performer announced the news via Snapchat and said, "You know why I'm in such a good mood? It's because I had my daughter this morning," he declared, ending it with an ear-to-ear grin on his face.
The "Post to Be" singer and his girlfriend already have one child together, an adorable son named Megaa, whom Apryl gave birth to in 2014. She welcomed him via home birth, which was documented on the reality TV show Love & Hip Hop Hollywood. Both Omarion and Apryl took to their own social media pages to announce the second pregnancy.
Apryl showed off her growing baby bump in a photo of her son looking up at her tummy and future sibling. "And he thought he was having a brother lol.... #5months #itsagirl @1omarion," she captioned the pic. Now the happy couple will have one of each!
They have been open about their pregnancies from the very beginning, even sharing video of the moment they found out they were having a baby girl. Their reactions were absolutely heartwarming and almost as adorable as when Megaa was born and Omarion posted the most touching tribute to his ladylove.
"My soul mate @aprylsjones is so strong!" he wrote. "Not only did she have a un medicated birth (no drugs) she did it at home. Naturally. Just like my mom had me. I love you. thank you for having my legacy. I'll forever belong to you & you will forever be tied to me." 
Apryl delivered their daughter via home birth once again, and Omarion couldn't help but gush about her strength. "You've got to respect your queen," he said in the video.
The couple hasn't yet announced their baby's name. Congratulations again to the growing family!
Hear from another couple who is expecting.
Watch:
John Legend Gives Insight Into Chrissy Teigen's Pregnancy