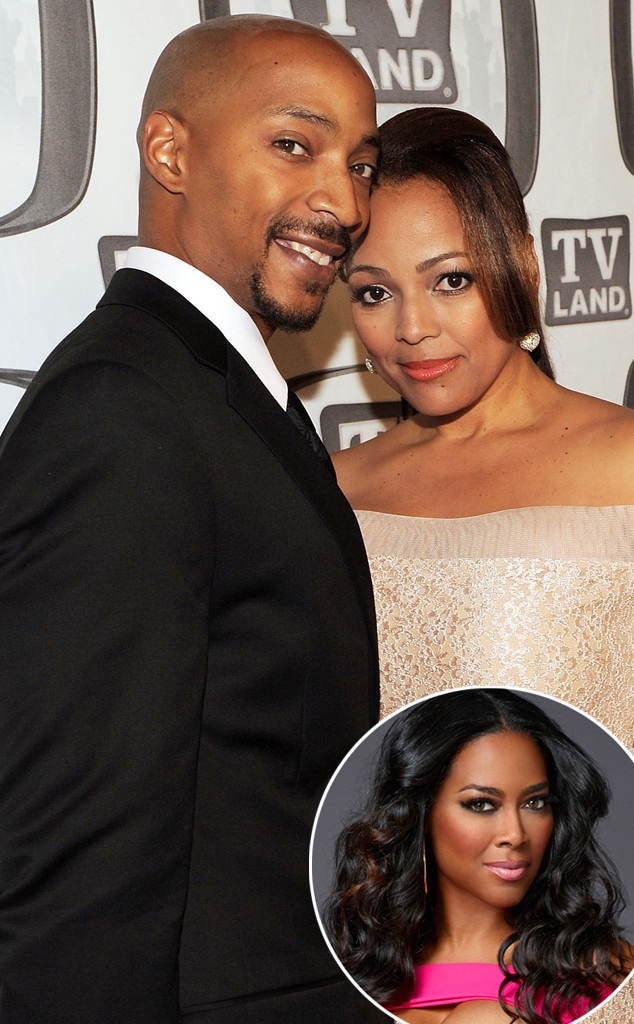 Patrick Randak/NBC; Larry Busacca/Getty Images
When The Real Housewives of Atlanta headed on down to Jamaica this season, the feud brewing between Kenya Michaels and Kim Fields reached a near fever pitch thanks to Kenya's pettiness over Cynthia Bailey's commercial shoot—and it also took on some collateral damage.
You'll recall the evening spent around the pool when Kenya made some serious allegations about Kim's husband Christopher Morgan's sexuality, only brave enough to do so with her enemy far away in her hotel room, preparing for the morning's commercial shoot. It was an ugly sight, with the other ladies joining in to pile on with speculation over Kenya's insistence that "for the last 10 years, there have been pervasive rumors about Kim's husband."
"They call him Chrissy," she said to much laughter. We weren't that cool with it when we wrote about it at the time. And lo and behold, neither was Christopher. Breaking his silence for the first time since the fiasco aired last month, Chris spoke exclusively with E! News about the ordeal. What follows is our unedited conversation, wherein Chris has some particularly choice words for Ms. Moore.
I wanted to start off by asking what this whole experience has been like. You've not only lived through all this, but you've then had to watch it back on TV and relive it all over again. What's that like?
Interesting. It has been fun to watch my wife and I interact from a fly-on-the-wall perspective. We have a very funny banter and sometimes when you're just living it, you can take it for granted. That's just the way we are, you know? It's funny to go back and be able to watch it over and over again and hear some of the things she's said and go, 'My god, that's brilliant. That just came rolling off of her tongue.' It's hysterical to me. That's been, I think, the most enjoyable part for me, is getting a chance to actually go back after the fact and really get a chance to hear some of the things that are said and enjoy some of the things my kids say. It's almost like having a living photo album.
You've also had some bad experiences too, Jamaica especially. I'm just going to jump right into it: Kenya made some pretty serious allegations that night around the pool. That must've been hard to hear about and watch. What's your response to what Kenya had to say that night?
It's interesting. When someone spreads lies about you, you can either go at them in a defensive manner and be seen as defensive, or you can just let a lie be a lie. And she kind of put me in the middle with that situation because how I would handle that situation without the entire world watching is different than I would when someone spreads a lie about you in front of the nation and world. So, I felt immediately it was going to be important for me, at some time, to set the record straight that she had fabricated the entire conversation. There is no one in the industry that calls me anything other than my name, especially to my face. Kimmy and I weren't together in the Living Single days. So, she had to stretch pretty far to get that. [Kenya claims she first learned of the rumors surrounding Chris when she guest starred on Kim's Fox sitcom, which ran from 1993-1998. Only problem? Kim was married to someone else at the time. She didn't marry Chris until 2007.]
Now, I understand, I'm a Broadway performer without a real name, as far as Hollywood goes, and when Kim and I first got together, there was all kinds of speculation about me. Was I a deadbeat? Was I broke? Was I a drug addict? Was I a homosexual? There were all kind of rumors about me because nobody knew who this guy was dating, and eventually marrying, Kim Fields. She basically took that speculation, one aspect of it, and ran with it.
You know, if that's the way she wanted to play it, that's the way she's gonna play it. But as far as how it effected me? Number one: Obviously I'd been in this situation before when the situation happened the first time. But it didn't effect me then because I'm a musical theater performer that's been in the industry for 20 years. My god, I've been married for 19 of those? If I wasn't married, I was engaged to the woman I was married to the first time. So, it's been a long time that I've been me and I've had people speculate all kinds of things about me. At this point, it doesn't bother me.
What does bother me is that she took the platform that she did to spread the lie that she did, but at this point Kenya and I have spoken. She's apologized. She's apologized quite publicly. Maybe there's some room down the road for us to actually be friends. Right now, not at all. We'll see. The people that are watching the show will have to see. I don't know where my lady stands. The bottom line with that is, I'll be completely honest, if the shoe was on the other foot and somebody spread a rumor like that about my spouse, they don't really get back on the Christmas list for a couple years.
It was interesting the way it was insinuated that by being a Broadway singer and dancer, you must be gay. As a gay man myself, I found that a little insulting, that only gay men are singers and dancers. What's your response to that?
It's funny. Kenya says a lot of things that are insulting. Some of them she means, and some of them she doesn't. The problem is she doesn't really know. Now, speaking specifically to this point, again, being in the industry that I'm in, being the person that I am, without judgements on anyone's personal life, I have a lot of people in my life, a lot of friends in my life, a lot of colleagues in my life that are homosexuals. I love them dearly as the people that they are. I know that they were offended by the statements made. And it's disappointing to me that someone would make such reckless statements without thinking of the true repercussions of it. What I mean by the true repercussions of it is, the man who's your boss, you just labeled as weak or inept or unable or lesser than. And I think that's pretty thoughtless and stupid, if you ask me, honestly. And she's going to have to deal with Andy [Cohen] on that. She's going to have to deal with a bunch of the other people that are above her on that. She's going to have to deal with the quote-unquote industry that in her mind loves her so much over that. And that's not my business, that's hers. I did not dig that hole.
Watching it all go down around the pool that night, the other women all seemed to enjoy the conversation and join in, with a few notable exceptions. But the next day, when in front of your wife, they really tried to pass the buck. How have you and Kim navigated those relationships now that you've watched the scene and seen how it really went down?
I have had to be pretty diplomatic when it comes to the situation, understanding that in the middle of the situation, in the end of the day, there might be things you find funny. There might be things said that, you know, even off-color humor that catches you before you catch yourself. I kind of feel like a couple of the women got caught in that. Now, some of them showed more restraint than others. Going down the list, Cynthia [Bailey], Sheree [Whitfield], they showed more restraint more than others. Even if a chuckle considers them a participant, they showed more restraint than others. Now, it's again not my judgement to put on anyone that has judgement on me. But at the same time, I would hope that the people that are watching the show judge my character higher than they would some of them that would participate in something like that. That's all I can really say.
In her first season, Kim has found herself stuck in the middle of a pretty major feud. What has it been like to watch your wife go through all of this with Kenya?
As far as the family, as far as our relationship personally, it's the adversity that a couple uses to draw closer. I think honestly from the situation, our relationship has grown closer. I believe we grow closer every day, but just having obstacles to go through—and this has definitely been a new set of obstacles—has given us the opportunity to talk about new thing and grow as a couple. So, as far as that, I'm grateful.
Now, as far as the entire experience for Kim, I know there have been frustrating moments. I know there have been moments where she had questioned whether she should do this in the first place. But Kim has conquered lots of realms in Hollywood. She is an accomplished producer, actor, director. I'm a big fan, obviously, but so are a lot of people. This opportunity is different in the respect that reality television is different. It is now a respectable genre in the sense of I don't really think it's going anywhere for a while. So, I don't think there is any crime or fault in someone jumping back and forth from aspects and angles within the career, for example: television, film, theater. I think you should have the opportunity to, and I think Kim has taken the opportunity that is given right now to expand the way television is expanding. I kind of applaud her for that.
I was wondering how much of the show your kids have seen. How have you and Kim handled that decision-making process?
Oh, the kids. [Laughs.] My kids are kind of awesome. I'm biased, obviously, but my kids are awesome. We let the kids watch the stuff that they're in. If they're on the screen and talking, they get to see it. If they're just on the screen, we kind of just don't even tell them it happened. But if they're on the screen and Sebastian actually has a line or Quincy chirps up with one of his cute little statements or words, then they get to see that. But that's pretty much all we let them see of the show. And trust me, that's enough.
Have you and Kim begun discussing whether you'd return for a second season? Have you started thinking about that yet?
We actually were forced to start thinking about that from the perspective that questions started coming from the fanbase, and it seems like there's a real cry for what Kimmy stood for and what she represents and who she is. So, I don't know. I can't answer for her. I know if she was willing, if she really wanted to do it again, then I would be in the same place I was before we started this year, which is really to support her in everything she does.
The Real Housewives of Atlanta airs Sundays at 8 p.m. on Bravo.
(E! and Bravo are both part of the NBCUniversal family.)
Watch:
Kim Fields' First Reaction to Joining "Housewives"