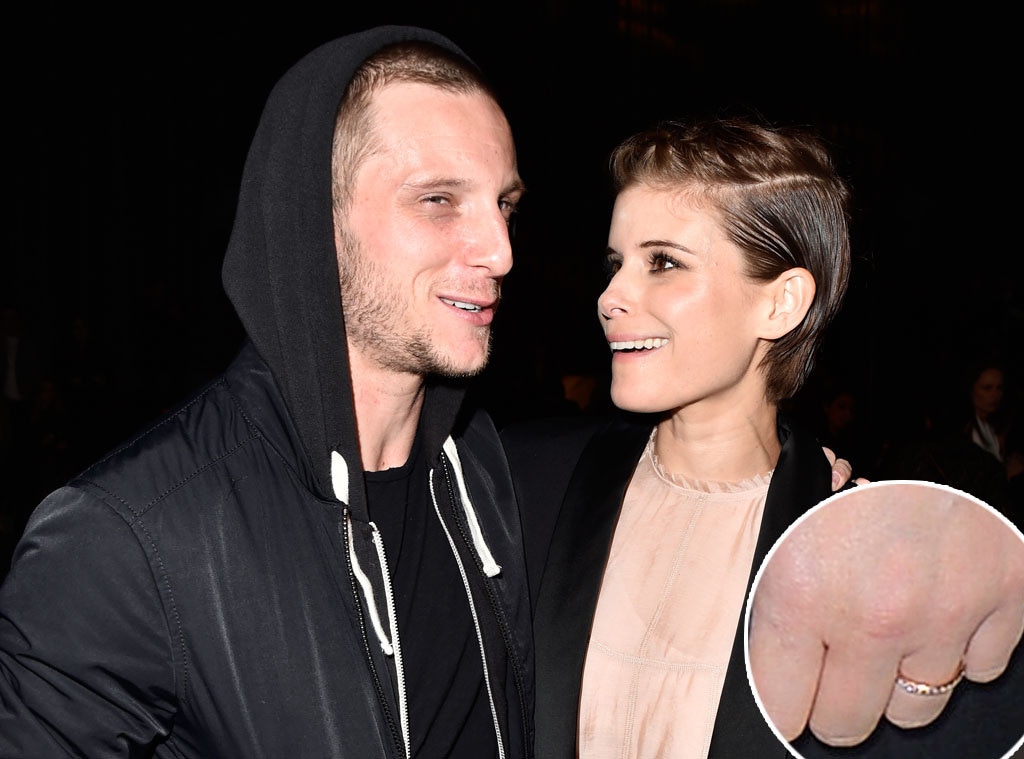 Pascal Le Segretain/Getty Images; WireImage
Jamie Bell and Kate Mara are still going strong, but they're not exactly planning the rest of their lives together just yet.
The Hollywood couple, who have been more open about flaunting their PDA after stepping out together in October, were spotted landing in Paris earlier today to attend Fashion Week, and while the pair remained casually dressed for their airport visit, there was one accessory that could not be ignored—a gold band on Mara's ring finger.
It's clearly not unheard of for women to wear some jewelry on that finger, even if they're not doing it for the reason many may assume, but there's obvious speculation as to whether or not there's an engagement here, because secret celeb proposals. Right?!
So, we went straight to the source.
Dominique Charriau/WireImage
E! News caught up with the two lovebirds at the H&M Studio show at Paris Fashion Week tonight, and we questioned if that ring was there as more than just an accessory. However, when we asked if the twosome got engaged, Mara chuckled, while her beau exclusively reassured us that "no," they are not planning a trip down the aisle.
And there you have it. You can stop brainstorming on what to get the potential newlyweds...for now.
While the couple may not be tearing through wedding magazines to plan the ultimate ceremony, they are appreciating the Autumn/Winter 2016 collection from H&M Studio. "It was amazing," Mara told us of the show (although she does mention that it was a "bummer" some models tripped on the runway). "I think it was fantastic that there's more diversity on the runway and things are evolving."
And while the City of Light would be the ultimate location for a super romantic proposal date night with your beau, the actress tells us they're just in Paris to enjoy the brand's latest collection.
"We just came for H&M. I'm here with Jamie & also Johnny [Wujek], my stylist, and we're having fun. Johnny and I went to the Alexander Wang H&M show a year ago in New York, and it was so fantastic and we have done a collaboration with them in the past and they are so great to work with."
A quick turnaround trip to Paris for fashion? Oui s'il vous plaît!