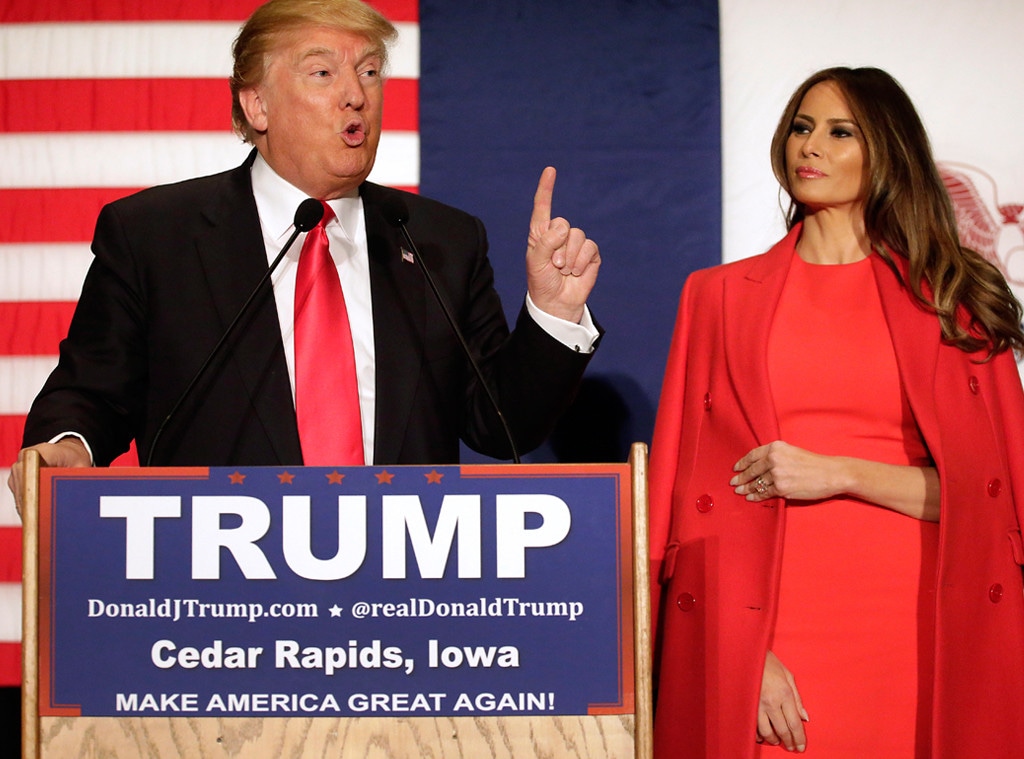 Joshua Lott/Getty Images)
Melania Trump couldn't have imagined, when she met Donald Trump in 1998, two years after relocating to New York from Europe, that it was all leading up to this moment. She had about a year, after all, until the speculation started.
Other than Bill Clinton, we haven't heard much this campaign season about the candidates' spouses. That should change soon as the field rapidly narrows and the country zeroes in on who it wants as its next commander in chief. But while plenty of information about the likes of Heidi Cruz, Jeanette Rubio and Jane Sanders is a few clicks away, we've got a singular head start on the third Mrs. Trump. And yet…at first glance she seems a mystery.
The public-private paradox, if you will.
Robin Platzer/Twin Images
The Slovenian model (born Melanija Knavs) willingly entered into an even more public life by marrying Trump, but she still seems to be a very private person—and one whose determination to stay private could end up at odds with just how public she will soon be forced to go should her husband continue to rack up delegates.
After what he would definitely characterize as a romp through Super Tuesday, Trump could very well be the Republican candidate for the presidency come November.
Trump critics are angling to point out seeming anomalies about his marital situation that would clash with the country's highest office; but really, Melania wouldn't be breaking that much ground. Turning 46 in April, she wouldn't be the youngest first lady (Michelle Obama was 44 when she moved into the White House, Jacqueline Kennedy was 31, and Frances Folsom was 21 when she married 49-year-old Grover Cleveland in 1886, who was already president). The 24-year age difference between POTUS and FLOTUS wouldn't be the greatest (again, looking at you Cleveland). She's not the first not-first wife, Ronald Reagan having been a divorcé when he married Nancy. She wouldn't even be the first to be born outside the U.S. (sixth President John Quincy Adams' wife, Louisa, was born in London).
And while Melania would be the first FLOTUS who once appeared nude on the cover of British GQ, or posed for the Sports Illustrated Swimsuit Issue as well as on a Vogue cover with the headline "How to Marry a Millionaire" and pregnant in a bikini for Vogue in 2006, she wouldn't be the first model wife of a world leader. Many politicians abroad have married glamorously, perhaps most famously former French President Nicolas Sarkozy, whose wife Carla Bruni is a recording star and model.
And not all first ladies are as visible are Hillary Clinton was or Michelle Obama is, so Melania wouldn't necessarily need to become something she's not. But who is she?
The New York Times asked her in 1999, six years before she and Trump were even married, what sort of first lady she envisioned herself being should…well, should that come about one day.
"I would be very traditional. Like Betty Ford or Jackie Kennedy," the 26-year-old model said. "I would support him."
Art Rickerby/Time & Life Pictures/Getty Images
Asked again, 13 years later, by Refinery 29 how she would feel about being first lady if her husband should run for president, Melania laughed. (Presumably she wasn't the only one—but why did it take so long for people to realize he was for real again? This was in 2012.)
"Well, you never know what could happen," she said. "My life is very busy. I'm very busy, as you know, as a businesswoman, as a mother, as a wife, as a social for charities. So my life is very busy, and that's it for now. I don't think about being first lady."
Better yet, she told the Daily Mail in 2013 (when asked if they might have more kids), "We are happy and my hands are full with my two boys—my big boy and my little boy!"
Fast-forward to the day after her big boy secured his 319th delegate…
Melania has only tweeted twice since her husband announced his candidacy last June, prayers for Charleston, S.C., and a celebratory 4th of July pic. She's been a quiet presence at the debates and, while she memorably said in November that her husband would be "the best president ever," we're more likely to see Trump's son Eric and other campaign advisers at his side while the GOP front-runner is behind a podium.
Before the occasional campaign sightings, the Trumps were frequent fixtures at society events in New York, and when contestants on The Apprentice were offered a peek at their lifestyle, Melania would be the one to greet visitors to their gilded Trump Tower penthouse, gracious and professional every time.
And by all of the couple's accounts, theirs is a life of happily married domestic bliss. For all of Trump's unconventional rhetoric on the campaign trail, he's never had a cross word to say about his wife. As we know by now, it wouldn't be his way to suggest that his life is anything less than a raging success, but perhaps…they're just as thrilled with each other as they claim to be.
Here's what we know:
Peter Kramer/Getty Images/for MSKCC
They're the parents of 9-year-old son Barron together, the youngest of Trump's five children, and Melania took on the role of full-time mom from day one, so the rigors of the presidential race wouldn't have done much to upset that balance of responsibilities.
"He didn't change diapers and I am completely fine with that," Melanie told Parenting.com. "It is not important to me. It's all about what works for you. It's very important to know the person you're with. And we know our roles. I didn't want him to change the diapers or put Barron to bed. I love every minute of it."
Asked what her average day was like, she said, "I am a full time mom; that is my first job. The most important job ever. I started my business when he started school. When he is in school I do my meetings, my sketches, and everything else. I cook him breakfast. Bring him to school. Pick him up. Prepare his lunch. I spend the afternoon with him. Sometimes I have obligations, but I also think children need to see a parent do what her passion is. It is a good example for a child. So the child can find passion as well and follow that passion in the future."
She told Refinery 29 in 2012 that jeans are the single-most worn piece in her closet and "of course" she loves shoes.
Larry Busacca/Getty Images
Melania has a signature jewelry and watch collection for QVC (which would also be a first for a U.S. first lady) and, in 2013, she launched a skin care line. And while all of The Trump Foundation's charitable giving, ever, is as expected now under the microscope, she herself served as an American Red Cross Good Will Ambassador from 2005 until 2009, and has been a patron of The Boy's Club of New York and the Martha Graham Dance Company.
Gustavo Caballero/Getty Images
She told Refinery that she takes Barron to charity events that involve other children to show him "how some people love. I think it's best to show children through the eyes…they need to see and then they will have the memory."
But while there's no doubt that Melania is a poised and polished woman who had her own high-profile modeling career and can talk at length about the subjects she's passionate about, who really knows how she feels about having to not just add sit-downs with CNN and MSNBC to her schedule, but also have to answer questions about what kind of man her husband is that wildly differ from the previous sorts of questions she probably was asked all the time about what sort of man he is.
Michael Loccisano/Getty Images
She may have told Refinery almost four years ago, "People say all sorts of stuff and they will talk but you just need to live your life," but what has easily been the wackiest presidential primary race in modern history seems to have created a whole new set of rules.
Or has it?
In an interview that ran in the February issue of Harper's Bazaar, Melania insisted that, while Trump's decision to run indeed was a family decision, she herself wouldn't be getting political in public.
Larry Busacca/Getty Images
"I'm very political in private life, and between me and my husband I know everything that is going on. I follow from A to Z," she told the magazine, whose cover she has graced in the past as a fashion model. "But I chose not to be on the campaign. I made that choice. I have my own mind. I am my own person, and I think my husband likes that about me." 
Surely he does, but the idea that she wouldn't have to get political in public was a lofty one.
"It's amazing what's going on, and we're having fun," Melania told Morning Joe's Mika Brzezinski in an interview that aired last week on MSNBC, in part echoing past comments of her husband's in which he seemed to be enjoying the journey (particularly the act of winning) more than planning what would happen upon arrival at the destination.
Asked about Trump's tough stance on immigration, as well as his call to temporarily halt Muslims from coming to the U.S., she explained, "What he said is it would be temporary, and it is not for all the Muslims. He wants to protect America. What's going on in the world...it's very dangerous, you have people coming into the country, and we don't know who they are, and what they will do."
Also sounds in keeping with the party line, her husband being the party as Republicans reportedly scramble to come up with an 11th-hour plan to stop his seeming any-day-now as the GOP nominee. "Inevitable" is now the word being thrown around.
Melania also said that her husband "treats women equal," despite criticism that he's a chauvinist with misogynistic tendencies based on comments he's made about Rosie O'Donnell, Megyn Kelly, Carly Fiorina and other women. "It's not woman or man," his wife insisted, "you are human."
"Do I agree with him all the time? No, and I tell him," Melania also said. "Sometimes he listens to my opinion, sometimes he doesn't."
And yes, you don't see her that much on the campaign trail because she's trying to keep her son's life "as normal as possible."
Then it was on to Anderson Cooper 360 this week, where she fielded questions about her husband calling Ted Cruz a "pussy" on the campaign trail in New Hampshire.
"He's with the momentum, he goes with the flow, he goes with the people," Melania said, adding that she knew at the time that it was all the media would seize on from that appearance. "They're having fun, everybody was cheering. And he said it and the next day— but he repeated the word [that someone else said]. That was not his word."
She insists he would rein in the language if he were president.
"To build the empire and the business that he did, you can't always use that kind of tone," she said. "He could really change the words and the tone."
And if he's elected, Melania told Cooper, "We are in the 21st century. I will be me. I will be different than any other first ladies. I will help women. I will help children. They are the future."
Nineteen years removed from aspiring to be Jackie Kennedy, Melania Trump has proved, just as her husband did, that it's never wise to underestimate anybody.
She'll be on Fox News tonight, in case you'd like to hear more.