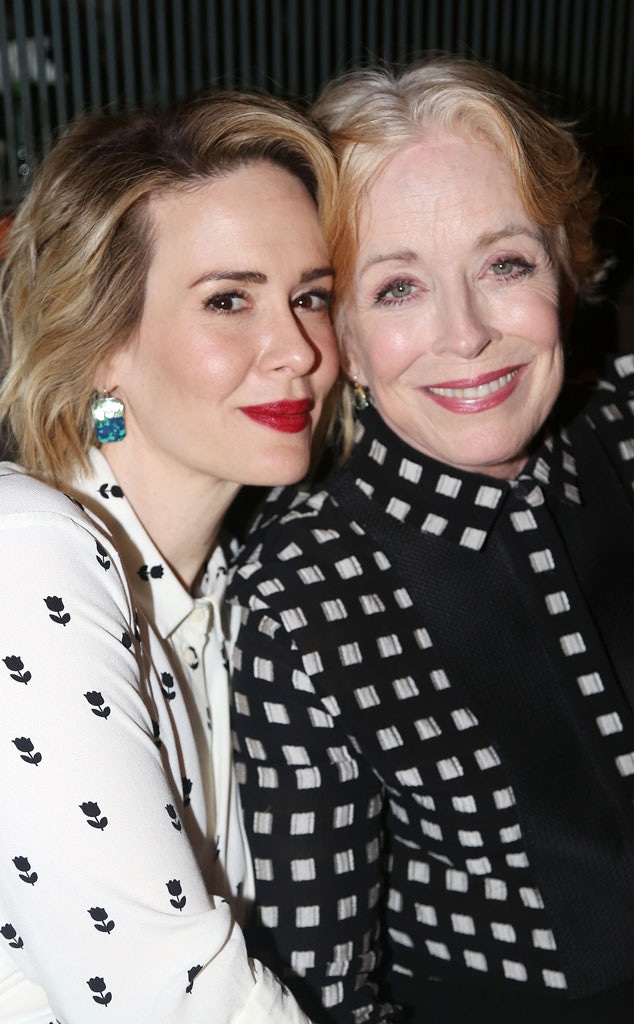 Bruce Glikas/FilmMagic
It's official!
Sarah Paulson confirmed that she is dating Holland Taylor. In a wide-ranging interview with the New York Times, the American Horror Story actress addresses her personal life.
Reports that Paulson, 41, was dating Holland Taylor, 73, began to surface in early December after Taylor admitted that she was in a relationship with a woman and that it was the "most wonderful and extraordinary thing" that happened to her life. People began to notice her and Paulson's witty Twitter banter, but nothing was officially confirmed—until now.
"If my life choices had to be predicated based on what was expected of me from a community on either side, that's going to make me feel really straitjacketed, and I don't want to feel that," Paulson told the newspaper. "What I can say absolutely is that I am in love, and that person happens to be Holland Taylor."
The two actresses met at a dinner party about 10 years ago, but Paulson had been dating actress Cherry Jones—who is 18 years older than she— at the time. Despite her relationship status, Paulson admitted to the publication that she thought Taylor was "probably the most exquisitely beautiful woman I'd ever seen." 
A few years later they bumped into each other again, and ultimately began communicating via direct messages on Twitter. One thing led to another, and the two went on a date and they've been in a relationship ever since. Paulson told the NYT that they've been an item for a little more than a year.
As for why she chooses to date people older than she is, Paulson explained, "There's a poignancy to being with someone older. I think there's a greater appreciation of time and what you have together and what's important, and it can make the little things seem very small.
"It puts a kind of sharp light mixed with a sort of diffused light on something," she continued. "I can't say it any other way than there's a poignancy to it, and a heightened sense of time and the value of time."
Taylor previously addressed the age difference between her and her then-anonymous partner in an interview with WNYC. "There's a very big age difference between us, which I'm sure shocks a lot of people, and it startles me," the Two and a Half Men actress said, "but as they say, 'If she dies, she dies.'"
Watch:
Sarah Paulson Tells All on "American Crime Story" Role