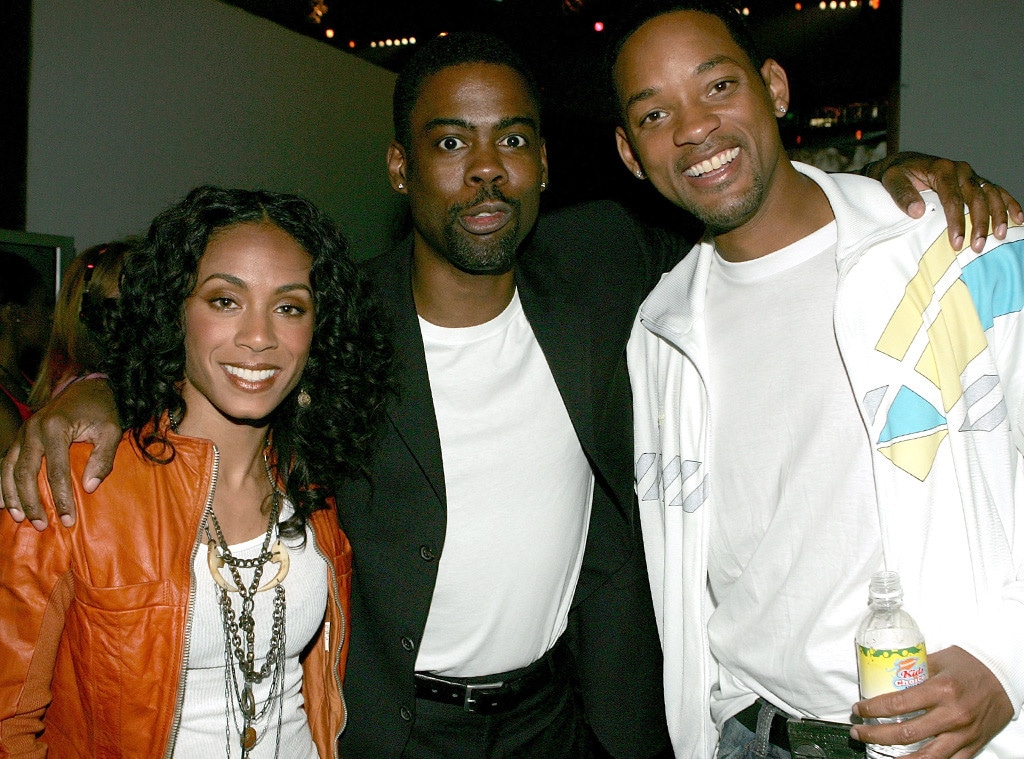 Frank Micelotta/Getty Images
Chris Rock may have once said that "there's no Will Smith jokes," but obviously he found one in time for the 2016 Oscars.
Who wants to bet, however, that Will is going to just keep smiling? And Jada Pinkett Smith, too?
Aside from the fact that a crack about Will making $20 million for one movie barely counts as a burn, it's hard to believe that either he or his wife of 18 years is actually offended by what Rock said about them during his explosive monologue on Sunday night.
Kevin Winter/Getty Images
First of all, the comedian had a job to do. Host the Oscars, yes, but No. 1 on his to-do list was to make sense—and fun—of the #OscarsSoWhite controversy that provided an unflattering wake-up call ahead of what is usually a far more self-congratulatory night for people who make movies.
And considering Jada was one of the first major stars to prominently declare that she would not be attending the 88th Academy Awards, Rock had to mention as much in his appraisal of the current temperature of Hollywood's hottest issue.
Jesse Grant/Getty Images for NAACP Image Awards
"What happened this year? People went nuts. Spike [Lee] got mad. Jada went mad. Will went mad. Everyone went mad!" Rock exclaimed. "Jada said she's not coming. I was like, 'Isn't she on a TV show?' Jada's gonna boycott the Oscars? Jada boycotting the Oscars is like me boycotting Rihanna's panties. I wasn't invited!"
Pause for laughter from people who heard nothing but "Rihanna's panties."
"Her man Will was not nominated for Concussion. I get it," Rock continued. "You get mad. It's not fair that Will was this good and didn't get nominated. You're right. It's also not fair that Will was paid $20 million for Wild Wild West!"
Ooooh, burn...all the way to the bank.
But while the world waits anxiously to hear what the power couple have to say about being lightly roasted at the Oscars (Will is a two-time past nominee, for the record), wouldn't it make more sense that they had already given Rock his blessing to do his thing?
These three go way back, after all. And we mean way back.
Fresh from Saturday Night Live, In Living Color and movies like New Jack City and Boomerang, Rock made a cameo on The Fresh Prince of Bel-Air in 1995. He played a comic named Maurice and Maurice's sister "Jasmine," who Will is forced to take out on a date to up his chances of scoring a job. The joke is that Jasmine isn't attractive—because it's Chris Rock dressed as a woman. (Not exactly tasteful, but a pretty standard mid-90s sitcom trope.)
Point being, Chris and Will have known each other for more than 20 years. And they've only spent even more time together over the past 10 because Chris and Jada have done three Madagascar movies together. So, Chris and Jada are friends, too!
Kevin Winter/Getty Images
Will and Jada's reps have yet to respond to requests for comment and the couple have remained quiet on social media—their preferred medium of choice for rumor-busting—so far.
But in the meantime, in addition to the fact that they hang out socially, it's not as if the chummy trio have often found themselves on opposite sides of potentially divisive issues in the past, either, even coming down on the same side of the coin on taxes.
"I'll pay higher taxes," Rock said in a February 2012 interview. "I look at it this way: I can pay higher taxes and people can have jobs, or I can pay lower taxes and I have my kid's teacher asking me for a loan because she's going to lose her house, which is true. So I'm going to lose the money no matter what."
"I'm very supportive of that idea," Smith said a few months later when asked about President Obama's suggestion that those who earn more than $1 million should pay 30 percent of their income in taxes. "America has been fantastic to me. I have no problem paying whatever I need to pay to keep my country going."
So these two probably aren't getting into fistfights over politics. And to top it all off...
George Pimentel/WireImage
Chris Rock's adorable, Girl Scout cookie-selling daughters are fans of Will and Jada's kids!
"Hey, my kids listen to your kids!" Chris told Jada during a promo interview for Madagascar 3: Europe's Most Wanted. "[Willow Smith's] '21th Century Girl'? Oh my god!"
And neither party has ever had a bad word to say about the other that wasn't crafted for millions of people to hear on purpose.
Ultimately, it's best to remember that, while Chris Rock ensured that the Oscars got more real this year than it's ever been in its 88-year history, and he may have succeeded in opening the door at least a crack to those who've perennially been on the outside looking in, there's still going to be a force-field around the mega-stars that we're never going to permeate.
Chris, Jada and Will still operate inside that bubble, and it's more likely that Rock got his pals' blessings to go after them (or at least gave them a heads-up) to help ensure that he went as far as he could on one of the most closely watched nights of his career. That's what friends are for, after all.
Or perhaps the Smiths had no idea, but didn't give a hot damn because Will's got Suicide Squad coming up, Jada's busy shooting the big-screen comedy Bad Moms and, if anyone's comfortable with who they are, it's these two.
AP Photo/Kevork Djansezian
Besides, Chris unwittingly tempered his Will Smith jab years ago while telling CNN why he didn't make many Barack Obama jokes during his Kill the Messenger stand-up special.
"[Obama's] just one of those guys, you know, like Will Smith," Rock explained in 2009. "There's no Will Smith jokes. There's no Brad Pitt jokes. You know, what are you going to say? 'Ooh, you used to have sex with Jennifer Aniston. Now you have sex with Angelina Jolie. You're such a loser.' What do you say? 'Ooh, your movies are big. You make $20 million.' There's nothing to say about Brad Pitt."
Exactly.