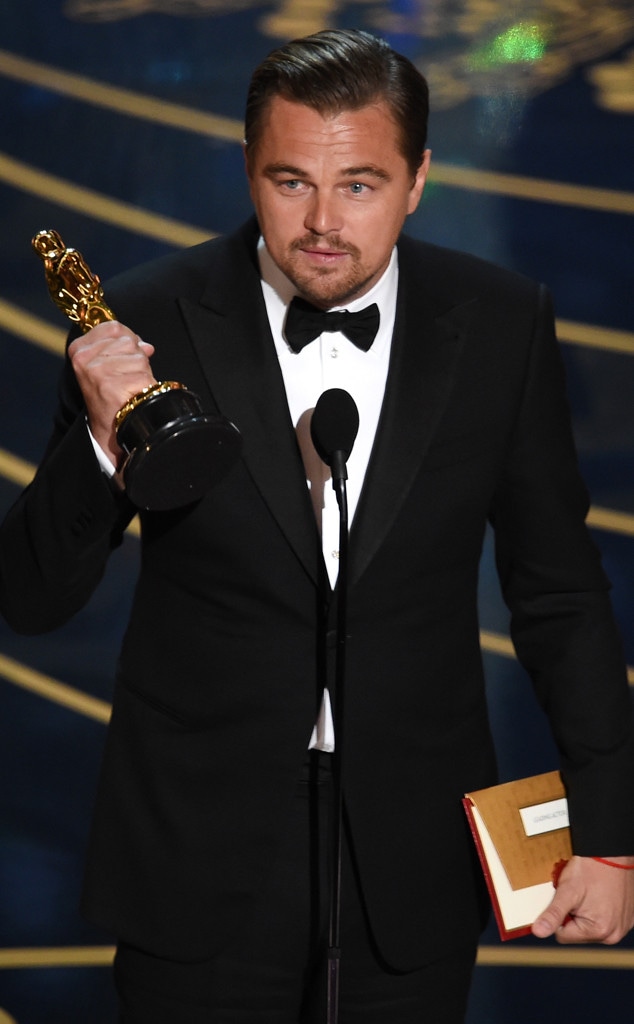 Kevin Winter/Getty Images
There was, understandably, so much talk about the #OscarsSoWhite controversy, what Chris Rock would say about it and just how far off true change really is (2020, we'll see), that we forgot all about that other huge issue roiling our country.
The circus that has been the 2016 presidential race so far. (And there may be a few other issues, last we checked...)
But some of the most thoughtful artists in Hollywood were in attendance at the Dolby Theatre tonight and—thanks to the Academy—they had a prominent platform from which to share their opinions.
The political messages came in multiple iterations throughout the night, some thinly veiled and others—like Adam McKay's—not veiled at all.
Chris Pizzello/Invision/AP
After thanking the usual suspects, McKay, who shared the Best Adapted Screenplay Oscar with Charles Randolph for The Big Short, offered up his two cents about the upcoming election.
"Most of all, if you don't want big money to control government, don't vote for candidates that take money from big banks, oil or weirdo billionaires. Stop," he encouraged the audience (many of whom, presumably, didn't have to be reminded).
Max Max: Fury Road costume designer Jenny Beavan, collecting her third career Oscar, invoked the winning film's apocalyptic landscape to make a point about where the real world may be headed if we don't change our ways.
"Actually, it could be horribly prophetic, Mad Max, if we're not kinder to each other and if we don't stop polluting our atmosphere…You know, it could happen," the British costumer said.
MARK RALSTON/AFP/Getty Images
polluting our atmosphere…You know, it could happen," the British costumer said.
One of her fellow Brits, Bridge of Spies star Mark Rylance, also referred to the increasingly nasty nature of politics in his acceptance speech for Best Supporting Actor after pulling off the win over sentimental favorite Sylvester Stallone.
"I've always just adored stories, hearing them, seeing them, being in them," the stage and screen star said. "So for me to have the chance to work with one of the greatest storytellers of all time, Steven Spielberg…And unlike some of the leaders we're being presented with these days, he leads with such love, that he's surrounded by masters in every craft in his films."
(It's not too late to throw your hat into the ring, Steven Spielberg…)
And it seemed as if everyone was trying to make the same point, albeit in a roundabout way…
"As filmmakers and as actors in the 21st century, we can create any world we want, we can play anything we want!" Andy Serkis said, about to present the Oscar for Outstanding Achievement in Visual Effects. "Chris, if you were to put on a motion-capture suit right now—you could play anything from a planet-threatening megalomaniacal monster to Donald Trump and…um, actually that's not very diverse, but anyway!"
Kevin Winter/Getty Images
Four-time Grammy winner, Golden Globe winner and now Oscar winner Sam Smith, who shared the Best Original Song win with co-writer Jimmy Napes for their work on Spectre's "Writing's on the Wall," concluded his speech with a simple and sweet statement that ultimately shocks when you think about how the world as a whole is so far from being there when it comes to the subject at hand.
"I stand here tonight as a proud, gay man and I hope we can all stand together as equals one day," the 23-year-old singer said earnestly.
Alejandro G. Iñárritu, winner of his second straight Oscar for Best Director, used a theme touched on in The Revenant to take a sharp jab at prejudice, xenophobia and those who would promote such a cultural climate.
Kevin Winter/Getty Images
"I [am] very lucky to be here tonight, OK? But unfortunately many others haven't had the same luck," the Mexican-born filmmaker said. "There is a line in the film that says, [Hugo Glass, Leo's character], to his mixed-race son, 'They don't listen to you, they just see the color of your skin.' So what a great opportunity to our generation to really liberate ourselves from all prejudice and this tribal thinking and make sure for once and forever that the color of skin becomes as irrelevant as the length of our hair."
As was expected, and as was his due, Leonardo DiCaprio concluded his Best Actor winner's speech with an impassioned plea for action on climate change, "the most urgent threat facing our entire species."
"We need to work collectively together and stop procrastinating," the longtime environmentalist said, noting how 2015 was the Earth's hottest year on record and the production of The Revenant had to go to the southern-most tip of Chile to find snow when they needed it. "We need to support leaders around the world who do not speak for the big polluters or the big corporations, but who speak for all of humanity, for the indigenous people of the world, for the billions and billions of underprivileged people who will be most affected by this—for our children's children, and for those people out there whose voices have been drowned out by the politics of greed. I thank you all for this amazing award tonight, let us not take this planet for granted. I do not take tonight for granted."
And then, of course, there was the standing ovation given to the actual politician in the room, Vice President Joe Biden, who introduced Lady Gaga's performance of Best Original Song nominee "Til It Happens to You," from the documentary about how colleges deal with sexual assault allegations on campus.
Biden encouraged everyone watching to take the pledge on ItsOnUs.org to "intervene in situations when consent has not or cannot be given." "Let's change the culture!" he insisted.
That powerful message was reflected, ultimately, in the night's final Oscar. Spotlight, about the Boston Globe's Pulitzer-winning investigation into the systemic molestation of children by priests and subsequent cover-up perpetuated by the Catholic Archdiocese, was named Best Picture.
"This film gave a voice to survivors and this Oscar amplifies this voice, which we hope will become a choir that will resonate all the way to the Vatican," said executive producer Michael Sugar. "Pope Francis, it's time to protect the children and restore the faith."
Equal rights, speaking for the voiceless, protecting children, protecting our planet, acting more kindly toward one another and being more accepting of people of all races and ethnicities?
Sounds like a plan that everyone, everywhere, should be able to get behind, regardless of color—red or blue.