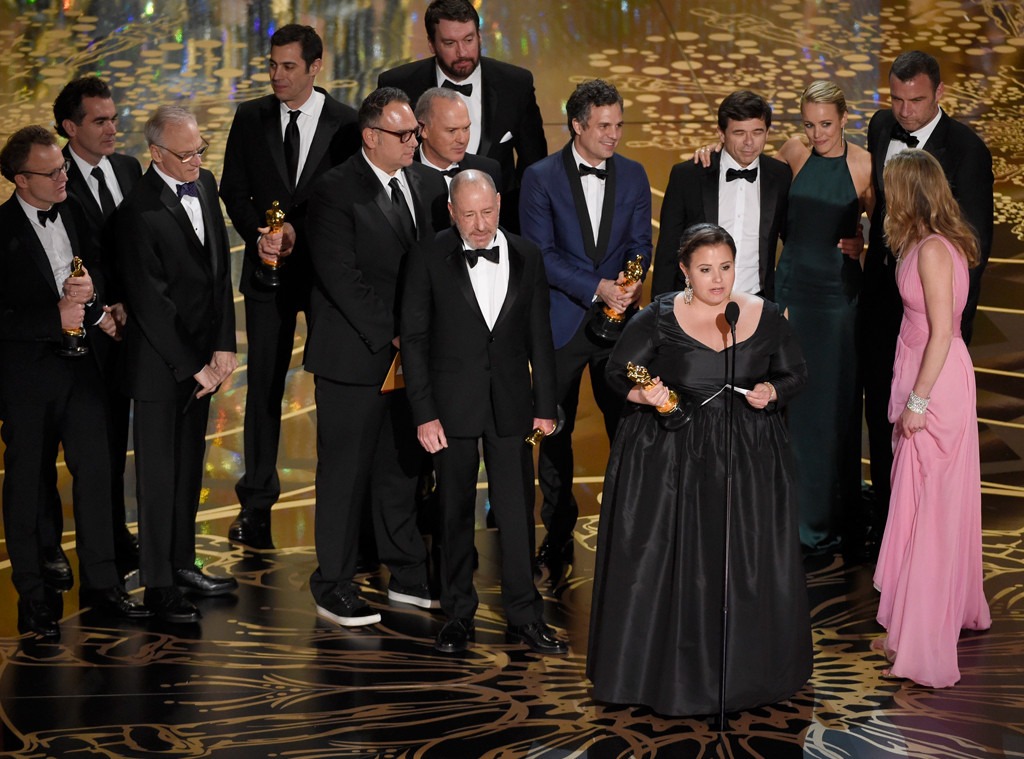 Kevin Winter/Getty Images
Spotlight wins again!
Fresh off of their SAG Awards success, Spotlight, which had six Oscar nominations this year, took home the biggest nod for Best Picture at the 88th Annual Academy Awards, beating out fellow nominees The Revenant, The Room, The Danish Girl, Brooklyn, Bridge of Spies, The Big Short and Mad Max: Fury Road.
"Wow. This film gave a voice to survivors. And this Oscar amplifies that voice, which we hope will become a choir that will resonate all the way to the Vatican," producer Michael Sugar said. "Pope Francis, it's time to protect the children and restore the faith. Thank you very much."
Fellow producer Blye Pagon Faust added, "We would not be here today without the heroic efforts of our reporters. Not only did they affect global change, but they absolutely show us the necessity for investigative journalism."
Producer Nicole Rocklin closed out the acceptance speech with, "We'd like to thank our partners, everyone at open road. Jeff and Jonathan and everyone at participant. E-1 anonymous content. Josh Stinger and Tom McCarthy, your vision is unparalleled. To our cast, if there ever was a perfectly calibrated ensemble, you are it."
The A-list cast of the film, which recalls the true story of The Boston Globe investigating allegations against John Geoghan, an unfrocked priest accused of molesting more than 80 boys, includes Mark Ruffalo, Rachel McAdams, John Slattery, Liev Schreiber and Michael Keaton.
Don't miss the E! Live After Party at 11:45 p.m. ET / 8:45 p.m. ET. On Monday, watch a special edition of E! News at 7 and 11 p.m., and catch the Fashion Police Oscars special at 8 p.m.