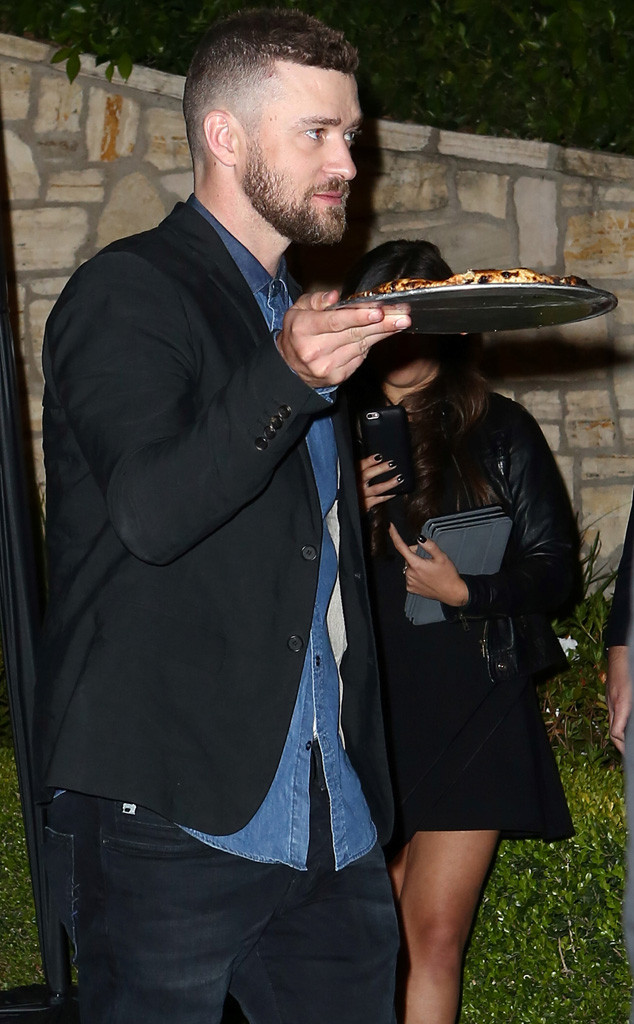 AKM,-GSI
A man's gotta eat!
Justin Timberlake and wife Jessica Biel attended a pre-Oscars 2016 party Friday night and all that mingling and networking appeared to make the singer pretty hungry! The 35-year-old was spotted carrying a small pizza. Jon & Vinny's catered the party and a pizza station was set up outside. Inside the bash, guests also enjoyed Kettle One cocktails.
This marked a rare public joint appearance for the notoriously private couple, who were last photographed together at a celebrity event in December. Timberlake looked suave in a partially unbuttoned blue denim shirt, black blazer and matching pants. Biel, 33, looked lovely in a white, strapless, floral cut-out dress with a sweetheart neckline and lace trim. She paired the look with cream pumps.
"They were standing close together through out the night," a source told E! News exclusively. "They looked pretty happy and they were holding hands. Justin gave Jessica a kiss on the cheek while they were there mingling with their friends."
Timberlake "was definitely enjoying himself," another source said, adding, "Jessica rolled her eyes at him a few times because he was being really goofy and messing around on the dance floor."
He wasn't the only hungry one, either; Leonardo DiCaprio was also spotted eating pizza in a corner by himself, the source said.